---
IMAGE ABOVE:  Sidi Larbi Cherkaoui's m¡longa produced by Sadler's Wells, London, UK.  Photo by Diego Franssens.
---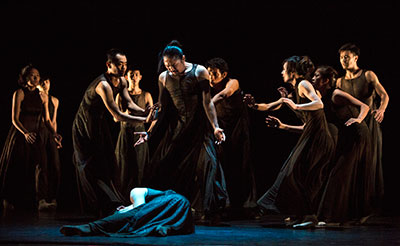 This year marks Nancy Henderek's 19th season "tossing" the Houston International Dance Coalition's annual three-day Dance Salad Festival.
Any connotation of casual compilation in that sentence is wiped away when you consider the logistics of bringing eight professional companies from all over the world to Southeast Texas. Many will arrive with excerpts of their work, which have been hand-picked, custom-curated, mixed and matched by Henderek for each of the Houston performances, April 17-19.
"I always try to introduce new groups and artists who have never been to Houston before and I always look at the new work from choreographers that I have loved for a long time," Henderek says. "Each of their pieces is chosen because of their choreographic development and the power of their artistic message."
Henderek describes the balance of familiarity within the programming as mysterious, but clarifies that her decisions have a lot to do with availability of dancers and her passion for works she wants people in Houston to see.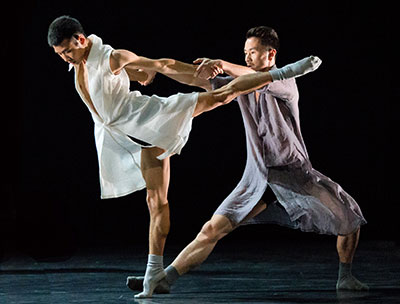 This year, there are twelve works that fit that bill. Most of the performing companies, including The Royal Danish Ballet of Denmark, Paris Opera Ballet, Oslo's Norwegian National Ballet, Beijing Dance/LDTX, and the Madrid-based company, Elephant in the Black Box, are all returning for repeat engagements at the festival this season. However, these will contribute seven U.S. premieres between them. Some of these works may not be seen elsewhere on American soil: Which, because this is Texas and not New York, is kind of a big deal.
Scattered throughout the festival,are some newcomers to the Dance Salad menu. Daniel Proietto, a dancer with Norwegian National Ballet, contributes Cygne. Set to music by Olga Wojciechowska, and accompanied by a live performance by boy soprano, Andreas J. Augustinius, this solo is an hommage to the Dying Swan and Pavlova's bygone expressivity.
John Neumeier, the American-born dancer and Hamburg Ballet director, along with French dance-maker, Angelin Preljocaj, and Alessandro Sousa Pereira, a dancer for Danish Dance Theater, are all choreographers new to the festival. We will also see Elephant in the Black Box (EBB) Artistic Director Jean-Philippe Dury's own work for the first time when his company presents CEL Black Days.
EBB will bring back the choreography of Nacho Duato to the festival with Remansco, a male trio. Li Hanzhong will also return with the company he helms, Beijing Dance/LDTX, to present Sorrowful Song and Treading on Grass. The latter is set to Stravinsky's Firebird and considered the sequel to All River Red, which has come to Dance Salad twice before.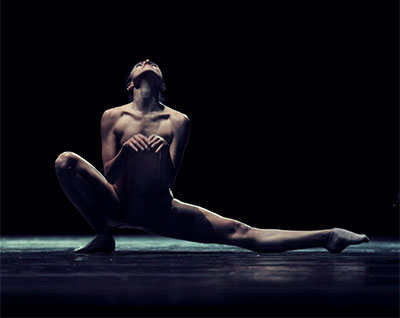 Also back again for the 4th time is Dance Salad favorite, Sidi Larbi Cherkaoui. Cherkaoui has worked in and outside of the dance world since his 2009 festival debut. He choreographed the 2012 film, Anna Karenina starring Keira Knightley, and last October, received the UK Music Video Award for best choreography for his work on Valteri, a video by Icelandic band, Sigur Ros.
Cherkaoui draws fans of all kinds to his work. He has suggested this may be due to his half-Moroccan/half-Belgian ethnic background, which brings the duality of East and West together in his identity. Others, including Henderek, have indicated that the approachable quality of his work may emanate from the openness and unassuming manner with which he puts people at ease.
"Larbi is very human in his approach to dance," explains Henderek. "He wants to touch people in their core being about issues that affect us all. He is a citizen of the world and reaches out to many cultures to find inspiration for his work." Cherkaoui's Embrace, a version of m¡longa especially curated for Dance Salad brings together tango, contemporary dance, and live music.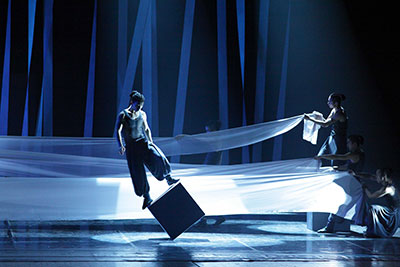 "There are twelve dancers embracing Argentine tango in a new way. However, even though there will be identifiable tango steps, the dancers will be dancing as an ensemble—not just as couples, as is traditional in Argentine tango," Henderek explains. "What remains are encounters between people, especially of opposite genders. There will also be same-gender tango dancing not traditionally seen in milongas"
Audiences can expect the spirit of invention and originality that permeates all of Cherkaoui's work. There may be hints of the sinuous virtuosity for which he is known as a mover. Still, Henderek asserts audiences will not see last year's Petrus (out of PUZ/ZLE) in Embrace.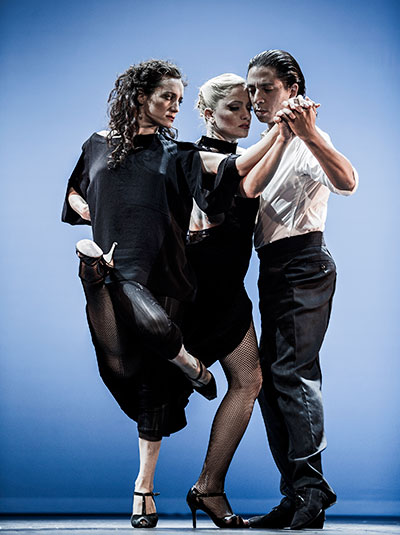 Dance Salad Festival opens its door for the first time to Contemporary Dragon KungFu, a company that will also make their American debut with a new work called Gateway. The Beijing-based group was established in 2006 by well-known kung fu and movie star, Jackie Chan, and includes members from prestigious kung fu groups in China. The martial artists trained in contemporary dance with choreographer Liu Lu for over a year. Ms. Liu's event work with Hong Kong's Pheonix Television typically covers movies, martial arts, acrobatics, and charities. Gateway is a return to dance for Liu and is a work inspired by American writer, Christopher Morley's essay titled "On Doors", which describes the opening and closing of doors as "the most significant actions of man's life."
Henderek works tirelessly year after year to create a fresh, satisfying, and well-balanced tossed salad of dance. But that's nothing new. This year, it may be the mysterious mix of the tried and untested that will make Dance Salad Festival 2014 something special this Easter weekend.
—NICHELLE SUZANNE