During the height of the streamed performing arts portion of the pandemic, I thought a lot about the difference between being a viewer and an audience member. When in-person performances returned, I decided that giving up that remote control for a myriad of inconveniences—the cell phone checking, big head blocking and candy wrapper rustling—worth it for the communal experience of live theater. So, in July 2021, my first time back to indoor live theater, I had to appreciate the irony when I found my view blocked by a mannequin's head.

Stages' intimate and electric production of
Lady Day at the Emerson Grill
was one of the first shows to welcome audiences back into an indoor theater space in Houston. Stages decided to spread out the limited capacity audience and then added mannequins at tables to give a club-like feel to the production. Hence I found my view of the stellar DeQuina Moore as Billie Holiday partially blocked by a couple of faux humans. Adding insult to irony, both were dressed more stylishly than I was. Yet I wouldn't have traded my spot with those streaming at home for the world.
And so it went, from mannequins to one- or two-actor plays to holiday show cancellations to outdoor performances. Texas performing arts organizations ran the gamut of stage possibilities to bring artists and audiences back together in the same spaces. Through it all, many companies decided with real-world health concerns paramount, they could still refuse to play it safe when it came to creating wondrous, provocative or just fun onstage worlds.
With a few exceptions like Stages' summer 2021 Lady Day, most Houston performing arts organizations delayed indoor performances until October. When they were finally ready to leap, some did so literally and with great joy. Two productions in particular spring to mind for going big and bright: Houston Ballet expanded their annual one-night Jubilee of Dance to three, and after a lovely series of short works and Pas des Deux, artistic director Stanton Welsh unleashed almost the entire company for the joyous onstage world premiere of his In Good Company.

­­­
Similarly, Theatre Under the Stars took Hobby Center audiences back to the 80s with
Rock of Ages
. I had seen a few productions of the light jukebox musical before, but this rocking party thrown by director Jessica Hartman and the cast, became a head-banging reminder of how much fun live musicals can be.
Several other productions throughout the year exemplified that Go-big-because-we've-stayed-home-too-long mentality. Along the way, they forged that communal connection only achieved with audiences and artists in the same space at the same moment.
With the vibrant visual and musical colors of Rob Ashford's Carmen and the animation opera alchemy that was Barrie Kosky and Suzanne Andrade's The Magic Flute, Houston Grand Opera also proved that no matter how well filmed, nothing compares to being in the room when the enchantment happens.
Arts and Culture editor in chief Nancy Wozny feels that way about HGO's Robert Wilson production of Turandot. "Watching Tamara Wilson command the tension as her volcanic voice pierces the stillness in Puccini's lush conclusion makes for a visceral juxtaposition that can only be experienced live. In sublime Wilson style, only sound and light move, as we watch a single dagger of white light penetrate the blood-red backdrop," says Wozny.
The joyous and going-big productions continued throughout the season, yet even some of the mid-sized and smaller productions also went forth with gusto. One of Stages Theater's Fall 21 successes was their exuberant The 25th Annual Putnam County Spelling Bee, which also began a rather quirky trend of tweens and teens monologue shows, including Dance Nation at Rec Room and the world premiere High School Play: A Nostalgia Fest at the Alley.
When I checked in with Dallas theater expert Lindsey Wilson, she said local companies didn't go big until the spring of 2022, citing Dallas Theatre Center's
Sound of Music
. In June, Austin's Zach Theatre will also go Alps-sized with an immersive
Sound of Music
, another show in their new ZACH360 experience.
Wilson says Dallas theaters instead created innovative, scaled-down versions of big shows, including Theatre Three's traveling, outdoor, Music Man and outdoor Little Shop of Horrors. Fun was also onstage with several companies mounting the musical comedy ode to theater-making Something Rotten.
Dallas also saw a trend of "Lots of world premieres and new works, especially one-person or small-cast shows," describes Wilson. DTC's The Supreme Leader is a good example.
World premieres from local and up and coming playwrights were also all the rage in Houston. Some went for enjoyment and found themselves weirdly timely, including a highlight of the spring season, Stages Theater's MacGyver: The Musical. This was a show that truly valued its live audience, as a new MacGyver gets picked from and by the audience each night and then sent on a mission to help East German punk rock kids bring down the Berlin Wall.
Many of the world premieres wrestled with urgent, real social issues, from racial complexities in the Alley's Amerikin to human trafficking in A.D. Players's No One Owns Me to Stages's comedy about what happens when witches conjure up their own health care insurance co-op in Sunrise Coven. And if a company didn't have a world premiere in their lineup, they usually had several contemporary plays that put a face and story to political complexities and inequalities. The Alley began its season with Lynn Nottage's Pulitzer-winning Sweat about blue-collar union workers, and 72 Miles to Go, about a family separated by border politics and a DREAM Act deferred. 4th Wall Theatre focused on the changing media landscape, including two plays with fact checker characters, Lifespan of a Fact and Gloria. Many companies seemed eager to prove the real world relevance of performing arts.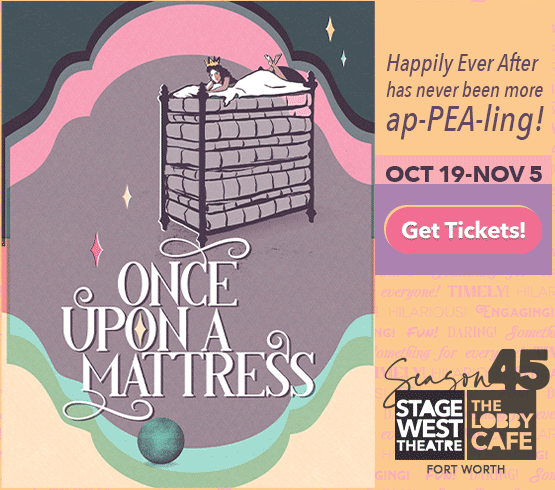 Yet from the weightiest subject matter to the airiest plots, these shows made us remember why we come back to live performances and even travel hundreds of miles to see a good show.
At least, that's what Wozny concluded after a road trip to Dallas this spring. "In the 'had to be there' category, I would say that seeing Compagnie Marie Chouinard make their Dallas debut through TITAS with my Dallas cohorts, was such a reminder that great art is best experienced with dear friends in the same row," she describes.
And for all the big, joyous, brand-new and topical shows I saw on this year-long journey back to live theater, the one that sticks with me was the quiet storm of Mildred's Umbrella's production of El Huracán. I could have just streamed away another night that cold, November Thursday evening. Instead I made my way across town to the Deluxe Theatre to see a show I knew nothing about.
It didn't change my life in any significant way, but for a few hours I forgot about two years of tragedy and turmoil, forgot to feel a trip to the theater as some daring activity, instead of a normal act that can sometimes be transcending when artists make magic. I sat amid fellow humans to watch actors onstage play out this sweet-sad story of a multigenerational Cuban-American family, hurricanes and magic shows. When it was over, we clapped, wiped away a tear, got up, dissolved our link as audience and went out into the rest of our lives.
—TARRA GAINES