Frank Stella, Gran Cairo (detail), 1962. Alkyd on canvas.
85 9/16 × 85 9/16 in. (217.3 × 217.3 cm).
Whitney Museum of American Art, New York; purchase, with funds from the Friends of the Whitney Museum of American Art 63.34.
© 2015 Frank Stella/Artists Rights Society (ARS), New York. Digital Image © Whitney Museum, N.Y.
---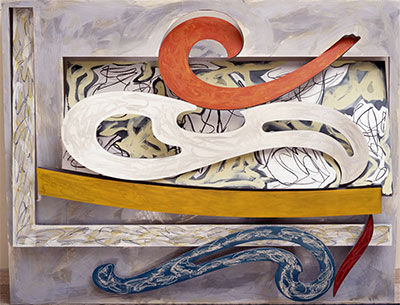 60 years of Frank Stella in Fort Worth
A nearly 80-year-old Frank Stella has lived life large:from his massive 20-foot-long paintings, to his sculptures that weigh several tons, to his gargantuan acre-sized studio in upstate New York, to the body of work he's amassed over his 60-year-long career which amounts to more than 45 series, each with dozens of individual pieces.
Because of the enormity of Frank Stella's work, assembling his retrospective was no small feat. It took Michael Auping, chief curator of the Modern Art Museum of Fort Worth, an astonishing six years to put together Frank Stella: A Retrospective, which will be on view at the Fort Worth Modern from April 17-Sept. 18 after debuting at the Whitney Museum of American Art in New York last Fall.
It's difficult to sum up Stella's career for many of the same reasons it was difficult to assemble a show: it's hard to draw lines around his extensive, varied body of work. He has consistently blown up the parameters of whatever type of art he's doing, from his early austere Black Paintings, to his almost aggressively colorful and geometrically playful Protractor series, to his explosive, acid-trippy, rage-outside-the-lines Moby Dick series, to his serene and ordered, free-standing enormous Star sculptures.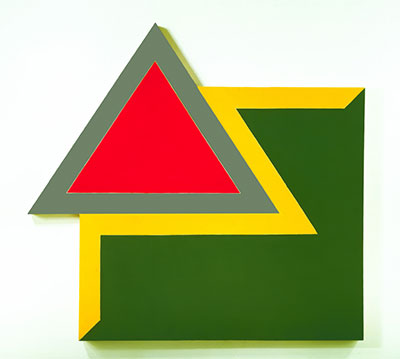 "A retrospective of Frank Stella's work looks like a group exhibition. You mean one guy did all of these different things? He's a bit like the Picasso of abstraction," says Auping. "He continually batters at the edges of whatever the boundaries of something are. He will take an idea and work it to an end point until it breaks down, and then he'll pick up the debris and start a new idea."
In the late 1950s, when Stella was in his early 20s, he became famous for challenging abstract expressionism with his series of minimalist Black Paintings, canvases painted black except for pinstriped patterns of unpainted canvas. His idea was to produce paintings-as-object, rather than the picture as a representation of something. In the early 1960s he said that a painting was "a flat surface with paint on it—nothing more." Several years later he added, "What you see is what you see," which became a credo of minimalism.
This show was overdue in Auping's mind. He looked at who hadn't been given a big retrospective and was surprised to learn that Stella hadn't had one since the 1970s.
"I think the size of the career makes people go, 'I don't know if I want to take that on,'" says Auping. "Frank is a very tough guy and he has very specific ideas."
Auping approached Stella with the concept, but Stella wasn't sold. "I really didn't give him a chance to think about it. I just went ahead and started doing it, and he didn't stop me, so that meant that it was okay," says Auping. "I started putting together the checklist for the show, and I realized this is an enormous undertaking. How do you represent an artist who's been working this long with such a large body of work on such a large scale? Then the real hard part came, which was sorting out what to leave in and what to leave out."
Auping immersed himself in the process. He read every book about Stella he could find, and then flew to collectors' homes and museums to see the pieces in person because it's impossible to get a feel for the grand scale and presence of Stella's pieces from a book.
"Frank's work is really about chewing up space. It moves laterally, it moves vertically, and it moves out from the wall," says Auping. "When you see the exhibition you'll feel that. It's painting that literally gets up in your face."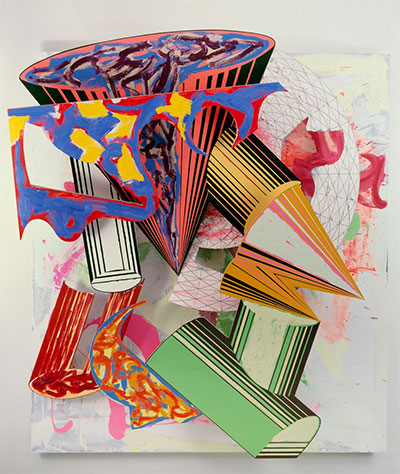 The process was also collaborative. Stella was very hands-on and vocal about what should be included. "Frank would say to me along the way, 'Michael, stop treating me like I'm dead. I'm sitting right here. Let's talk about this,'" says Auping.
Auping presented Stella with a preliminary list of what he wanted to include in the show, and Stella would say, "'Yeah that's a great work. Well that one, that was not my best effort, I think we could leave that out,'" Auping recounts. "I know he makes abstract paintings, but as a person Frank is very much a realist."
They narrowed it down to about 80 pieces. Many of the works Auping chose for his initial list made it into the show; they are unequivocally Stella's masterpieces. And yet, Auping says there will be surprises even for viewers who think they know Stella's body of work, and perhaps even some contention among devotees of his various periods. No matter how you feel about his ever-evolving style, the show, most certainly, won't be short on inspiration.
"I've had discussions with younger artists about this show, and I think what they take out of it is this optimism that art is a process: It's not just the making and selling of an object, it's an interior dialogue of an idea, breaking the idea down, coming up with a new idea," says Auping. "People may like what he's doing, or they may not like what he's doing, but he's never been irrelevant. I think younger artists look at Frank and say, 'Man, I hope I can still piss people off when I'm 80 years old.'"
—ALAENA HOSTETTER