Kim Tobin and Kregg Dailey in Reckless, running Nov. 30 -Dec. 16 at Houston's 4th Wall Theatre.
Photo by Gabriella Nissen.
---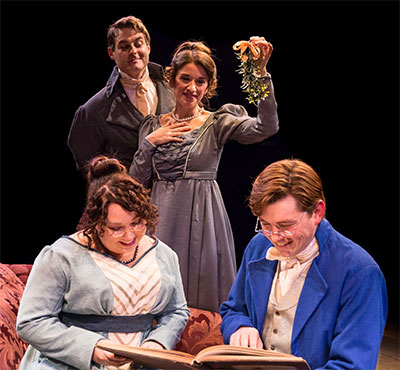 As a curmudgeonly connoisseur of holiday performing arts, I'm always on the lookout for the innovative, quirky or simply new shows to devour like Christmas candy each most-wonderful-time-of-the-year. Though traditional dishes of Scrooge and Sugar Plum Fairies remain on many performance companies' menus, I'm salivating over some spicy alternatives to the traditional Christmas Carol turkey.
I've made a list, and checked it twice, of hot, sweet and savory trends in Texas holiday performance fare to brighten up those dark, cold (well, Texas-chilly) nights.
World Premieres
While we hold fast to tradition during the holidays, several performing arts companies offer new shows to audiences…because what better way to give new perspective to this ancient season?
As part of its initiative to commission new works for the holidays, Houston Grand Opera presents A House Without a Christmas Tree (Nov. 30-Dec.17), based on the book by Gail Rock with music by Ricky Ian Gordon and libretto by Royce Vavrek. The grand operatic show goes on at Resilience Theater, the George R. Brown Convention Center exhibition hall the HGO production team transformed into a temporary performance space after the Wortham Center flooded during Hurricane Harvey.
In Dallas, Theatre Three takes a collection of timeless winter tales, funny, sad and scary, and weaves them into an original multimedia performance as Solstice: Stories and Songs for the Holidays (Nov. 24-Dec. 17). In Houston, Stages Repertory Theatre artistic director Kenn McLaughlin partnered with composer David Nehls to create A Midnight Clear, A Musical Tale of Christmas (Nov. 8-Dec. 24). McLaughlin says his own mother's belief that not everyone feels joy during the holidays inspired the musical. WaterTower Theatre, in Addison, muses on what it means to go home for the holidays in The Great Distance Home (Dec. 1-17) a multidisciplinary performance conceived and directed by Kelsey Leigh Ervi.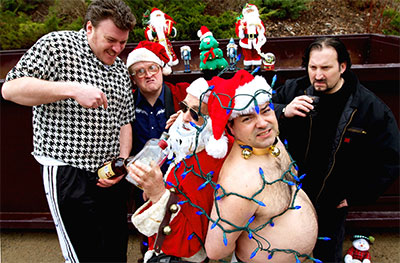 Twists on Classics
Even a slight tweak to a traditional holiday story can add more dimension to the old tale, making it original once more. One way artists put a new coat of meaning on a well-worn standard is to change the medium of performance: for example, Scrooge becomes a dancing woman in Ballet Christmas Carol (Dec. 14-15) when Avant Chamber Ballet gets its hands and feet on Dickens. And Rude Mechs promise that A Karaoke Christmas Carol (Dec. 8-24) is not your grandparents' Christmas Carol.
Adding spontaneity to beloved Christmas films, look for theater actors to play radio actors making their own sound effects in staged "broadcasts" of It's a Wonderful Life (One Thirty Productions, Dallas, Nov. 29-Dec. 16) and Miracle on 34th Street (Penfold Theatre, Austin, Nov. 30-Dec. 23). The grand touring musical production of another holiday classic cinema, Irving Berlin's White Christmas, makes stops in Fort Worth (Nov. 14-19) and San Antonio (Dec. 12-17).
For music lovers looking for auditory alterations on their holiday standards, Dallas' Jubilee Theatre brings classic Motown songs alive on stage for the family musical A Motown Christmas (Nov. 24-Dec. 24). Composer Graham Reynolds and a fine, merry band of Austin musicians show how a minor change in music, in this case literally switching to a minor key, can bring a new depth to our most familiar seasonal songs in Graham Reynolds Ruins the Holidays (Dec. 20) at the Long Center.
While other shows might update a Christmas classic or shift the setting, Lauren Gunderson and Margot Melcon's play Miss Bennet: Christmas at Pemberley takes the characters from Jane Austen's Pride and Prejudice and adds Christmas to them. Both Houston's Main Street Theater (Nov. 11-Dec. 17) and Austin Playhouse (Dec. 1-23) will spend the holidays with the Bennet sisters.
Houston Ballet artistic director Stanton Welch went back to the original source, E.T.A. Hoffmann's The Nutcracker and the Mouse King, for his reimagining of The Nutcracker last year. Thanks to Hurricane Harvey's damage to the Wortham Theater Center, this Clara-centric Nutcracker will bring the Land of Sweets to the Smart Financial Center in Sugar Land (Dec. 10-23) and the Hobby Center in downtown Houston (Dec. 30-Jan. 6).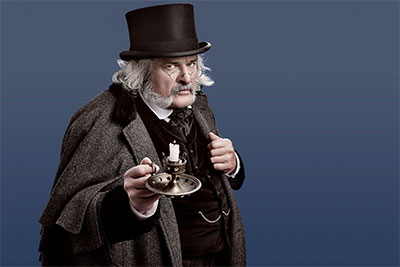 Fairytales
More than any other Texas city, Houston goes Grimm for the holidays with sung sagas of princesses, wicked women and stray children.
While American audiences might find our Christmas comfort in Dickens' haunted Victorian England, contemporary British theater-goers prefer the musical comedies known as Panto filled with broad and contemporary versions of heroes and villains of fairy and folktales. Stages Theatre first imported Panto to Texas with their production of Cinderella. Now they're bringing her back for a 10th anniversary (Nov. 29-Dec. 31). Theatre Under the Stars also throws a Panto party with a sweeping production of Sleeping Beauty and Her Winter Knight (Dec. 12-24), with this snoozy princess rocking out to hit pop music.
Houston's Rec Room turns Engelbert Humperdinck's Hansel and Gretel immersive (Dec. 7-23) by stuffing a condensed version of the opera into their small Back Room Stage. A wooded installation by artist Mina Gaber transforms the room into a witchy forest for roaming children to get lost within.
Christmas Saucy to Irreverent Holiday Shows
Perhaps one of the sanest ways to survive Christmas and combat those New Year blues is to laugh at Santa, not with him. Not taking the holidays too seriously, some Texas presenters offer theater and musical therapy from the good-natured pinching of baby Jesus' chubby cheeks to a literal "F You" shout to ole Saint Nick.
As the spiritual sequel sister to Late Nite Catechism, Sister's Christmas Catechism: The Mystery of the Magi's Gold at San Antonio's Tobin Center for Performing Arts, (Dec. 19-20) attempts to answer that ancient Sunday school quandary: whatever happened to that birthday gold Jesus received? (I think Joseph and Mary put it all into his college fund, but Sister probably has a more profound answer.)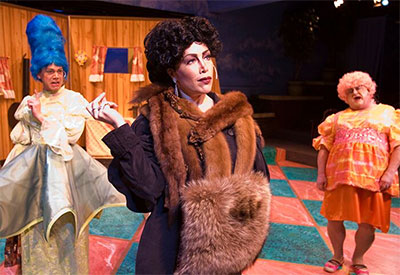 Anxious about spending time with family? Whatever eccentricities yours harbors, they'll likely seem slight after a visit to the wonderful weirdos of Tuna, Texas via Zach Theatre in Austin for A Tuna Christmas (Nov. 1-Dec. 31).
As their final production, 4th Wall Theatre takes audiences on a Reckless (Nov. 30-Dec. 16) ride as company co-founder Kim Tobin-Lehl plays Craig Lucas' comic heroine Rachel who goes on the run Christmas Eve to escape a hitman hired by her husband.
Those ready to tell the holidays to F-off altogether can spend a night with the Trailer Park Boys. During their succinctly titled: Dear Santa Claus, Go F#ck Yourself tour, the Boys will park their trailer at both the Cullen Performance Hall at University of Houston (Dec. 8) and Austin's Bass Concert Hall through Texas Performing Arts (Dec. 10). No word where they'll be the night of the 9th, though I'm guessing sleeping it off in the tub of some Brenham or La Grange fan's bathroom.
Counter-programming
For those wanting to avoid holiday shows altogether, a few performing arts companies make it a practice to make December just another month for great theater; no jingle bells allowed.
Kitchen Dog Theater in Dallas and Houston's Catastrophic Theatre offer the gift of timely political drama. Catastrophic delivers a classic of absurdist theater, Eugene Ionesco's Rhinoceros (Nov. 17-Dec. 10), co-directed by Catastrophic founders Jason Nodler and Tamarie Cooper. Meanwhile Kitchen Dog wears politics blatantly on its sleeve with the one-man show Trump Lear (Dec. 7-10) created and performed by David Carl after William Shakespeare. In the show's premise, not only does Carl perform Lear as Trump but he gives his all for a one-man remote audience of one, Donald Trump.
While Christmas Carol chimes on at the Dallas Theater Center's Wyly main stage with Brad Leland of Friday Night Lights fame as Scrooge, in the Studio Theatre Tanya Saracho's Fade (Dec. 6-Jan. 7) depicts contemporary Hollywood from a Latina perspective without a lighted tree in sight.
—TARRA GAINES