Eduardo Chillida (Spanish, 1924–2002), Besarkada III / Embrace III, 1991. Iron.
© Zabalaga-Leku. ARS, New York / VEGAP, Madrid, 2017.
Courtesy The Estate of Eduardo Chillida and Hauser & Wirth.
---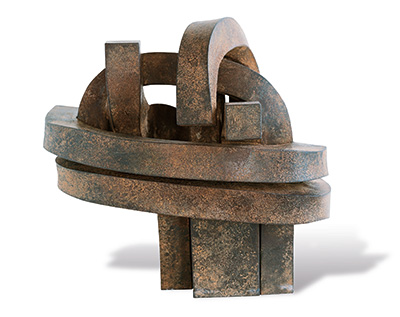 Two exhibitions dedicated to the life and works of the 20th-century Spanish Modernist sculptor Eduardo Chillida (1924-2002) are on view at the Meadows Museum through June 3. The largest of the two exhibitions, Memory, Mind, Matter: The Sculpture of Eduardo Chillida gives an overview of his sculptures as well as some works on paper, all stemming from the latter part of his career when the Basque artist (and former goalkeeper) was already well-respected and celebrated, having shown and participated in the Venice Biennial, Documenta, and having received the Carnegie prize for sculpture at the Pittsburgh International, plus an extensive retrospective at the Museum of Fine Art Houston. In this exhibition at the Meadows, we see the mature Chillida coming fully into his own, master of his craft at the height of his abilities and recognition, determined in his style and execution.
The second complementary exhibition titled Chillida in Dallas, curated by Meadows/Mellon/Prado Curatorial Fellow Amanda W. Dotseth, focuses on De Musica, a large steel sculpture by Chillida commissioned for the opening of the Meyerson Symphony Center in 1989, which still stands in front of the Symphony building. Comprised of sketches and photographs of the project, the show gives a sense of the ties Dallas (and Texas) have had with this Spanish sculptor over the years.
Memory, Mind, Matter shows how Chillida almost always uses smooth bands or beams to create abstract graphic figures, emphasizing his unique, signature style. Chillida is mostly known for his monumental public sculptures such as  De Musica or Comb of the Wind, three monumental pieces placed just off the boardwalk in his native San Sebstián where he worked and lived for most of his life. However, the smaller sculptures and prints that make up most of the exhibition are no less powerful and possess the same physicality and presence as their bigger brothers.
For example, in Embrace III, a small sculpture depicting an entanglement of Chillida's characteristic iron beams seemingly interwoven into themselves, we see the artist's great sense for space and proportion. A shape that is neither organic nor mechanical, the piece delivers dramatic tension, playing the light, fluid, organic forms off each other and against the bulky heavy material. All his works have such balance and physicality that it is easy to see how these translate into the more monumental pieces. Similarly, in his sculpture Our Father's House, Chillida contrasts the rectangular shapes to circular bands, playing with negative and positive space, motives that are also recurring in his drawings, collages, and embossed etchings.
The exhibition also draws attention to Chillida's love for poetry and philosophy, most notably through his friendship with German philosopher Martin Heidegger for whom Chillida illustrated the book Die Kunst Und Der Raum (Art and Space). This unlikely friendship may have stemmed from the fact that both men had thrived under a fascist dictatorial regime in which many of their colleagues were imprisoned or worse. Perhaps they bonded over abstract themes like the embodiment of space, in defiance of the reality in which they found themselves.
Chillida's works belong undeniably to another century. Created with purely aesthetic concerns in mind, his visually pleasing graphic works appear to look inwardly to the point of self-indulgence. Born in the interbellum era, and matured at the cusp of modernism, Chillida's works embody the zeal of progress and change of the new mechanized, standardized and formalized world in which they were created, unaware of it's darker ramifications of their intent. In this sense, there is something truly peculiar seeing Chillida's works exhibited here in Dallas. Both break with tradition and emblems of modernity in a society rooted in history, Chillida's works presented here and now feel like antiques. They tell the history of a world that bloomed on the conception of progress and modernity.
—ARIE BOUMAN