Once considered rebels, radicals and outcasts by the 19th century French art establishment, nearly 150 years later the Impressionists now reign as superstars of museum permanent collections and touring exhibitions. We love those expansive surveys of the movement and one-man/woman spotlight shows of Degas, Monet, Cassatt or the rest of the gang that seem to hit at least one major Texas museum every year. But this fall, a different view on this art period we thought we knew so well comes to us from an unlikely museum source. The new traveling exhibition alighting at the Art Museum of South Texas, Across the Atlantic: American Impressionism Through the French Lens (through Jan. 3, 2021) offers a new world perspective on Impressionism.

Originally organized by the Reading (PA) Public Museum from their extensive American Impressionism collection, the exhibition brings AMST patrons and visitors on a journey from the dawn of French Impressionism in the mid-19th century, across the Atlantic and then into the turn of the 20th century. More than 70 artworks, by both French and American Impressionists, will offer unique insights on how American artists embraced this painting philosophy of light and interpreted it for an industrial nation on the move.
To get a preview of Across the Atlantic and a better understanding of the breadth and beauty of American Impressionism, I talked with Deborah Fullerton, AMST curator of exhibitions.
"It's a groundbreaking moment when artists started to look at the art not only as a window unto the world but as objects of materiality," she describes of Impressionism's origins in France. "They were about the brushstrokes. No longer hiding it, they were celebrating it, creating an experience of a time, space, place and light that was unique to that moment. That reminds us that the work of art was made by the hand of a human. That's a precursor to what the abstract expressionists were all about. It was about the moment, movement and the energy."
As AMST's permanent collection showcases the art of the Americas, especially from Texas and the region, and housed in a Philip Johnson designed building with an expansion led by Mexican architect, Ricardo Legorreta, this exhibition might at first seem a departure from the museum's usual focus on modern and contemporary work. But Fullerton thinks it becomes easy to draw connections between their permanent collections and these Impressionist pioneers.

"They're the very beginning of modernism in the world. We're really excited to look at that because it's so much a part of who we are as an art museum. We basically start in early Texas modernism and move into abstract expressionism and contemporary work."
With this in mind, Fullerton wants to prepare visitors for the trip back in time as they head into the Impressionist landscape of the exhibition.
"What we wanted was to take us back into the 19th century. We started talking about frames and how we could border our entrance space to mimic that gold, gilded framing device."
After moving through modernist and contemporary galleries, visitors will circumvent a wall, to "switch gears mentally," says Fullerton, "to go back in time and look at the way the world was presented during the Industrial Revolution."
Once inside the exhibition and the Impressionist world, visitors will find Across the Atlantic organized thematically by painting genres, including portraiture, water and landscapes, and still lifes. Throughout, the exhibition will intermingle French and American artworks.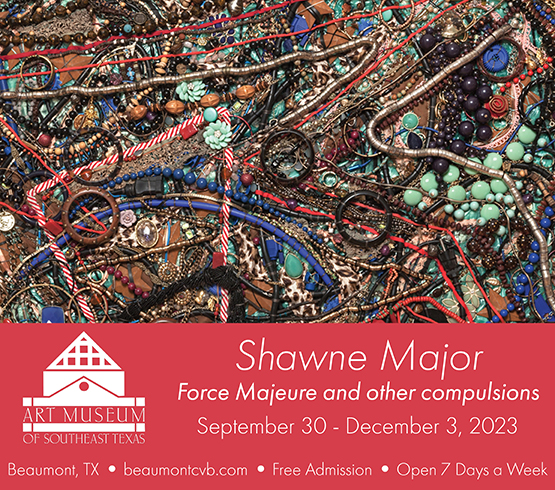 Visitors will experience the art evolution and revolution with an introduction to artists from the Impressionist precursor, the Barbizon School, including works by artists Jean-Baptiste-Camille Corot and Narcisse Diaz de la Peña and a kind of bridge artists between the Barbizon and Impressionism, Charles-François Daubigny. These artists first began to paint outdoors.
Those lovers of Impressionism from either side of the Atlantic will also spot headlining works by Edgar Degas, Claude Monet and Victor Vignon alongside Americans John Singer Sargent, William Merritt Chase, Childe Hassam, John Leslie Breck and Frank W. Benson. Of course, another artist that had to be included in the exhibition and one we might think of as the founding mother of Impressionism, Mary Cassatt, was born in Pennsylvania, also home to the Reading Public Museum.
During our talk, Fullerton revealed how movement and mobility become subtle themes of Across the Atlantic, beginning with the first word of the exhibition's title. Because of technical advances in painting and art tools we likely now take for granted, especially paint in portable tubes, the Impressionists could go out into nature, record and interpret the light they saw as it touched the world. And with that freedom of movement they could capture those transitory moments in nature, never to be experienced exactly the same way again.
"Being able to go out into nature and paint in that changing light is what really brought Impressionism about," describes Fullerton.
Meanwhile, American artists wanting to train in Europe and the American nouveau riche could more easily journey across the Atlantic to absorb European culture.
"The Americans who traveled to Europe were experiencing this in the moment," Fullerton notes, then adding "They came back to the U.S and started to look at their world around them."
Back home, American artists began to depict those local places and spaces they encountered, the fields, gardens, rivers, roads, cities and the light that touched it all with an Impressionistic yet also American vision.
At the same time, the art enthusiasts and patrons, some of whom were wealthy American industrialists, could both appreciate this radical art and afford to commission works and portraits that reflected their own lives. If Degas could depict the movement and stories of dancers, why couldn't American artists portray the light and lives of Americans?
"They began to gain items and objects and grandeur that they wanted to elevate and celebrate, so they commissioned artists to portray their objects and lives that showed that they had made it," Fullerton says of these art connoisseurs who recognized the genius of the Impressionist early on.
When I asked what the title of the exhibition, especially the concept of American Impressionism Through the French Lens means to her, Fullerton pondered before explaining that it's all about the experience and the impression.
"I think it's about context and perspective, about taking in like a breath or a view or experience and expelling it. Experiencing another way and interpreting individually through your own execution that impulse and influence. It's about travel and exposure and the resonance of all of that in the work of these American artists."
—TARRA GAINES