Fifth Annual Art Exhibit, Colored Carnegie Library, Houston, 1937. RGA0013-B11-SB1938-123b, Houston Public Library, HMRC.
---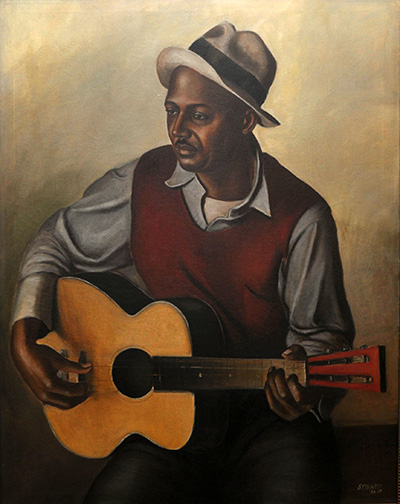 Houston audiences will get a rare glimpse into the Bayou City's pre-boom, Jim Crow-era art scene when the exhibition Planned, Organized and Established: Houston Artist Cooperatives presents paintings and ephemera from two 1930s collectives—one white, one black.
Curated by Danielle Burns Wilson, Randolph K. Tibbits, and Tam Kiehnhoff, the show runs Aug. 12 through Nov. 10 at Houston Public Library's Julia Ideson Building. The Center for the Advancement and Study of Early Texas Art is publishing a catalog to accompany the exhibition with essays by Tibbits, Kelly Montana, and Scott Grant Barker.
Devon Britt-Darby caught up with Burns Wilson, Houston Public Library's curator of special exhibitions, to preview the show.
It seems like there's a Tale of Two Cities quality to this exhibition—the parallel histories of these two cooperatives.
BURNS WILSON:  Right, and I think that's what's so interesting about it, that it is these two artist cooperatives working at the same time, separate but parallel in Houston.
The Houston Artists Gallery was led by Grace Spaulding John. The name of the show is Planned, Organized and Established because that's what exactly she did within a week—getting the artists together. They met at the Beaconsfield Apartment Building basement.
Meanwhile, the Negro Art Guild organized an exhibition every year at the Colored Carnegie Library. These artists just wanted to show their work, and hopefully sell some of it, as with most artist cooperatives.
What is interesting about this exhibition is that it's really obvious that black artists were the casualties of segregation in the culture back then. Of course the cooperatives couldn't exhibit together, but there were articles in the Houston Informer that white patrons and some of the artists in the Houston Artists Gallery came to the shows at the Colored Library and even served as keynote speakers.
Wow. It reminds me of the Harlem Renaissance, with white people going up to Harlem to take in the cultural offerings.
It absolutely was—and never the other way around. That's the whole casualty of segregation. It wasn't as though black people could go to the Beaconsfield Apartment Building. So this exhibition is the first time paintings of both cooperatives will be united in one gallery.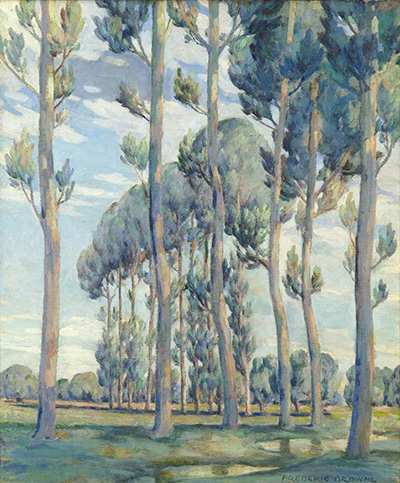 That is really amazing. About how many paintings are in the show from each cooperative?
Unfortunately and to our chagrin, there are only two paintings from the Negro Art Guild. A lot of these artists are unknown, and through research we found that a lot of them were junior college and high school students. I think it's because being a black artist in that time was not a viable career option. I assume that a lot of this work is in family collections if it's even around at all. It was probably a hobby for a lot of people.
We keep adding and subtracting works of art, but I believe we'll have about 57 works in the show. The exact total may change.
But that reflects the sheer disparity in what was available to you.
Exactly. To augment the absence of the work, we'll have archival materials and provide the context to tell the full story.
What's some of your favorite archival stuff in the show?
Because I didn't know about the Negro Art Guild and my background is in modern and contemporary African American art, I guess it's all the ephemera from those exhibitions. We've got invitations and little notes, and we're going to take some of the images from the actual shows and blow them up.
It's funny talking about this disparity, because most of the white artists, we could find, but we could only find works by two black artists. It pulls at your heart.
When Grace Spaulding John launched the Houston Artists Gallery, she mentioned hoping that some of the works shown there would find their way to the Louvre. As far as we know, did that ever happen?
No, I don't think anything ever made its way over to the Louvre.
Some pieces made it into the MFAH, though, right?
Exactly—some made it to the MFAH, which was small back then, but it's something.
It's funny to think about—even for white artists, it's not as though the Houston Artists Gallery was the alternative to the Salon. This was the Salon, right?
Yeah. This was absolutely it. And it was pretty exclusive in a lot of regards, because even their yearly dues were $30. I looked up what that would be in 2017, and it was roughly $400 that people were paying. So the fact that they were able to afford that—as you said, this was the Salon. This was pretty highbrow, although a lot of these women just wanted to work—and there were men also. A few—not many, but a few.
It shows the status of art in Houston at the time—not a priority.
No, not at all.
What else should visitors know about the show?
In addition to being the first to unite works from both Houston galleries, it also unites for the first time works that Elizabeth Morris and Frederick Browne showed at the Texas Centennial Exhibition in 1936 in Dallas at the same time Samuel Countee, who was a black artist, showed at the Hall of Negro Life, also in Dallas. All these parallel things that were going on, the show just brings them all together.
—DEVON BRITT-DARBY