Impresario, the promoter, financier, artistic director and all round driving visionary of a performing arts company or enterprise, is not a title bestowed onto individuals much anymore. Perhaps ironically around the time in the early 20th century that such an all-in-one occupation began to wain, one of the most dynamic and influential impresarios, Sergei Pavlovich Diaghilev founder of the Ballet Russes was rising to prominence. A genius at bringing together artistic geniuses like Vaslav Nijinsky, Igor Stravinsky and Pablo Picasso to create dance productions, Diaghilev lived a life as dramatic as any show he might have produced. Strangely that life hasn't become fodder often for other artists. So leave it to Tony Award winning playwright and elder statesman of Broadway, Terrence McNally, to fill the Diaghilev dramatization void with the fascinating Immortal Longings, making its world premiere at Austin's Zach Theatre (through July 14).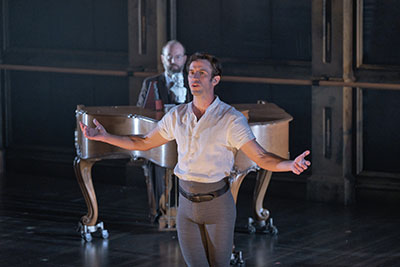 Set during the height of the Ballet Russes artistic achievements when choreographer and dancer Nijinsky would create the dances for The Afternoon of a Faun and The Rite of Spring, Immortal Longings focuses more on the volatile and obsessive relationship between Diaghilev (Steven Epp) and Nijinsky (Wyatt Fenner) than the rise of the company or Diaghilev's working collaborations with some of the giants of music and visual arts who contributed to that rise.
While chronicling the one-sided passionate, the other indifferent, end to their affair, Immortal Longings muses on the role of muses, art gods, beauty and artistic creation. McNally gives Epp many a funny to genuinely profound aphorism to deliver to his audience of friends (a.k.a enablers) and to the audience beyond the fourth wall. Epp spouts each maxim as a kind of plate in the cynical armor Diaghilev wears as protection from critics, creditors and life. From Epp's strong portrayal and McNally's words, Diaghilev seems more in love with the idea of love and obsessed with states of obsession than interested in being in earthly human relationships with all their foibles and boils, literal boils in the showman's case, which he hides under a cocoon of top hat and tails finery.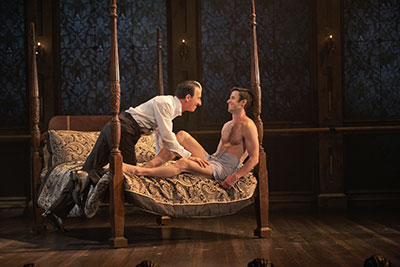 Director Peter Rothstein and McNally master a precarious balance between historical dramatization and memory play, but I almost wish they had failed in achieving that stability. Some scenes play coy at times for when and where in Diaghilev's life we land before giving us a tidbit about what's happening in the world. For example, rather suddenly in act 2 our plucky company must contend with touring in the middle of World War I. Yet in other scenes characters discuss their own existence as mere figments of Diaghilev's memory and imagination.
By the end, I wished playwright and director would go ahead and either turn its profile into a more naturalistic biography, complete with definite signposts of dates and time passages or, preferably, plunge us completely into the slipstream of Diaghilev's memories. Abandoning linear storytelling all together for submersion into Diaghilev's dream world might have solved some of the problems in the otherwise intriguing production.
The largest of these problems is how Diaghilev's colossal presence overshadows everything else, including his creation the Ballet Russes. While yes, this is his story, the other characters do seem as mirages in Diaghilev's mind, which could work for a memory play but not as well for the historically grounded scenes.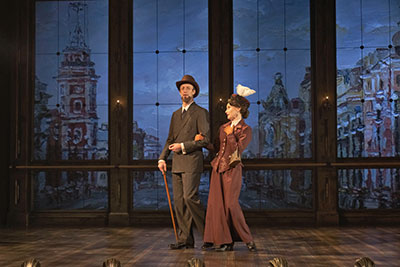 Nijinsky remains a cypher throughout most of the play, one moment a petulant child the next falling into an almost fugue state. Only when Diaghilev puts him into a musical trance to conjure Faun is Fenner allowed to show glimmers of a raw genesis choreographer. While there's novelty in seeing the role reversal of the artist becoming the muse for the manager, it doesn't give Fenner much to do but look beautiful while Diaghilev builds emotional shrines to him.
Joshua Pagan as the next Ballet Russes rising dancer/choreographer star Leonide Massine gets a meatier role to play. As the rebound protege he understands the deal going in. Though not an equal in education or sophistication, Massine demands some power in the relationship, while also showing a greater understanding of Diaghilev's personality.
The play uses arts patron and salon host Misia Sert (Shannon Koob) and Diaghilev's cousin Dmitry "Dima" Filosofov (James Patrick Nelson) as anchors attempting to bring Diaghilev down to earth from the artistic/love ethereal while sometimes digging him out of the depths of depression. The real life Gert and Filosofov were accomplished and dynamic enough personalities to deserve their own plays. Both Koob and Nelson grace their portrayals with nuance and life while relegated to sidekick status.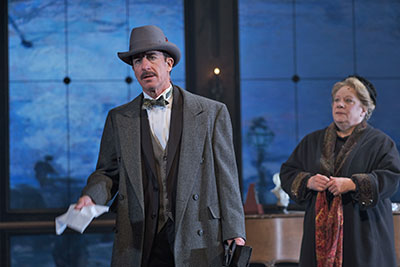 Dunya, Diaghilev's nurse/handler (played by Suzanne Warmanen with affectionate, resigned sarcasm) endows the show with much of its humor.
Leaning into the dream atmosphere of the play, scenic designer Michael Hoover's gorgeous rehearsal studio set, washed in cool blues and crowned with chandeliers, becomes bedroom, restaurant and even seashore as members of the ballet ensemble dance furniture in and out during scene changes.
The whole production is lovely to contemplate, but continues to work best when phrased as a dream.
For dance lovers wanting a staged biography of Diaghilev's life or a dramatic look into one of the greatest ballet companies of the century, they might not leave Immortal Longings satisfied. But those longing for a show about showmanship, some fine dialogue from an American master or a meditation on mortality, love and beauty, they will likely find enough immortal to keep the mind dancing.
-TARRA GAINES