---
IMAGE ABOVE: A Baroque Wedding Feast on May 9, 2014.  2013-14 season finale featuring soprano Meghan Lindsay. Photo by Monica Rhodes.
---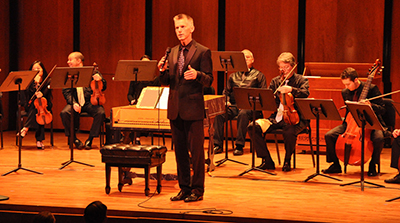 The final offering of Ars Lyrica's tenth-anniversary season was everything promised by its title. Billed as "A Baroque Wedding Feast," the centerpiece of the evening was a suite of favorite movements taken from both Music for the Royal Fireworks and Water Music, by G.F. Handel. They were introduced by the beloved Cannon in D-Major, by Johan Pachelbel in a suite assembled by Artistic Director Matthew Dirst who, in his remarks to the audience, joked about the fact that all of these elite artists had been asked repeatedly to perform these pieces at weddings.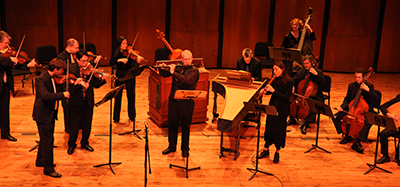 In fact, this music is probably more associated with mediocre performances by amateur musicians than in concerts featuring the likes of James and Deborah Dunham (of Cleveland Quartet and Boston Baroque fame respectively), Colin St. Martin (of everywhere Baroque flute fame) and artistic director and harpsichordist Matthew Dirst. They and their colleagues approached the music with the familiar ease of an old friend while still infusing the storied works with the kind of energy and vitality that have become a hallmark of the organization.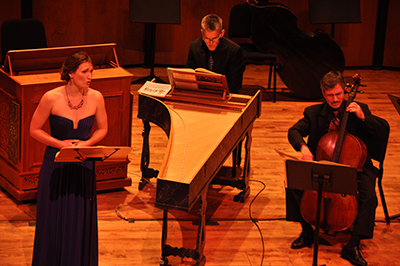 The bulk of the concert was devoted to two secular wedding cantatas by J.S. Bach, which were given scintillating readings by soprano Meghan Lindsay. She and her colleagues opened the evening with Be gone, gloomy shadows, BWV 202, which Bach composed for a wedding party sometime between 1708 and 1717 while in service of the court at Weimar. Typically, a cantata would be performed in church, but this lighthearted work was probably not meant for liturgical use. O wondrous and long awaited day, BWV 210 is also a secular wedding cantata. In this case, it was composed sometime around 1740 for a groom who must have been a serious patron of music. The ten-movement work brims with virtuosity for both singer and instrumentalists and despite its seemingly inconsequential nature—it's largely an ode to a wealthy couple on their wedding day—is representative of the kind of musical invention that makes Bach's music so delicious and universally appealing. Again, Ms. Lindsay shined with her brilliantly sparkling instrument and effortless phrasing as did her colleagues, oboist Catherine Montoya and violinist Yung-Hsiang Wang.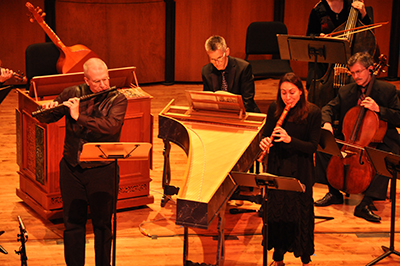 Another musical highpoint of the evening came during the one piece that did not have any kind of wedding themed association. Colin St. Martin and Kathryn Montoya took center stage for a masterful reading of a favorite work by G.P. Telemann. In spite of the fact that Telemann may have been the most prolific composer to have ever lived, his Concerto in e-minor for Recorder and Flute is one of his most popular pieces and St. Martin and Montoya relished in a performance noted for its variety of contrasting tonal colors and its elegance of phrasing.
—CHRIS JOHNSON