---
IMAGE ABOVE: Chamblee Ferguson in Dallas Theater Center's Sherlock Holmes. Photo by Karen Almond.
---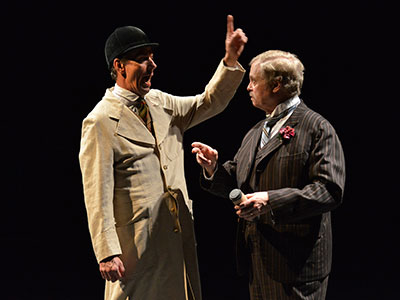 The Dallas Theater Center's (DTC) production of Sherlock Holmes, The Final Adventure, through May 25, begins as a policeman catches the news of Sherlock Holmes' death from a passerby but, as we all know from Holmes himself, "nothing and no one is who they seem."
Unfortunately in Steven Dietz's Sherlock Holmes, everyone is, and everything happens, exactly the way you would expect.
Dietz's 2006 adaptation of the classic story is based on the original 1899 play by William Gillette and Sir Arthur Conan Doyle himself, which combined two of Doyle's stories, The Scandal in Bohemia and The Final Problem, into one two hour plot.
The play follows Holmes and Watson as they assist the King of Bohemia in tracking down a photograph which threatens to ruin his impending marriage and thereby the union of two of Europe's great powers. As it turns out, Holmes' nemesis Professor Moriarty is involved in the blackmailing scheme as well, setting the stage for a final showdown between the two mortal enemies. The game is afoot!
Despite the fact, I would posit, that the world didn't need another Sherlock Holmes adaptation in 2006, to Dietz's credit, he has crafted very authentic Moriarty, Holmes and Watson, making The Final Adventure, if nothing else, a solid work of fan fiction.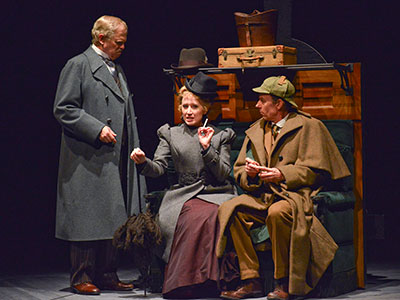 Unfortunately the cast members of DTC's current production don't seem to share Dietz's affinity for the detective and their lack of enthusiasm drags an already predictable play down further.
It's not that Chamblee Ferguson's Holmes, Kieran Connoly's Doctor Watson and Hassan El-Amin's King of Bohemiaa are bad, although that assessment could be debatable in the case of El-Amin's performance, it's just that they're not good. Add to that the fact that during the performance I saw, the usually impeccable Ferguson had a surprising amount of difficulty delivering his lines, and you have a crew of actors who appear to have devoted limited time or effort into the creation of their characters.
It's a rare occurrence in this city to watch some of our most talented actors, I also include Christie Vela's small, relatively superfluous character and Regan Adair's performance as Moriarty, in that grouping, deliver such tepid performances but, in their defense, they didn't have a lot to work with.
The thing about Sherlock Holmes is that the character and his associates have been played to death by some of the world's most and least talented artists, and the quirks, plot twists and disguises, whether in Dietz's or another's adaptation, are so transparent they have devolved into caricature. You can't pass it off as original and it's increasingly more difficult to pass it off as exciting.
I found myself wishing the performance would erupt into a melodrama, something El-Amin's confused character seemed to wish as well on occasion, anything to liven things up a bit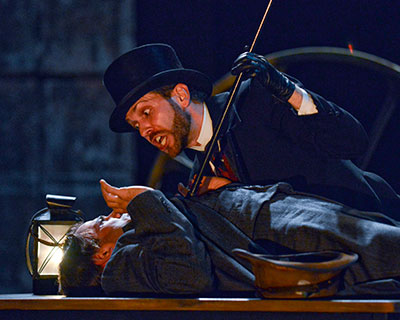 Despite the lackluster performances however, the DTC continues to display an incredible degree of technical prowess with Ryan Rumery's excellent surround sound design, which was detail-oriented enough to include the realistic and foreboding sound of dripping water in one of the play's climactic scenes set in an abandoned factory. Clifton Taylor's lighting which at different times brilliantly illuminated, or darkened, Russell Parkman's beautiful sets was also a bright spot.
All else aside, Hollywood hasn't given up on Holmes as a viable moneymaker and a Dallas audience, which turned out in impressive numbers for opening night, serves as proof of Holmes continued marketability. The seats will fill regardless of the performers, it's just unfortunate some of our city's most talented working actors couldn't muster even enough residual enthusiasm to tackle Dietz's simple homage to the master detective.
—JENNIFER SMART