Candice D'Meza, Rutherford Cravens, Charlie Scott, Kyle Sturdivant and Carolyn Houston Boone in the Catastrophic Theatre production of Sam Shepard's Buried Child at the MATCH.
Photo by Anthony Rathbun.
---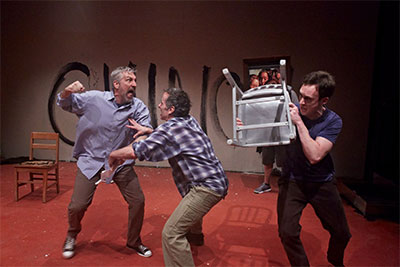 When I left Houston to go to graduate school for creative writing, I wasn't precisely looking to get out of theater, which had until then been my primary artistic pursuit. But in the four years I spent living in Tuscaloosa, Alabama, that was the effect.  I was out of theater, committed instead to pursuing a graduate degree in writing, fully-funded in a program I felt I had been accepted to by the skin of my teeth, on the strength of just a handful of poems I'd written in college. In the time I spent away, fully civilian, I saw very few shows, mostly on summer and winter breaks in Houston, though I did see a few student productions at the University of Alabama. This was as "out" as I ever got from theater, really, a casual attendee of a play or two a year. Still, I would sometimes marvel at the change.
After being a part of theater for six years, I moved to a small town and became a spectator. Occasionally I would talk to an old friend on the phone, sitting by the window drinking whiskey and watching the sun set, and each time I would eventually come around to saying, "can you believe I'm not in rehearsal right now?" For other friends, it was like I had disappeared. Theater is a close-knit community, but such a collaborative art form demands presence, and it's easy to disappear—all you have to do is not show up. Still, theater was like riding a bike; I thought I could hop back on and pick up where I left off, when I felt ready.
While I was away, people often asked me if I planned to move back to Houston after graduation. I was always noncommittal, but leaning toward not. "I don't see any reason I would go back," I said once, although that was flatly a lie. My family is here, many of my oldest and dearest friends are here, and here remains the theater scene to which I felt connected, sometimes quite deeply, other times only tenuously. Which is to say, I didn't plan to come back to Houston and I'm not surprised that's what happened. Throughout my time at the University of Alabama, I would gripe about Tuscaloosa's lack of what I called culture, although over the years I discovered a lot about what "culture" means to me and to others, eventually deciding that what Tuscaloosa lacked was a good opera, and it made up for that lack with compelling football.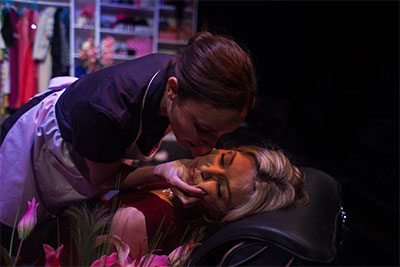 Back in Houston after graduation, I found myself in an awkward middle space, out of the pressure cooker of full-time teaching and editing and writing, and back in a place that had moved on without me, and without any particular purpose, other than vaguely wanting to find a job, maybe, at some point. I felt a bit like a ghost, and a bit, eerily, like myself from five years ago, as if I was just waking up from a strange dream that I had run off to live in Alabama for almost no reason. I had no way back in to my old life. But I started seeing plays. I was no longer an artist in the genre of theater, but as a writer, I am a seasoned spectator, and friends kept telling me how the scene had changed in my absence.
The first show I saw was with Stark Naked Theatre, which has recently re-branded as 4th Wall Theatre Company. The show was Saint Joan, by George Bernard Shaw, the production imported from New York, a collaborative effort with Bedlam Theatre to bring the show to Texas. 4th Wall's production space, co-inhabited with Mildred's Umbrella Theatre Company, has been impressively built out. I remember only a curtain and the suggestion of a wall dividing the audience from the dressing room before I left, but they have since installed a sound and light booth and a more substantial wall that has transformed the feel of the space from a more open, salon-like studio to something more like a black box theater. I would later re-visit this space for Mildred's Umbrella's production of The Maids, by Jean Genet, and I can vouch that it has a theater's natural ability to camouflage, and the stark contrast between the sparse setting of Saint Joan and the brightly-colored, cluttered set of The Maids shows just how versatile a space it is.
Nearly every theater I visited had been renovated in some major or minor way. When I first started in theater, it was the age of the nomads, with only the largest theaters having their own spaces and the rest moving from theater to theater, renting out spaces for each show, for rehearsals, for fundraising galas. Now, many of those theaters have set down roots, and the theaters that have always had roots have taken to renovating. For example, Main Street Theater's Rice Village location, where I dropped in to see Working this summer, has undergone a drastic renovation. I worked there on-and-off for years as a production assistant, and I didn't recognize the inside. Gone was the stage door that I once stood outside for several minutes waiting to hand an actor a prop, or holding a pair of pants for a quick costume change. Gone are the two pillars on the stage, the seats are entirely new, and the bathrooms are no longer cramped broom closets. Everything was glossy and new and almost wholly unrecognizable.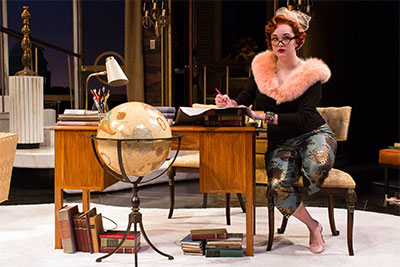 When I later went to The Alley Theatre to see Born Yesterday, I couldn't help but compare their renovation with Main Street's. The Alley's renovation was likewise thorough, and they, too, got rid of their on-stage pillars (I can't help but wonder if set designers are relieved or disappointed to no longer have to dress them up for each show), although the overall result is less dramatic. The Alley is The Alley, and in its renovations it maintained the quality it had that was classic, almost iconic. This was not a full overhaul; it was more a subtle facelift, although it, too, came with nicer bathrooms, and I've decided I'm only going to judge a theater space by its bathrooms from now on.
I was excited by all this renovation, but the thing I had been dying to see was the MATCH—the Midtown Arts & Theater Center. I'm not sure what I was expecting, but the idea of a brand new performing arts venue in Midtown was incredibly exciting. I wasn't disappointed; the space is beautiful, and if Catastrophic Theatre's performance of Buried Child is any indication, home to some truly stunning artists. It was especially strange to come to MATCH, because of all the theater spaces I visited in my summer of catching up on plays, MATCH was the one I had no context for; it was not a renovation of a space I knew well. It was, if anything, evidence that, to a certain extent, I was visiting Houston as a stranger, almost a tourist.
Fortunately, Stages Repertory Theatre had given me a strong vaccine to that disorientation. Being at Stages was a little bit like coming home, and the show, Big Fish, adapted from the novel by Daniel Wallace, the source material for the Tim Burton movie of the same name. Some things had changed at Stages; I saw actors I didn't recognize, and while I had heard a lot about the director, I was mostly unfamiliar with his work. However, in many ways it was exactly the theater I remembered, and I was glad of that. Stages was the first theater in Houston I ever attended, in my first year at the University of Houston, before I'd worked on my first play. The assignment was for my Introduction to Theater class; we had to pick a play to watch. I don't remember the play that I saw. I remember it featured Rutherford Cravens, an actor I would always be fond of, and while I was there I ran into, and struck up a conversation with, my Introduction to Theater TA, a graduate student who would later become one of my best friends. I was glad to sit in that familiar seat for a moment and enjoy a flashback before the real show started.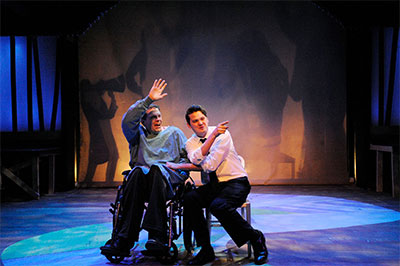 Ultimately, seeing all this theater and thinking about spaces made me nostalgic. I remember working on shows in leaky rented black box theaters with mold problems and bad ventilation. It feels tempting to say that maybe Houston theater has lost some of its DIY vibe, but that's perhaps too broad, and I'm uncomfortable making a statement like that based on six shows and a handful of new venues. It's exciting, too, because I've always maintained that Houston is a world-class theater city, and the work here has always made me excited about the possibilities of live performance, and that feeling hasn't diminished. It's a town with incredible talent: I think of all the writers, directors, designers, and technicians I've known and greatly admired. Now they have houses that are worthy of their skills, and that's exciting. I'm eager to see what new and exciting artists and productions will emerge from this fertile environment, and, perhaps, eventually, even dive back in myself.
Taking a whirlwind theater tour wound up being the best thing I could have done to fight the post-graduate school blues. I ran into friends, friends-of-friends, casual acquaintances, and former colleagues. I had a memorable night hanging out after the Mildred's Umbrella show, eating a pizza that had accidentally been ordered, drinking wine, and catching up with a company that had once counted me among its members. I picked up a set of tickets at The Alley and found that the ticket envelope listed a position I'd last held seven years ago. I briefly, and embarrassingly, confused Shaw's Saint Joan with a Bertolt Brecht play and spent the first 10 minutes of the show wondering why the writing sounded so off. Theater, as it turns out, is not at all like riding a bike. Some things, you forget. But some things you remember.
—ZACHARY DOSS