Natasha Bowdoin, Sideways to the Sun, acrylic on cut paper, wall, board, ink on paper, and vinyl on floor, dimensions vary; photo by Nash Baker.
---
I meet Natasha Bowdoin for breakfast tacos a few days after the opening of her installation Sideways to the Sun at the Moody Center for the Arts at Rice University (on view through May 18). She's coming off weeks of install—the project is the most ambitious of her career to date, in terms of its scale—and she seems at once stunned and energized by the project.
"I've been trying to get my work off the wall for a while now," she says, noting that this is a more immersive environment than any of her previous installations. "People are in it in a way they haven't been before."
The work is a lush gardenscape made of painted cut paper and vinyl across the wall and sprawling out onto the floor. Foliage covers the floor, winding out of the exhibition space, into a nearby hallway, and out the door. Movable wooden plant forms extend into the space, much like theater props. "I tried to make it with an eye toward it being performed in," she says. Upon entering the installation, the viewer seems to step into a cartoon, becoming a tiny figure within a massive and whimsical drawing.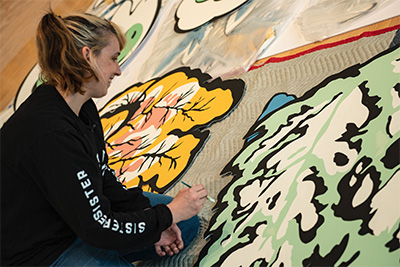 The day after the opening, the Moody Center and the Cultural Services of the French Embassy hosted a "Night of Philosophy and Ideas," in which visiting artists and scholars, alongside Rice professors, gave short talks about their subjects of study, mostly related to ecology and the natural world. Dancers from the Open Dance Project performed in the piece, and the night ended with a performance by the New Orleans Hustlers Brass Band.
"If I imagined the noises my installation would make, a giant tuba just feels right," Bowdoin tells me, laughing. "(It was like) a sound emitting from my environment… Full of aggression, exuberance – the tone felt right."
Bowdoin's nature is one that defies our expectations. At once wild, aggressive, unpredictable, and mysterious, its scale reduces adults to the size of children. It is all-encompassing, overwhelming, strong. She's been interested to see how children move through the piece, especially because the scale of the work is particularly striking in relation to their size.
"I am trying to put forward an image of nature that is not bound to how we normally see it, not bound to past symbolism," she says. The work pushes against the metaphors we make of landscape, especially those associated with gender. "Traditionally, flowers are the epitome of femininity. But, I don't think of nature as particularly passive, or beautiful at all times… If [women and nature are] going to be categorized as sympathetic to each other, I thought let's present something that is true. We're powerful, wild, unpredictable, and threatening."
Sideways to the Sun is one of several exhibitions at the Moody Center this semester that take ecology as their premise, but Bowdoin is careful to note that her installation is not primarily a work about environmentalism. It is not, she says, an illustration for how to protect nature. Instead, the piece challenges how we describe and define the natural world. "If someone can come in and be reminded that the natural world is not to be trifled with, is something that needs to be preserved – that's great," she says. "But, when we talk about climate change, we can't take ourselves out of it. I wanted to put nature on a stage that doesn't center the human."
Bowdoin's installation looks to diverse cultural referents—cartoons, 1970s floral textile prints, botanical illustrations, and narratives of exploration, both real and imagined. Transcendentalist writer Ralph Waldo Emerson's essay "Nature" has been an important touchstone for the work, especially his description of a "transparent eyeball."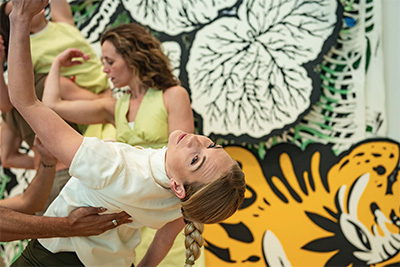 "Whatever I'm trying to do is to break down boundaries between myself and the world around me," Bowdoin says. Emerson's eyeball is the symbol of that permeability, the reciprocity between the human and the world around her. "I am looking for more back and forth between the self and the world, and I feel like that's what an artist is supposed to do. It is symbolic of a larger way of being in the world, being a kind of participant observer."
Bowdoin takes her title from a New Order song that helped fuel her install. "I knew I would have to muster a lot of energy, and I needed an anthem to fuel that," she says. But also, "I like the idea of a skewed orientation, of reorienting yourself to the natural world. To me, that title is about reorientation."
Her massive carnivorous plants crash in around each other and twine around us in spectacular overlapping verdant piles. Bowdoin says she was thinking especially about swamps and the way they've been deployed in recent years, especially through political rhetoric. Within the swamp, there are unpredictable and powerful patterns of growth and survival. "I was interested in that kind of growth that can happen in a swamp, that's more askance, where the sun can't even pierce."
The exhibition wall text describes nature's resistance to human rules: "…nature doesn't recognize our borders. It gnaws our baseboards, buckles our roads, gets up our noses in springtime and down our collars in winter. And any stable meaning we try to attach to it, any story we try to tell, gets mulched eventually."
In the swamp's particular way of making its own logic, Bowdoin sees a world that is upside-down, sideways, overwhelming. "I'm trying to argue for a much more complicated vision of the world that doesn't necessarily make sense, something that doesn't even hold sense up as the primary thing."
For many artists, there's usually a bit of a lull after opening such a big project, but Bowdoin is already thinking about her next work. In the meantime, she's considering another dramatic scale shift. "I've been thinking about making a zine," she says, with a smile. After Sideways to the Sun, there's something compelling about "making a world at the scale of the page of a book."
—LAURA AUGUST