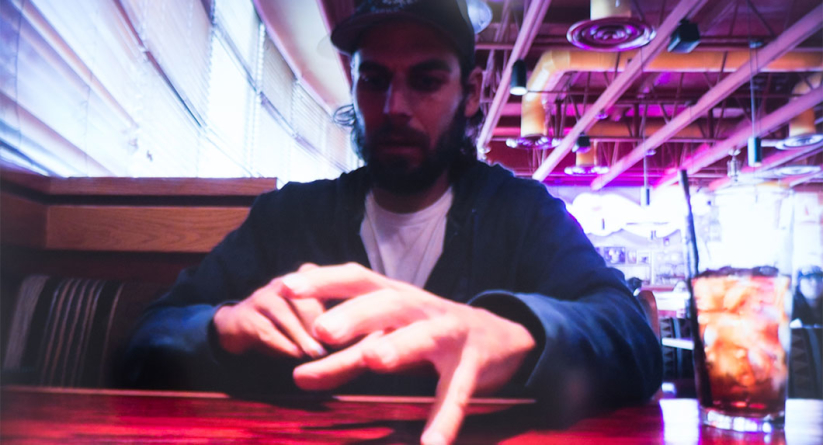 Special Madness at David Shelton Gallery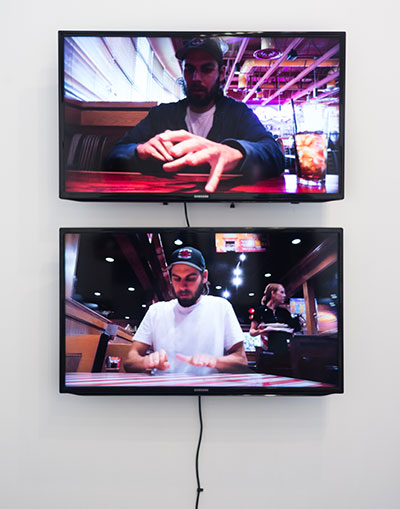 At first glance Keith J. Varadi's exhibition at the David Shelton Gallery is a show about madness.  Not the madness of Jean-Martin Charcot's hysterics, but a quiet, meditative madness that radiates out in precise, throbbing waves.  It's the type of madness where everything has its place, every movement is exact—the walls are stark, white, and clean and everything must be in order.  An order easily overlooked if not for the deep intent with which those governed by it complete their tasks.
Upon entering the front gallery, one is met with expansive space.  Ian Swanson's "40lb NO HEAT" (2014), a bow made of PVC, fiberglass, and other objects including a toothbrush, sit in front of the gallery's desk, and two pieces by Jesse Stecklow hang on the gallery walls, somewhat innocuous in their quiet presence.  Varadi explained to me that this section of the show alludes to functionality and the body, an idea best exemplified by Stecklow and Chloe Seibert's works.  Stecklow's"Untitled(4:16:52)", 2014, 2014(2014) is an amalgamation of clock parts, hardware, and, interestingly, Carbograph 5 air samplers.  Instead of taking time, this piece literally takes air samples from the space and—although indirectly—from the bodies that enter it. Seibert's "Doggie Door" (2014) forces the visitor to crouch down and become a different kind of animal whose emotions and sense of self is obstructed.  Nervous, uncertain, one asks if this action, this moving down and forward, is proper or correct even before entering into the movement.  I found this piece to be particularly engaging as it acts as a gateway from one experience of space and time to another.  Both of these works alter one's understanding of everyday objects and, as a result, force a transformation of consciousness that lends to the works beyond Seibert's aluminum and plastic threshold.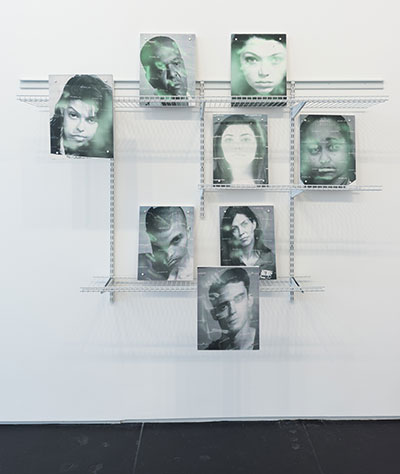 Once in the Main Gallery, one is greeted with another piece by Seibert, a mixed media, blue sculpture of a woman lying, propped up on one arm, across a large slab on wheels.  On the wall to the left hangs Swanson's set of eight, eerie mugshots displayed in a grid formation.  On the opposite wall and also on the back wall, are two ink and gesso "witch" drawings by Stanya Kahn.  Of all of these pieces I found Aaron Garber-Maikovska's video pieces, TGI Friday's and Red Robins –both made in 2014– to be the most interesting.  Both are looped videos featuring the artist making meticulous hand gestures in the aforementioned restaurants as other diners and staff pass by the camera.  The camera is angled up at Maikovska, further accentuating the viewer's voyeurism: it feels as if one is peeking into a moment of insane, relentless execution of gestures.  It is these gestures themselves, and the intensity with which the artist executes them, which draw one into the video.  Further, the passing of the other diners heightens the sense of the actions being out of place and bizarre; even the location lends to this sensation insofar as most people have some level of familiarity with these chain restaurants, and therefore have a sense of what normality is within them.  These pieces in particular tie well with Varadi's preoccupation with exploring "certain understood codes or signifiers of madness," as he explained to me.  Moreover, this exhibition, which seems to explore madness as a disruption within the familiar, quietly succeeds in reiterating "the fact that the world is mad and that madness cannot be understood or fully defined."
– CHARISSE WESTON
---