Joseph Palmore and Elaine Robinson in Stupid F##king Bird   at Stages Repertory Theatre. Photo by Bruce Bennett.
---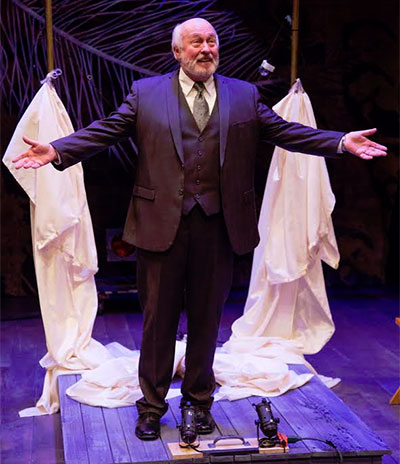 This is a review of Stages Repertory Theatre's regional premiere of Aaron Posner's play Stupid Fucking Bird, through April 12. You are probably certain as you read that you are in reality reading a theater review, though perhaps a stupid fucking review. (Courtesy requires you to wait at least a few more sentences before making such a judgement). You know you are reading a review just like if you go see this production of Stupid Fucking Bird at Stages Theatre—and this review, stupid fucking or otherwise, will advise that you really, really should—you  will know that what you are indeed seeing is a play titled Stupid Fucking Bird.
Or are you?
Perhaps Stupid Fucking Bird is not a play, but a site specific performance happening. Perhaps, as it claims to be on the program and posters, it is "sort of adapted from The Seagull by Anton Chekhov," or is a "rip off" of a classic, as one character proclaims within the play. Perhaps it is a therapy session among characters who know they inhabit a play or who know they are in a site specific performance happening thingie.
At this paragraph in this theater review, you are perhaps thinking: Oh, so Stupid Fucking Bird is one of those plays, or whatever it wants to fucking call itself, that refuses to acknowledge that invisible fourth wall between stage and audience and continuously rubs our faces in the fact that we are seeing a play, even though we know going in that of course we're seeing a fucking play. I ______(love, hate) those types of plays. And you would be absolutely correct in your thought.
If you hate those types of plays, well I would remind that playwrights started breaking down that fourth wall as soon as they first put it up. It's not like all those Greek Choruses were yakking only to themselves about how fucked up Oedipus's situation was.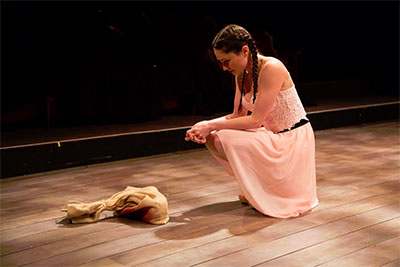 For those purists who love Seagull, this comic Bird bares similar plumage. Posner keeps Chekhov's poignancy and the all-unrequited love stories from the original play but has made them possibly more tragic, or annoying depending on your perspective, as these lovers live in our 21st century reality, a reality where we might be just as likely to vent: "Get over it, already. She's just not that into you," as we would sympathize.
The cast is almost as unwieldy as Seagull's, which the play readily admits, but director Kenn McLaughlin makes certain the superb actors each get their own moments to shine brilliantly, while keeping the emotional depth of the characters real, even as they wrestle with the knowledge they are only characters written to be what they are.
Elizabeth Ann Townsend, playing aging actress Emma, literally bares all to keep her lover, Trig, played by Shawn Hamilton, from abandoning her for ingenue Nina, and yet Hamilton is also able to give Trig's cliched mid-life crisis real understanding and heartbreak. Nina, played by Emily Neves, who literally bares half to win Trig away, is just as sad and infuriating as her counterpart in Seagull. Ross Bautsch's Con figuratively bears a load of mommy (Emma) issues all the while knowing he's the one who must die for love and art in the end. Con loves Nina, but Elaine Robinson's Mash loves Con and singing about how much life sucks. Rounding out the cast, Houston favorite James Belcher gets to play a nice guy for once, as Sorn, who tries to make sense of this soap opera, with philosophic underpinnings, going on around him while having his own late-life reality crisis.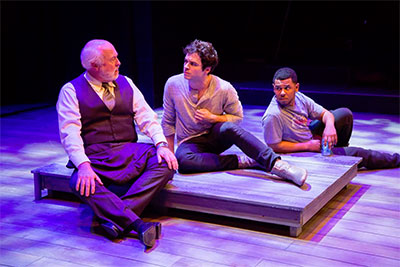 But it is Joseph Palmore's Dev who bears the real heart of the show. As everyone else agonizes and talks endlessly over the meaning of life and love for a character in a play or a person in the world, Dev really lives life, feels love, and understands the simple magnificence of having a bowl of really good ice cream. Also, his monologue about watching a family of waddling goslings is worth the price of admission.
As for those who do love these types of plays, I haven't had this much fun watching one since I first saw Stoppard's Rosencrantz and Guildenstern Are Dead many years ago.
You have reached the end of this stupid fucking review. Stop reading.
—TARRA GAINES