Texas Ballet Troupes Conclude on a Classical Note
---
IMAGE ABOVE: Sara Webb and artists of the Houston Ballet in Stanton Welch's Swan Lake. Photo by Amitava Sarkar.
---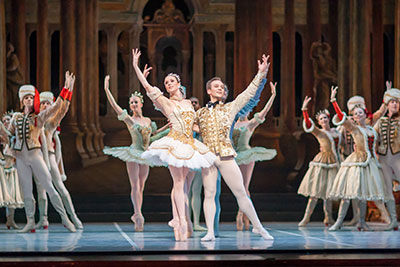 Texas Ballet companies conclude their seasons with vintage warhorses: Swan Lake, at Texas Ballet Theater, May 30-June 1, and Houston Ballet, June 5-15; and The Sleeping Beauty, at Ballet Austin, May 9-11.
. . . . . . . . . . . . .
IMAGE: Ashley Lynn Sherman, Frank Shott and Artists of Ballet Austin in Sleeping Beauty. Photo by Tony Spielberg.
. . . . . . . . . . . . .

Chances are good that you have seen these ballets more than once, which should allow you to relax into the familiar choreography and pay more attention to the dancing. For me, it's about watching the next ballerina step into one these iconic roles—a cherished tradition in ballet's hallowed world. Dancers also see performing these roles as a rite of passage: It's as if they step into the past of their art form and the future of their careers at the same time. Oh, and let's not forget Tchaikovsky's sublime scores; it's ballet music at its best, to be played by a live orchestra for all three companies.
Ballet Austin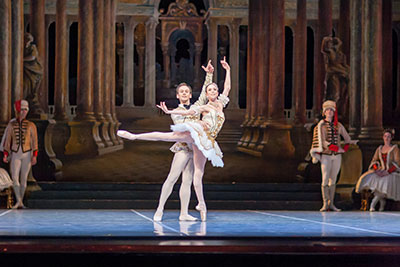 Ballet Austin's Ashley Lynn Sherman has danced the Third Act of Sleeping Beauty, known as "Aurora's Wedding" a number of times; yet this will be her first go at the complete full length in the lead role. "Every time I tackle a role, I bring everything I have learned along the way with me," says Sherman. "It's great to revisit a character and bring something new to the table. And it's a very grand note to go out on before the summer break."
. . . . . . . . . . . . .
IMAGE:  Ashley Lynn Sherman, Frank Shott and Artists of Ballet Austin in Sleeping Beauty. Photo by Tony Spielberg.
. . . . . . . . . . . . .

Technically, Beauty is a beast. The ballet may affectionately be known as the "they dance, they sleep, they dance again" ballet, but that thin story line gives plenty of opportunities for variations that show off a dancer's virtuosity. "The variations are all very long with difficult ménages at the end (turns traveling in a circle)," she says. "The First Act entrance into the 'Rose Adagio' and variation is definitely a test of stamina."
After watching the nimble Ballet Austin during New American Talent, it's clear that this company excels at contemporary work. However, stretching their classical muscles is also part of the package: "It can be very difficult, shifting gears all the time between classical and contemporary," says Sherman. "One of the things I love about this company is the variety of the repertory."
Houston Ballet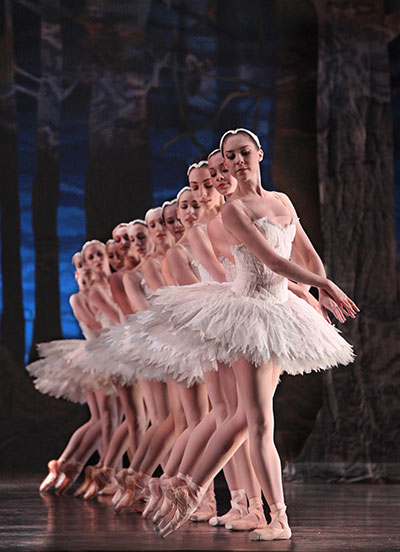 Who doesn't love a bird ballet? With a little tweaking by Houston Ballet chief Stanton Welch, Swan Lake got a fabulous upgrade when the choreographer unveiled his own version in 2006. Welch drew his inspiration for his ballet from in John William Waterhouse's Pre-Raphaelite painting, The Lady of Shalott. The late New Zealand designer Kristian Fredrikson created the watery world of Welch's Swan, which exudes a dream-like atmosphere.
Since this is the third time Houston audiences have been treated to Welch's Swan, the ballet will offer some dancers their first performance, while principal Sara Webb arrives in top form at her fourth Swan. For the premiere of Welch's version, she danced with American Ballet Theatre superstar Marcelo Gomes, a decade after they performed the White Swan pas-de-deux together as students at the Harid Conservatory.
. . . . . . . . . . . . .
IMAGE:  Artists of Houston Ballet in Stanton Welch's Swan Lake.  Photo by Amitava Sarkar.
. . . . . . . . . . . . .
Webb relishes the chance to dwell in the good/evil duality. "Swan Lake is unique in that the lead is really two leads performed by the same dancer," says Webb. "The role of Odette/Odile is already challenging, due to its choreographic and endurance requirements; add in the artistic challenge of dancing two contrasting characters. Odette is all about control, balance and vulnerability, while Odile is all about power, stamina and command."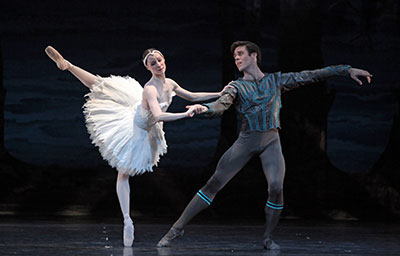 Swan Lake is a ballet that only comes around every few years so and due to the short careers of dancers and injuries, every Swan could be the last one. "The first time, you still are a 'baby swan' just trying to get through it, but each time after that you get to add to the role and grow into being more of a 'swan queen,' incorporating experiences from the studio, stage, and life in general," she says. "Every time I have danced Swan Lake, I have felt like it might be the last time. That thought is always sad, because, to me, Swan Lake is the epitome of all ballets."
. . . . . . . . . . . . .
IMAGE:  Sara Webb and Connor Walsh in Stanton Welch's Swan Lake.  Photo by Amitava Sarkar.
. . . . . . . . . . . . .
Any production of Swan Lake is only as good as the corps de ballet, because there's nothing so breathtaking at looking at dancers in perfect formation. Elise Judson, recently featured in an "On the Rise" story in Dance Magazine, sees the corps's role as crucial to the success of the ballet. Judson takes her job as a senior swan seriously in passing along crucial knowledge. "Luckily for our bevy of swans, about half of us did this same production five years ago," she says. "Those of us veterans are able to help the younger ones with the choreography, the formations, and the musicality."
Judson is all about the group think of the ensemble work. As a seasoned veteran, Judson does that well and as even developed a methodology. "There are tricks to dancing in a corps de ballet," she muses. "We have silly terms to help us be as specific in our spacing as possible: 'in between' and 'in between in between,' to name a few."
The geometry of the ballet creates an amplification of Odette's tragedy. Judson adds, "We have to convey the same emotions that she feels; she is our friend, and we are by her side throughout the ballet."
Texas Ballet Theater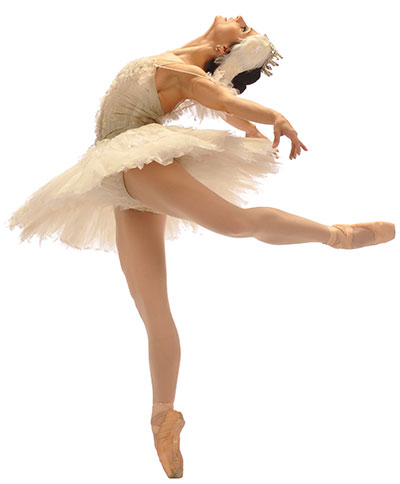 Texas Ballet Theater's Carolyn Judson (Elise's older sister) is on her third Swan. Judson first saw Houston Ballet when she was 17, a performance that made its mark. "Seeing the ballet was really a turning point for me," says Carolyn. "I knew I wanted to pursue a career in ballet." She performed her first Odette/Odile at 21 with TBT. The 32 fouettes didn't faze her. "I'm not any more worried about them than I am about the rest of it."
. . . . . . . . . . . . .
IMAGES:  Leticia Oliveira in Texas Ballet Theater's production of Swan Lake. Photo by Ellen Appel.
. . . . . . . . . . . . .
Another go at Swan means another chance to prove your mettle. "Each time you visit a role, you bring new experience and thought and emotion to it," she says. "You get to push your technique to new limits and bring more depth into the character you're playing, and to me, that's the most enjoyable part."
Leticia Oliveira danced in the corps during Stevenson's tenure at Houston Ballet, but she had to wait until she arrived at Texas Ballet Theater to dance her first Odette/Odille. "What I love about Ben's version is how close he stayed to Petipa's original ballet," she says. "I'm very conservative when it comes to the classics."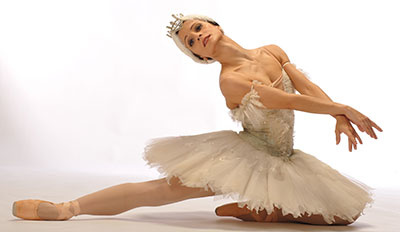 Oliveira is more comfortable with Black Swan. "Odile has always come easier for me, since I'm more of a bravura dancer, but I really enjoy exploring my soft and lyrical side with Odette," she says.  Besides the emotional depth of the ballet, most ballerinas will tell you it's just a damn hard ballet. "One thing that I'm not looking forward to is the big dive at the end of the ballet," she says. "That is always so scary."
—NANCY WOZNY