Ann Johnson, Wings (Detail), 2018, intaglio on handmade vegetable paper of squash and zucchini, 6 x 8 inches.
---
"The physical structure of the universe is love."

—Teilhard de Chardin, Paleontologist, Geologist and Philosopher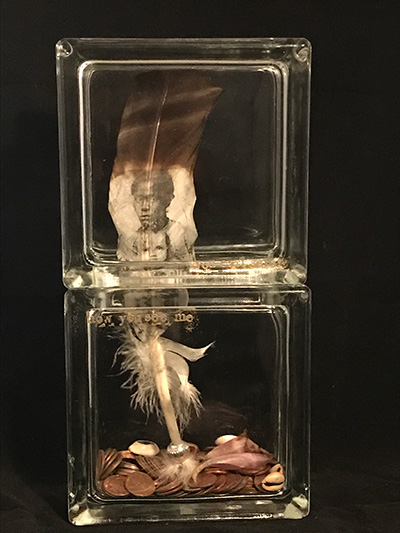 Ann Johnson's studio is a manifestation of the love that de Chardin believed comprises the universe. In 2002, Johnson agreed to her father's offer: a generous gift toward the house of her choosing. "I was fine in my apartment. My mother said, 'Ann, your Daddy wants you to have a house; you better get it!" Her father's love shifted her contentment to ambition.
A lovely sculpture garden invites one to pause and breathe before entering the front door. Her living room transforms into her gallery, studio, and printmaking space. The guest rooms are a library and vault of artwork. Sculptures and prints line the walls and sit atop tables. Vibrant portraits, painted using her feet, illuminate the corners of the rooms.
Johnson grew up in Cheyenne, Wyoming. "I used to want to work for the Ebony Fashion Fair," she chuckles. "They used to come through my hometown. I studied fashion so I could work with them."
She earned both an Associate's degree from Bauder Fashion College and a Bachelor's degree in Merchandise and Design, graduating from Prairie View A & M University. Due to her academic prowess, she surpassed what the fashion department could offer her and shifted focus to her art minor. "My first year at Prairie View, I taught the Design Illustration class as a student for scholarship money. I got credit for my own class."
She holds a Masters in Humanities from University of Houston and her terminal degree, an MFA from the Academy of Art University with a concentration in printmaking.
In 2015, she began to use her creativity deliberately, as a vehicle for activism. Johnson's sense is that stories of police brutality and unfair treatment toward African Americans and women reverse important strides toward cultural harmony. She expresses her sorrow, love, and hope through her work.
A professor at Prairie View for 20 years, she drives past the intersection where Sandra Bland was stopped every day. "I can't tell you how that messes with me…My intentions now are to facilitate honest conversations."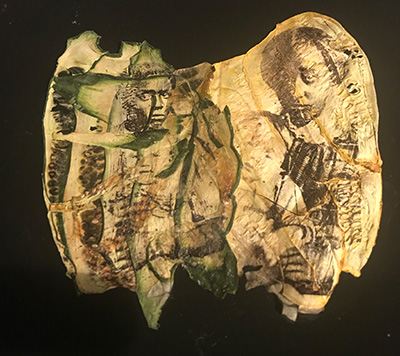 Experimental printmaking is her medium for guiding dialogue and invoking curiosity around race, gender, and exploration of identity. She likes to wake up working. It's not uncommon for her to begin, look up and realize it's the dawn of the next day.
Her process begins with a dream. "I dream everything that I do…I always keep a sketchbook so that I can wake up and write down my dreams."
She selects an image: a friend, relative, or someone she wants to honor. Her interest is in the Intaglio printing process, a technique she fell in love with in school. Bored with paper, she began experimenting with feathers, leaves and now vegetables as paper. Printing the image on a transparency, she uses a lightbox and transfers the image to a specialized printmaking plate, submerging and etching the plate in water.
Then, she "inks" the plates. With tarlatan fabric, she scrapes the ink off and then transfers the image by sending the plate and feather, leaf or vegetable through the printing press. Laying those aside, she begins her relief prints, which work more like a stamp.
The Food Network is usually on in the background while she is printing on her self-made vegetable paper.
"Here's what happened," she laughs. "I was supposed to be making healthy snacks with my food dehydrator. Looking at the end product, I thought 'Oh that might be cool to print on.' Snacks be damned!" These days her dehydrator is used primarily for artwork.
She carefully merges her fashion and art education. "I wanted to go into visual merchandising. The goal is to make someone want to come into the store. I try to create works that are conversational and inviting," she remembers.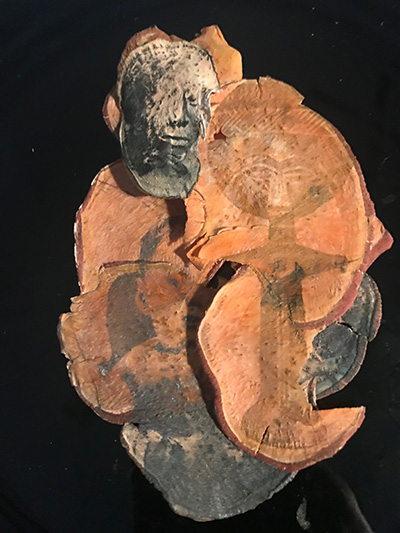 Many exhibitions are so clean, delicate, and intricate that patrons experience fear before digesting the message of the work. Johnson endeavors to invite people in, creating a warmth that encourages exchange and a shift in perspective.
"I create a happy balance between elegance and a fashion-forwardness. I can physically recreate spaces and highlight certain points of direction, like a still life or a film set."
Johnson, Rabéa Ballin, Lovie Olivia and Delita Martin form The ROUX collective.
For a ROUX exhibition titled STIR, she contributed a series called GENEALOGY: PRESERVED. She reimagined her grandmother's kitchen, meticulously positioning plated printed vegetables, the spacing of utensils, etc.
Her favorite piece, entitled How You See Me, expresses her critique of our current state of events. A feather bears the image of Louisa, a slave girl holding a white baby, her master. The feather sits inside a glass box atop pennies and cowrie shells. Gold embossed letters read, "You can't see me/how you see me."
Johnson says, "I'm fascinated by her expression…I used this piece to discuss how double-consciousness kicks in." She explores the fragility and trapped nature of African-American women; however prosperous and educated; those women continue to be seen as domestic help.
Currently, collaboration is a priority for her. She is preparing for a show with the installation artist, conservator, and educator Kaneem Smith, and another exhibition with the ROUX Collective.
Johnson works in series and is creating a daring new one: vegetable print collages depicting African American wet nurses, that is, breastfeeding nannies. She hopes to drive compassionate dialogues through the use of abstract imagery, layering materials and utilizing hues and textures.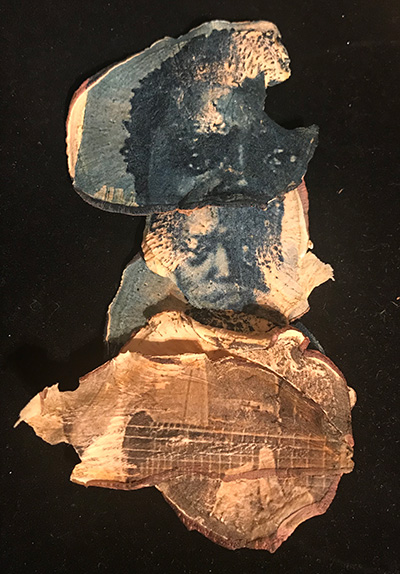 Globally, we mourn the unexpected losses of iconic brand namesake Kate Spade and the beloved chef/author Anthony Bourdain. Reports describe unknown struggles and depression, shocking considering their known identities, public and financial successes.
As we all grapple with loss, indignity and pain, Ann Johnson leads us to presently encounter it with curiosity, freedom, and love. Johnson humbly deflects being called a "master," yet her mastery is unmistakable. She unites her creative genius with loving advocacy, modeling how to transmute grief into positive change.
—DANIELLE FANFAIR