Bethany Grace Mamola, Raquel Raviglioli and Agostina Migoni of Dallas's Das Blümelein Project.
Photo by Bailey Dale.
---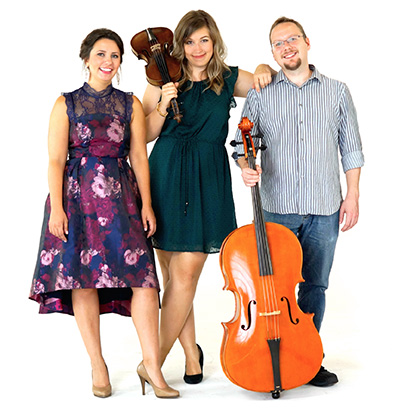 Those familiar with the University of North Texas School of Music know that Denton is a hotbed of musical talent that expands not just into the Dallas-Fort Worth region, but to every part of the world. Historically known for its renowned Jazz Studies program, let's not overlook the accomplishments of those who've earned their stripes as classical musicians. Here are two new groups with UNT ties who are working to redefine today's classical music experience.
Sipping on a latte at a coffee shop in Dallas' Design District, North Texas-based soprano Julianna Emanski isn't afraid to say what perhaps many classical music lovers are ashamed to admit out loud: "When I go to classical concerts, I get bored," she says, candidly. "So, how can we make this different and what can we do that's more innovative and going to help classical music be relevant today—and keep us relevant?"
Emanski is the Artistic Director for Lumedia Musicworks, a new baroque music group in the DFW area. Together with violinist Stephanie Raby (who received her Bachelor's in Music from the University of North Texas and a Master's in Music from Indiana University) and cellist Christopher Phillpott (who has undergraduate and graduate music degrees from Texas Christian University), they're taking a visionary approach to the organization's model. In addition to a traditional season with live performances, they're also producing professionally-made, artistic videos to accompany their music. (Think Post-Modern Jukebox, but for baroque music.)
Raby serves as Lumedia's Instrumental Director and says they're stepping into the new age of media by using music videos in a way that most classical ensembles are not. "It's not that people aren't creating them, but that isn't a core feature of their brand," she says. "Music videos play a large and important part of our season. It is a way to bring the music we love to people in a way that they can relate or at least, create a connection with."
The Lumedia Musicworks approach to live performances also leans towards the less conventional, realizing that smaller and less expensive venues are more accessible to a broader audience. "The classical music industry does have a tendency to restrict its own exposure by focusing on mostly performing in big concert halls and shoring up a big patronage there," says Phillpott, who also serves as the group's librarian and personnel manager. "We want this to be available to audiences who maybe are interested in sampling a wine bar or checking out a coffeehouse or restaurant."
When UNT recently created a new program for musical entrepreneurship, Emanski saw the value of adding that to her Doctorate of Musical Arts and hopes to have her dissertation finished by this December. "The entrepreneurship program got me back on track," she says, "to create and build something and to take that leap off the cliff and learn how to fly the machine I was building."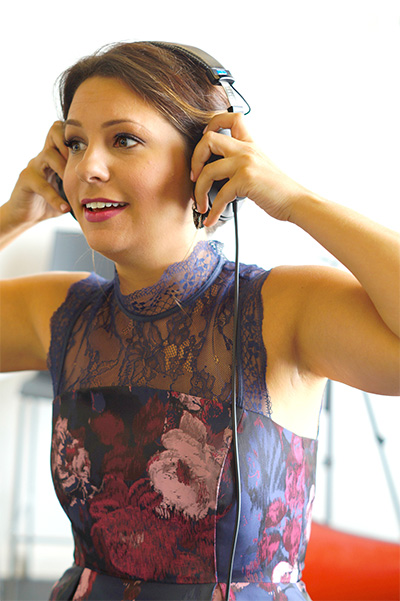 While sopranos Agostina Migoni and Bethany Grace Mamola were living and working as singers in Germany, they came to the conclusion that the genre of art song was in need of an image makeover. Since the days of 19th century Germany, lieder (songs) were composed to be sung in a recital setting, typically with piano accompaniment and often set to poetry. Two hundred years later, not much has changed. "However, while living in Berlin, when we created Das Blümelein Project, we envisioned a new way to present this music," says Migoni. "We do not stand in the curve of a piano in a gown and sing 4-5 sets of varying song cycles while the audience follows along to the written translations."
Instead, they favor adding visual stimulants to their performances, staging the productions the way they would an opera or play. By working with other interdisciplinary art forms onstage, they aim to create a total experience for the audience.
When they became friends at the Cleveland Institute of Music, Migoni was working on her Bachelor's and Mamola on her Master's. Eight years later (including the time in Germany), the two wound up in North Texas. This time, Migoni was completing her Master's of Music in Voice Performance from the University of North Texas, where Mamola is currently finishing her Doctorate. "Attending UNT and being able to work with such a high caliber of musicians every day as well as having helpful, inspiring and giving mentors like Dr. Stephen Morscheck, Dr. Elvia Puccinelli and Dr. Stephen Dubberly solidified that UNT was the right decision for both of us," Mamola says.
Das Blümelein is the German word for "the blossom." "When we decided to stop asking for permission from everyone in our industry to create, our creativity and opportunities seemed endless," Migoni says. "The new ideas that were forming as we realized we had artistic voices to use became similar to spring blossoms and their ability to breathe new life into something."
Though in their infancy, Lumedia Musicworks and Das Blümelein Project haven't wasted any time getting established, both by working hard to fundraise and build their audiences. They're part of the new generation of DFW's classical music community and for this proud UNT alumna, that's worth bragging about.
—AMY BISHOP