Gloria Sanchez as Martha and Sarah Nixon as Honey in the AtticRep production of Edward Albee's Who's Afraid of Virginia Woolf?
Photo by Siggi Ragnar.
---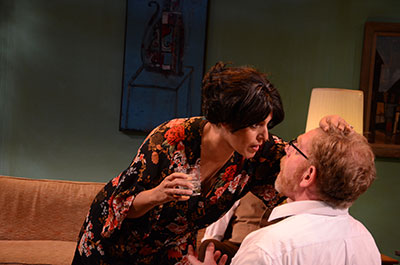 AtticRep's season is gearing up for their second play, Edward Albee's Who's Afraid of Virginia Woolf?, Nov. 12-23 at the Carlos Alvarez Theatre in the Tobin Center for the Performing Arts. We have been keeping close tabs on this  outstanding San Antonio troupe ever since they were named Tobin's resident theater company. Nancy Wozny recently visited with Attic Rep artistic director Roberto Prestigiacomo on the choice to return to Albee's iconic play.
A+C:  AtticRep did this play two years ago. What made you want to revisit it?
ROBERTO PRESTIGIACOMO:  It is a fantastic play to direct and produce. We have a fantastic cast. Our audience loved it.
A+C:  All good reasons! Of the Albee cannon, I find this play his most riveting and disturbing. I last saw the show on Broadway, with Kathleen Turner and Bill Irwin in the Martha and George roles. Casting is everything. How are you approaching the casting?
RP:  The first production confirmed that we had the right cast for Martha and George. In 2012, Gloria Sanchez, the actor playing Martha, joined us mid-way through the rehearsal process, because the actor originally cast had to drop out. With half of the time available, Gloria was a wonderful Martha. I just marvel at what Gloria will be able to do with the full rehearsal period. The chemistry between David Connelly, playing George, and Gloria is just perfect for this play, and it is also beautifully complimented by Tyler Keys and Sarah Nixon, playing Nick and Honey respectively. Yes, cast is everything, especially for this kind of play.
A+C:  I was just at the theater and wondered how you will be configuring the space. I know you theater types love intimacy, but I am not sure how close I want to be to George and Martha. How do you balance intensity and intimacy?
RP:  The Carlos Alvarez Theatre is an intimate space. Our production of God of Carnage confirmed that we can deliver an intimate experience, keeping the emotional involvement of the audience at its peak. It also confirmed that we were able to translate the AtticRep aesthetic to this new space. With God of Carnage we were also able to find creative solutions that enhanced the aesthetic and emotional experience for the audience. With Who's Afraid of Virginia Woolf?, we have decided to present it on a proscenium configuration, AtticRep has never presented a proscenium like production before, a first for us. With this configuration, our job is to allow the natural and sophisticated intensity of Albee's writing to flourish while keeping up with the dynamic psychological plot. In other words, trust the play to do its job! It is indeed a phenomenal piece of dramatic literature.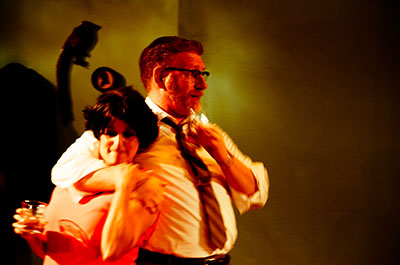 A+C:  It's interesting to me that Virginia Woolf follows God of Carnage. Both plays share a kind of all hell breaking loose quality. Did you conceive God of Carnage as a warm up for the bitter sting of Albee's prose? Then comes True West, where things also unravel. What a trifecta! Talk a bit about putting the season together.
RP:  The selection process of a theatrical season is always a challenging one. What plays will embody the mission of AtticRep? Do we have the talent to pull it off? Can we effectively produce this or that play? Will there be a theme for the season? These are some of the questions I have to keep in mind during the selection process. Selecting AtticRep's first season at the Carlos Alvarez Theatre was more challenging, the stakes, the expectations were and are higher. I was not selecting a new season, but a season that was starting a new artistic and creative cycle for AtticRep.
At the same time, I was consistently reminded of the unknown. When the season selection was in process, the theatre was not ready. This time I also had to consider whether our aesthetic values would effectively be translated in a new space. In consultation with the AtticRep team, we decided that a new cycle was to be welcomed by celebrating our past, let us celebrate what has brought AtticRep to the Carlso Alvarez Theatre at the Tobin Center. Since we are a repertory company, the selection of a season drawn from the repertory of past productions was relatively simple. God of Carnage was a perfect fit for our first production. An high impact and edgy play with a strong message that was logistically more manageable to build in three days. Once we secured the actors for Who's Afraid of Virginia Woolf?,the rest of the season came about almost by itself.
A+C:  Let's get to the rest of the season.
RP:  True West and the Irish Curse are two productions that our audience loved. The first four plays celebrate our past, and then, something new! From the Mahabarata is a continuation of the collaboration established with the Indian community here in San Antonio, and in Chennai, India. From the Mahabharata is a dance-theatre performance re-telling one of the episodes of the Mahabharata. We are working with SOLI Chamber Ensemble for the music and with Kausi Subramaniam for the choreography. From the Mahabharata is the first production of what it is the beginning of the International Theatre Festival of San Antonio.
A+C:  I remember my first tour of the Tobin Center was with you. My thought then was that the move would be a game changer, but do tell. How has life changed for AtticRep?
RP: Yes, and for the better. AtticRep is getting more exposure. By being part of the Tobin, we have already collaborated with Chamber Orchestra of San Antonio, Youth Orchestra of San Antonio and The Children Chorus of San Antonio, and SOLI is part of the creative team for From the Mahabharata. Good stuff. Exciting Times!