King Pelican members Ernest Hernandez, Darren Kuper and Lloyd Walsh.
Photo by Clem Spalding Photography.
---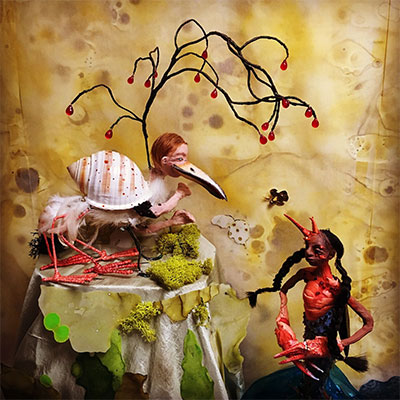 San Antonio's expansive, one-night-only arts festival is turning 10 this year. In a city that wears its culture on its sleeve, Luminaria is unique, a carefully choreographed explosion of site-specific art events attended by an average of 10,000 patrons.
Set for the evening of Nov. 10 followed by a day of community programs, Luminaria is difficult to pigeonhole because it's not regionally specific (artists from anywhere in the world can apply) and it's not discipline-specific, either. Music, visual arts, poetry, dance, and film are all represented. Additionally, and more pointedly under the helm of executive director Kathy Armstrong, the festival isn't even held in the same place year to year. In the grand tradition of public-art "placemaking," Luminaria migrates, creating ephemeral works that live on in the minds of the engaged citizenry, or through murals or other generated artworks left behind.
This year the "place" to be made is Hemisfair Park, famously the site of the 1968 World's Fair. In more recent history, the park as become a collection of seemingly underused or empty historical structures pooled around the base of The Tower of the America's vertical spire.
Luminaria coincides with the Alamo city's recent reimagining of this park's space. In 2015, a gorgeous park and playground—designed with plenty of artist input—opened in a section called Yanaguana Garden. If statistics hold true for the Luminaria festival, which has consistently logged between 20-40% new audience, Hemisfair Park's reimagining will soon be apparent to many new folks. Several of the artists included in the festival are creating site-specific works inspired by the park's history or buildings. Michael Menchaca, whose work will be in the historic Sweeney house, will reference the history of Irish immigrants in the area, and musical group King Pelican will play their entire set accompanied by videos of the 1968 fair. "I let the artistic community make their choices," says Kathy Armstrong. "There is a group of seven [professionals] on the artistic committee, and artistically the quality is so good."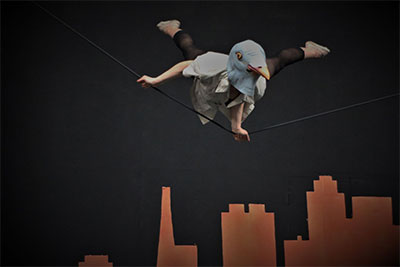 Some artists are selected by jury, while others—such as Julia Barbosa Landois, who relocated from San Antonio to Houston some 3 weeks before her Meyerland neighborhood was submerged during Hurricane Harvey—are invited to create works. Through a random but fortunate miracle of elevation, the artist was one of the few in her neighborhood to make it through dry. "The water was up to our porch," she said.
She adapted her Luminaria work to reflect this change in circumstance, creating a "2-D walking meditation, or labyrinth, in a 19th century carriage house" on the Hemisfair grounds. Intended to mimic the maze-like layouts of Texas suburbs, Landois' work will be constructed of debris and detritus salvaged from her own Houston neighborhood post-flood. "The piece unexpectedly dovetailed with my experience in the hurricane," the artist admits.
While there are definite similarities between the Texas cities, she has started to contrast them in terms of their relationship to water. In San Antonio, building has to be regulated as it relates to the city's dearth of water, whereas in Houston, "we're building over land that could have soaked up the water." She had initially planned to use reclaimed wood for the structure, but now the materials will speak more directly to her own experience. Also, her "neighbors…were happy that it was going somewhere other than a landfill."
In addition to contemplative pieces like the labyrinth, there will also be works of sheer delight and amazement. For this viewers can look to the work of the Lullwood Group, a collective of mostly San Antonio-based artists who will be donning "bodysuits covered in thousands of mirror tiles" as they roam the festival's grounds. "We just want to be the disco ball for this party," participating artist Connie Swann says. This will be Lullwood's fourth Luminaria appearance, a "totally immersive experience," in which the artists will move around the festival. They will play off existing lights in a "spectacle of reflection." The 6-person art collective has created a playlist for the festival and will be engaging the crowd in what Swann calls a "Soul Train dance party," inviting all festival-goers to join in the merriment.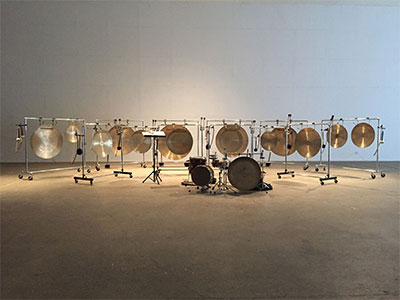 Not exactly in the category of visual art—yet promising all the same—is a performance by duo Murphi Cook and Zach Dorn, under the moniker Miniature Curiosa. This out-of-the-box puppet/gopro-video/live-performance hybrid has planned a Luminaria performance which is described on the festival website as "exploring the underbelly of childhood nostalgia with the disappointed eyeballs of adulthood."
Ten years in, the artists, curators, and organizers of Luminaria are continuing to turn over new ground, creating a dynamic, fresh, hard-to-define homage to the city and its rich history.  Attendees can drop off their bicycles at the bike valet, walk the grounds of a historic neighborhood which was turned into an equally historic fairground, all the while interacting with artists and performances designed especially for that space. It's the kind of layering of local and international, past and present, thoughtful and whimsical, for which San Antonio is most loved. As Luminaria's executive director puts it, "you will be surprised."
—CASEY GREGORY