Even though Katie Stahl enjoyed painting when she was growing up, she earned her college degree in psychology. Later, a friend's suggestion led her to visit Creativity Explored, a San Francisco art center with a special mission: helping people with developmental disabilities become working artists.
She first explored the center's gallery, where its clients' creations were on display. Then, stepping into the capacious studio in the rear, she saw its artists at work.
"I didn't know what to expect walking in, but the room was full of such creativity and joy," Stahl recalls. The disabilities didn't matter. "Creativity Explored has created this wonderful community of individuals who are, first and foremost, artists."
That triggered Stahl's a-ha moment. "I left with a feeling of, 'I want to do that,'" she says. Returning home to Texas, Stahl got a master's in art education, focusing on programs for people with disabilities.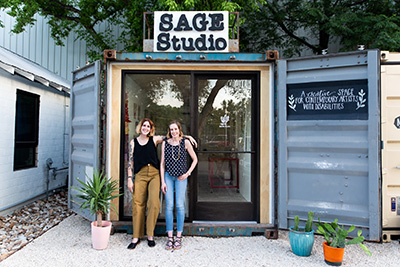 As an instructor at The Arc of the Arts, an Austin center serving those with disabilities, Stahl met a fellow teacher who shared her belief in art's power.  Last year, Lucy Gross joined Stahl in founding  SAGE Studio, their vehicle for  carrying on what Stahl witnessed in San Francisco.
"One of our missions is to support the artists we work with on the path to becoming working artists–and to take that as far as they can take it," Stahl says. "People will sometimes hear about us and assume that we're doing art therapy. That's not at all what we're doing."
She points to the credo that one SAGE Studio artist proclaims on his Web site, justcharliefrench.org: "Yes, I have Down syndrome, but I don't want to talk about that. I don't want you to see that. I want you to see me, Charlie French. Just Charlie French. Then I want you to see my ART!"
French, who lives in Dallas, specializes in abstracts. David Sulak creates paintings and detailed paper models of cars and buildings he spots around his hometown of Louise, southwest of Houston. Brian Dodd of Houston paints big, colorful acrylics depicting fantasy characters with names like Cakenstein and Blind Larry the Demon Gangster. Rick Fleming of Austin builds images and words into portraits: His favorite subjects are musicians and professional wrestlers.
SAGE Studio began in Gross' dining room. That offered enough space to work with Fleming, the sole artist Stahl and Gross began with. The Austin portraitist, whom they met at Arc of the Arts, is "sort of a larger-than-life guy," Stahl says. "Rick is one of the funniest people I know. He makes working in the studio fun with his jokes and impromptu singalongs."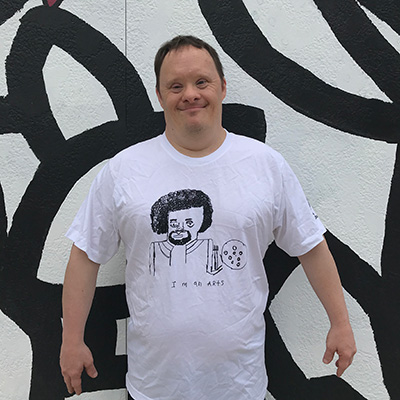 As Fleming added paintings to his portfolio, Gross and Stahl became aware that a dining room couldn't encompass their other goal: opening a gallery to show their artists' works. They accomplished that last May, when SAGE Studio moved onto the grounds of Shady Studios, an artists' enclave in East Austin. The new home is a converted shipping container, 8 feet by 20 feet. "We have a really powerful air-conditioning unit," Stahl quips.
Fleming and another artist each go there a few times a month to coach with Stahl and Gross. Four others, including French, Sulak and Dodd, live in other cities but come periodically to exhibit their work. Stahl and Gross have found their artists through other educational work or through contacts with other programs for people with disabilities.
"We view ourselves as artist facilitators rather than art teachers," Stahl explains. "Each of the artists we work with…has such a distinct voice as an artist. They had that voice before they came to us. We want to support that in whatever way we can."
The pair may provide materials or make suggestions about a medium or approach. They also help their artists seek broader exposure: In January, Stahl and Gross will take some of Sulak's works to New York for display in the annual Outsider Art Fair.
"This is a big deal for us," Stahl says. She particularly salutes Sulak's "really phenomenal three-dimensional paper models. Some of them are cars. Some of them are buildings. One of them is a school he went to. … In some of them, you can open up the roof, and he's done all the rooms in the houses–with cabinets and sinks and all the details. They're really quite neat."
Back in Austin, SAGE Studio mounts quarterly group exhibitions of its artists' work. The next one opens Dec. 16, and it isn't just for viewing: The art is for sale. Fleming helps set his works' prices, and Stahl thinks "it has been cool seeing him take ownership in that way." French treats painting as "a full-time thing."
"I think he and his family see art as a vocation for him," Stahl continues. "And with this population–adults with intellectual and developmental disabilities–there's limited vocational potential. Art is offering some of our artists an opportunity for a real vocation that maybe they or their families didn't foresee."
–STEVEN BROWN