During Luminaria 2018 in San Antonio on Nov. 10 Kat Cadena, Mary Jendrzey and Malia Gomez's installation will feature illuminated lantern-people, representative of the people who lived in the neighborhood that was demolished in order to pave the way for HemisFair '68. Photo courtesy of the artists.
---
"My biggest take away from last year was that I didn't get to experience everything," says Kathy Armstrong, executive director of Luminaria.  At the end of the night-long arts' festival, she thought "wait, it can't be over!" It's a common lament among participants and viewers alike, that this convergence of art of all kinds is (mostly) over in a single breathless night. This year will also include brunch programming and an artist's market on Sunday, as well as a closing light installation and concert of classical music representing over three-hundred years of history at the Mission San Jose. But participating artist and administrator Kat Cadena says it well, "It's a big night for discovery."
This year, Luminaria is again taking over San Antonio's Hemisfair Park on Nov. 10 for an evening that will include local and international artists, musicians, performers and poets. Yanaguana Garden and surrounding historic homes have been transformed into exhibition spaces, and there's the river level, which Armstrong expects to take even further advantage of this year. "We have a talented production team. It's going to have a very different feel." To get a sampling of some of the visual arts on offer at this year's festival, I spoke to a few participants. And like the "layered" physical spaces, artists are mining the many layers of history at Hemisfair, within the city, and among the deeper bedrock of visual culture itself for inspiration.
In an attempt to resurrect a little of the Hemisfair's past, a team of three artists– Kat Cadena, Malia Gomez and Mary Jendrzey, are constructing illuminated figures around the grounds of the historic neighborhood. Light elements play a role in many of luminaria's works, as the festival's name suggests. Cadena describes how the trio used "historical photos as a connection to the past," a history that she, a native of the Alamo City, was not always aware of. The immigrants who constructed Germantown before the area was 'reclaimed' for the 1968 World's Fair are largely forgotten in the San Antonio of 2018, although their legacy remains in the architecture, culture, and food of the city. Gomez describes them as "the people who occupied Hemisfair before it became Hemisfair," and the sculptures will stand as ephemeral reminders–ghosts peering out from behind the veil of time.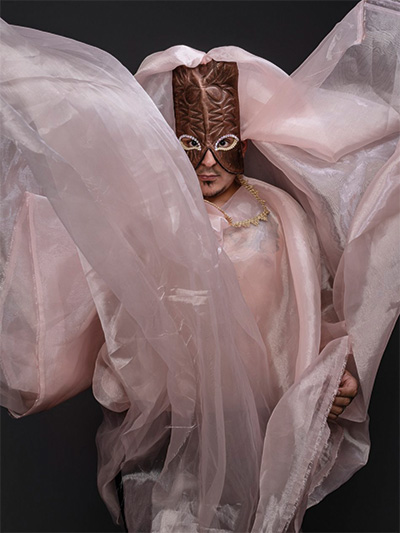 Performance artist and sculptor Jose Villalobos takes a different perspective, teasing apart tradition and history from stereotypes with his performative, sculptural and video work. The artist, whose performance for Luminaria involves "pouring concrete into cowboy boots to make them heavy…tying them around my body and dragging them across the park," takes on the constraints of male fashion from his hometown of El Paso as a way of addressing the larger issues of identity.  "At the age of fifteen I knew that I was gay and that is wrong according to the faith I was in," he explains. "Tradition can be very heavy, and it's the weight of tradition that can hold us back." By contrast, Villalobos is also creating a video-installation-cum-dance floor for viewers to participate. His costume in the video, which is almost "like baptismal clothing, very religious looking," contrasts with thumping electronic music and the artist "dancing very flamboyantly." Villalobos wants his audience to "become submerged in the music." The seemingly disparate images will combine to create a new kind of iconography.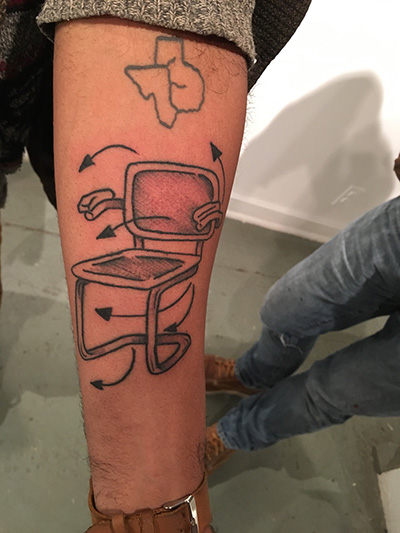 David Alcantar will be contending with traditions of a different sort, those of visual 'high' and 'low' brow. Alcantar's work forks along two paths of expression long considered separate, 'fine art' and tattoo culture. During the evening of the festival, the artist will be combining "a quasi-traditional drawing show and a functioning tattoo shop." He hopes to smudge the hard dividing line between the two forms of visual expression, pointing out the strangeness inherent in the fact that "everyday, normal people will spend $200 on a tattoo with no problem, but they won't do the same for a drawing." Borrowing from the world of fine art (Alcantar's designs ditch the familiar tattoo-shop fare to cheekily include things like a Jeff Koons' balloon sculpture or Anish Kapoor's Cloud Gate) the artist hopes to incline both tattoo culture and fine art slightly towards one another. "They are separated in a way that they shouldn't be." By the end of the evening, he hopes to send some four or five people home with a permanent reminder of this fleeting festival.
Arts festivals and fairs are commonplace in cities across the nation, and Texas is no exception. But Luminaria is not your average stroll from booth to booth. It is (appropriately in a city marking its tricentennial year) a celebration of San Antonio itself–it's full-bodied embrace of history and it's deep multicultural roots–as well as a view to the future, including art that is both experiential and technological. That it happens under cover of darkness is an added benefit, in a space that is so rich and varied that the casual viewer walks away feeling that they have had a deeply personal experience even among a crowd of thousands.
—CASEY GREGORY