Arts Districts Are Nice, But It's What They Do That Counts
---
A view of the Dallas Arts District during Aurora, a free and public contemporary art event. Image courtesy of the Dallas Arts District.
---
I decided fairly last-minute to attend the New Cities Summit, an annual gathering billed as "the leading global event on the future of the urban world," the third edition of which was recently held at Dallas's Winspear Opera House. With topics at the summit, which drew 800 participants from 40 countries, ranging from Internet connectivity in subways to "wellness, happiness and purpose" in contemporary cities, it didn't seem particularly relevant to A+C—until I heard about the panel discussions on cultural districts. (They were presented by the Global Cultural Districts Network, an initiative of the New Cities Foundation, which presented the summit; the Dallas Arts District; and AEA Consulting, a Beacon, N.Y.-based arts, culture, and entertainment consulting firm.)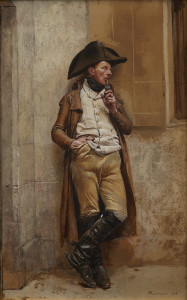 As the United States' largest district of its kind, spanning 68 acres and 19 contiguous blocks, the Dallas Arts District was both an apt summit venue and at times the elephant in the room. Without necessarily mentioning Dallas by name, various panelists touched on the problems that arise when a district develops from the top down and its gleaming starchitecture outshines its street life, inadvertently rebranding it as what Jamie Bennett, executive director of the nonprofit ArtPlace America, called a "cultural ghetto."
Although Bennett spoke during a workshop titled "Cultural Districts as Engines of Urban Transformation," he was there largely to pour cold water on the advisability of building cultural districts, which are being fueled by a quarter trillion dollars of investments worldwide. Happily, Bennett, whose organization invests in "creative placemaking" projects in communities of all sizes, also had kind words for recent steps to make the Dallas Arts District—which after all has already been built—a livelier, more welcoming place. He cited the transformative addition of Klyde Warren Park and the neighboring Dallas Museum of Art's recent return to free general admission and introduction of its free DMA Friends membership program. To his list I would add the Nasher Sculpture Center's recent citywide exhibition Nasher XChange, for which an international roster of artists created work for 10 sites around Dallas—a great way to send a message that the museum cares about the whole city, not just the Arts District.
One of Bennett's fellow panelists—Manal Ataya, director general of the Sharjah Museums Department in the United Arab Emirates—made an equally salutary point: that too often cultural districts overinvest in buildings and underinvest in curators. It's not enough to have whatever content you're presenting, she said; you have to study and interpret that content. Indeed, earlier that morning I'd been treated to a hardhat tour of an upcoming DMA exhibition that was still being installed, and which is the result of the museum's belated efforts to study and interpret a collection that has evolved on an ad hoc basis.
I'm talking about the DMA's collection of works on paper, which has never had its own curator in the museum's 111-year history. When Olivier Meslay—the DMA's associate director of curatorial affairs, senior curator of European and American Art, and the Barbara Thomas Lemmon Curator of European Art—began exploring its drawings, he initially had thoughts of mounting a comprehensive exhibition of collection highlights.
Meslay soon found there was far too much to work with and narrowed the focus to European drawings before narrowing still further to the period between the French Revolution and World War I, then searching along with DMA trustee and exhibition co-curator William B. Jordan for works in North Texas private collections that might complement the DMA's holdings. Jordan is a former director of the Meadows Museum and deputy director of the Kimbell Art Museum. He is also, along with current Kimbell deputy director George Shackelford, Nasher director Jeremy Strick, and former DMA director and current Dallas Morning News art critic Rick Bretell, on the show's list of lenders, making this exhibition a kind of inter-institutional collaboration.
The resulting exhibition, Mind's Eye: Masterworks on Paper from David to Cézanne, was a sumptuous feast for the eyes even when viewed at ankle level—all works were leaning against the walls when I walked through the show with Meslay and Jordan—let alone now that it's been properly hung and lit.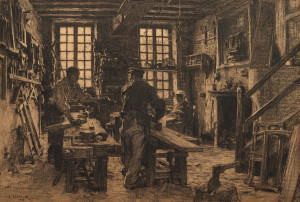 Organized chronologically, the show is dominated by French drawings until the late 19th and early 20th centuries, when other European works from Pablo Picasso's unsettling Nude with Folded Hands (1906) to Egon Schiele's pensive, rickety Old Gabled House in Krumau (1910) join the mix. The many French highlights include Jacques-Louis David's seminal Two Studies of the Head of a Young Man Crowned with a Laurel (c. 1780), in which a faithful copy after an antique gives way to a grimacing revision; Théodore Géricault's vivid mixed-media drawing of a dead cat (and three studies of its head); a trove of Eugène Delacroix drawings—some graphite, some ink; two realist masterpieces—one agrarian scene, one set in a carpenter's workshop—by Léon-Augustin Lhermitte; Édouard Manet's The Spanish Singer (c. 1861); a ravishing room of Edgar Degas dancers and nudes; ethereal watercolors by Paul Cezanne; and haunting, scribbled Conté crayon works by Georges Seurat.
I'm namedropping to give you some reference points, but Mind's Eye is equally replete with first-rate works by less familiar figures, including Octave Tassaert's undated ink wash of a fallen bird nester; the realist François Bonvin's beautifully composed Blacksmith at Rest Smoking a Pipe (1857); Pascal Dagnan-Bouveret's moving 1873 portrait of his companion Gustave Courtois (whose cousin he later married—the three of them shared a house); Jessie Marion King's Japanese-inspired watercolor illustration for a book on Paris bridges (c. 1911); and Ferdinand Hodler's symbolist nude portrait of his only son (c. 1898-1900). The show's beautiful, scholarly catalogue, featuring entries by 18 experts, devotes a short essay to each work, introducing readers to obscure figures and offering fresh insights into works by marquee names.
Nearly as remarkable as the drawings themselves is the fact that about two thirds of them are from private North Texas collections even though Meslay had heard when he began his search that he wouldn't find much of note. Think of the relationships that have been started, in some cases, and deepened in others. "Future exhibitions of works on paper in North Texas—equally rich—could just as advantageously concentrate on art between the two world wars, art after World War II, contemporary art, American art, or the entire field of prints, where local collections are surprisingly replete as well," Meslay and Jordan write.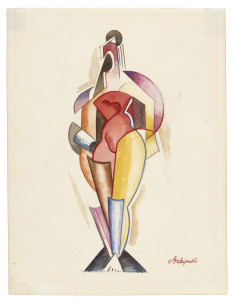 Reinforcing Ataya's point about the importance of curators, I'd say Meslay and Jordan have made a strong case for one devoted to prints and drawings at the DMA. Director Maxwell Anderson says the museum is "putting a greater emphasis on works on paper" but has not yet decided about additional curatorial appointments, adding that curators in the American, European and contemporary departments already collect prints and drawings.
Fair enough, but it's worth looking to the Museum of Fine Arts, Houston, for a sense of the untapped possibilities. Not only have the kinds of survey shows Meslay and Jordan list long figured into MFAH programming, but having curator Dena Woodall focused on works on paper has led to a fascinating exhibition of the graphic works of Max Liebermann, Lovis Corinth and Max Slevogt (2010); the first retrospective devoted to the 17th-century printmaker Jacques Callot in 40 years (2013); and focused looks at brief chapters of individual artists' careers, as in Alexander Archipenko: The Berlin Drawings, which is on view through Aug. 17 and features 30 drawings from three sketchbooks the sculptor created in 1921 and 1923. And let's not forget the late MFAH prints and drawings curator Barry Walker's signature coup—the 1996 acquisition of all the prints, portfolios, and books that the Peter Blum Edition published from 1980 through 1994, featuring finished projects by 23 artists including Louise Bourgeois, Francesco Clemente, Eric Fischl, A. R. Penck, and James Turrell.
However the DMA decides to go about stepping up its commitment to this important yet underexplored part of its collection, I see Mind's Eye as another milestone in the museum's development—and a sign that the Dallas Arts District's anchor visual-arts tenant is up to the task of leading the way forward.
—DEVON BRITT-DARBY
Mind's Eye: Masterworks on Paper from David to Cézanne
Dallas Museum of Art
June 29-Oct. 26
Alexander Archipenko: The Berlin Drawings
Museum of Fine Arts, Houston
Through Aug. 17