Cheryl Donegan, Blood Sugar, 2013
Dress form with vintage ski jacket; video: color, sound, 5:28 min
All images courtesy the artist and David Shelton Gallery, Houston, Texas.
---
Up-cycled dresses on mannequins, paintings of deconstructed tracksuits, and massive lengths of cloth made with consumer technology fill the upstairs of the Contemporary Arts Museum Houston. The works carry with them a balance between heavy abstraction and a DIY culture that will have you saying, "My kid could make that!" and artist Cheryl Donegan would not only agree with you but encourage you to try it yourself.
On view at the CAMH through March 31, Cheryl Donegan: GRLZ + VEILS presents a collection of works by the artist ranging from the 90s to recent years, with the subtitle referencing multiple aspects of her practice. GRLZ, which most commonly references the riot grrl subculture, which holds a great deal of significance and inspiration for Donegan, here also refers to the grills of the air conditioners that decorate the streets of New York and inform the designs in many of her dresses and paintings. The artist considers VEILS a representation of her relationship to material, drawing connections between her paintings and clothing.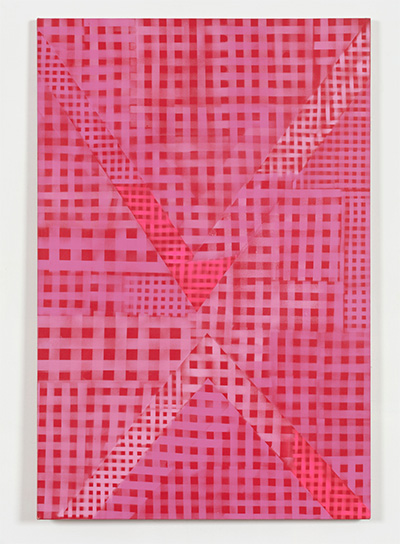 "The evocation of VEILS to painting comes via the index—think Shroud of Turin," Donegan said, referencing the linen that bears a negative image of a man generally thought to be Jesus of Nazareth. "The stained sheet. Remnant. Remainder."
While VEILS most specifically refers to her paintings, these ideas can be seen throughout her videos and in her clothing. Standing throughout the exhibition space is a series of mannequins, each adorned in a dress bearing designs from the streets of New York. As she moved through the city, Donegan would snap photos of air-conditioner grills with tags and designs carved into them. She would then take those photos and upload them to a service that would turn them into ready-made clothes.
"To me it is the positive aspect of social media, that you can be anywhere with a laptop and a connection and make stuff that might be really cumbersome and expensive to make on your own," she stated. "One cliché of the contemporary art world is the big studio production team, the army of fabricators and assistants needed to make a work. It's kind of intimidating, and isn't that part of the point? To yoke the artist to the image of a captain of industry? 'Bye to all that. I can travel light and get it done refashioning ready-mades."
While Donegan takes the clothes a step further by altering the dresses with cuts and braids, she loves the idea that anyone could use the same service to produce their own clothes and learn the techniques online the same way she did. It's a sort of couture rooted in community. There's no real authorship in the production of the clothes, no copyright or trademark preventing anyone from making it and selling it. This fascination with and rejection of authorship is not new for Donegan.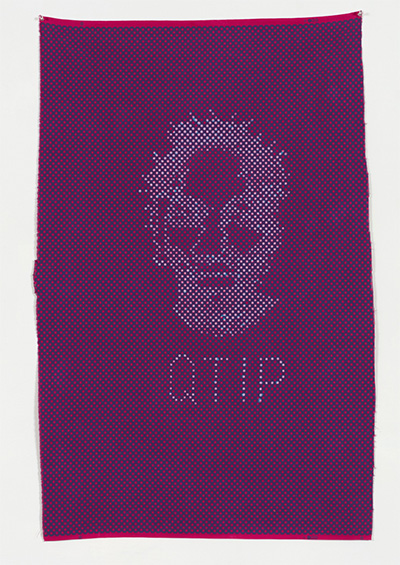 Reinvention and rebuke have defined the artistic career of Cheryl Donegan. Often referring to herself as an amateur despite her wide showing in the '90s and recent exhibitions in renowned museums, the artist often rejects the title of painter or, more recently, fashion designer in favor of a DIY mentality.
But they all intertwine. These labels all ring true, and they share many connections for the artist. Her sense for material, and her thoughtful attention to mark-making are present across her paintings, videos, and clothes.
When discussing her approach to mark-making, the artist recalled a seminar with Rosalind Krauss while she was in graduate school at Hunter College. "Most of her lectures were focused on what would become chapters in ['Optical Unconscious']," she recalled. "This is where I remember becoming fascinated by the discourse around 'the index,' indexicality, etc. What interested me the most is the play, the subversive aspects of indexical signifier, as there is shifting or sleight of hand that is part of the indexical, something may drop out, fall away, be redirected or remain uncertain."
The bond between signifier and the signified can be problematized, and this internal discourse drove many of her early videos as a sort of test with mark-making and making a painting.
"An example of this is in the piece Kiss My Royal Irish Ass where I make an indexical print with my butt that becomes a shamrock," she explained. "but which anyone, regardless of Irishness, might be able to make. The potential for the slippage of index was the fascination."
Donegan makes marks in many ways—prints, spills, spits, and stains. The remnant of the action maintains the work as a sign of presence. Entwined within and beneath the enhanced DIY aesthetic of her work lies the conceptual nature that has placed Donegan in art history books and the deeper response to that "anyone could make that" criticism: "Sure, but the intent wouldn't be there."
—MICHAEL McFADDEN