Chris Johnson, KMFA's music director in the Master Control Room.
Photo by David Crews.
---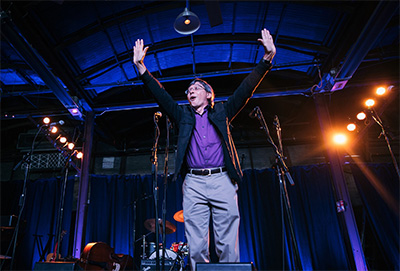 When it comes to Austin's 50-year-old radio station, KMFA Classical 89.5, it's almost better defined by what it isn't than what it is.
KMFA is not an NPR affiliate, nor is it connected to a college or university. It's not licensed programming from a feed. It's not a mix of news programming and music.
The only classical station of its kind in Texas, KMFA is an independent, public nonprofit with 22 hours a day of local programming and live on-air hosts. Its logo—a musical note with the note-head replaced by a star —is symbolic of its place in Texas: a lone-star classical station in the Lone Star State.
The only station that comes close to KMFA is Dallas's Classical WRR 101.1, which, although it has local hosts, is a commercial station that relies heavily on advertising to stay on air. San Antonio's KPAC 88.3 only plays classical at certain times of the day, and even so, doesn't have local personalities for hosts.
Not even Houston has a classical station like KMFA anymore. No one knows this better than Chris Johnson, KMFA's music director and host of Rideshare on weekday afternoons since 2014. Johnson hosted daily music shows on Houston's NPR affiliate, KUHF 88.7 and its sister station, Classical 91.7, for about a decade before the station laid off all its hosts. Having lived in Houston since 1996, Johnson looked for work there before he became aware of an opening at KMFA in Austin.
Today, he generates the playlists for 75% of the music played on KMFA, conducts live interviews with artists for Rideshare, and coordinates the monthly Listen Local spot, which features a live broadcasts or rebroadcasts of local performances by groups such as Austin Opera, Austin Classical Guitar, and Chorus Austin, to name a few. "This makes it unique in the classical music station landscape," said Johnson.
Born in January 1967 with Leonard Masters as its first host, KMFA "has been doing the same thing with the same call letters for 50 years. It's part of the fabric of Austin," said Johnson.
"We are local. We are Austin. We are 'on key and offbeat,'" noted Ann Wilson, president and general manager of KMFA, in a nod to the station's new slogan, which references the bleed of Austin's quirky aesthetic into the classical music realm.
To kick off its 50th year, KMFA hosted an outdoor Block Party on a warm January afternoon that featured a live broadcast by KMFA announcers, food trucks and beverages, birthday cake and, of course, live performances. With a listenership of about 100,000 per week, it shouldn't have been a surprise that 2,000 people showed up for the party, but Wilson said the attendance numbers were a pleasant surprise.
"We didn't know how many people were going to show, but it ended up being a very diverse crowd—young, old, white, black."
KMFA wanted its Block Party to be representative of the classical music scene in Austin. For example, local groups like symphonic rock band Mother Falcon and multi-configuration classical band REVEL—both of which performed—aim to dispense with standard protocol when it comes to presenting and consuming classical music.
By blending pop and rock with classical, presenting shows in bars, restaurants, galleries, and other you-name-it spaces, and encouraging the audience to clap between movements and wear casual clothing, groups like Mother Falcon and REVEL appeal to laid-back but discerning Austinites.
Said Wilson, "We've been trying to figure out the best ways to encourage the next generation of listeners to support public radio. We have a strong presence on Facebook and recently added Instagram. We launched a mobile app in January. We launched a new website. We're stretching the playlist to include more post-Romantic, modern, and postmodern composers."
With $1.4 million raised last year from individual giving—more than ever before—it's clear KMFA is appealing to the right folks. All of this has happened since Wilson took the job with KMFA in 2012, after serving as executive director of choral ensemble Conspirare. When she came onboard, the station's strategic plan was 10 years old, and its website was nine; both clearly needed a dusting off. "I felt there was potential that wasn't being tapped," she said.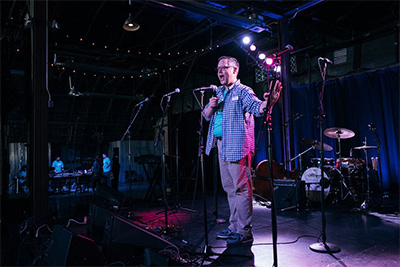 The new strategic plan highlighted the importance of original programming with live local hosts and of keeping up with today's rapidly evolving technological landscape. It also defined KMFA as a "local resource with the responsibility of showcasing the local classical organizations of Austin. We wanted to buck the radio trend of airing syndicated content…Austin is a rapidly growing city, and there were a lot of people who didn't know who we were. There were many things we needed to do for new audience development," said Wilson.
Wilson's next big challenge is locating new office space for the station. KMFA has been at 3001 N. Lamar Blvd. for 37 years and, with a growing staff and expanded programming, is bursting at the seams. The wish list for a new 16,000 square-foot space includes a live-music recording studio that can accommodate an audience of 150, an interactive area where KMFA can host its annual Kids Recording Kids summer camp, and more space for the station's producers to work so they're not constantly bumping elbows. The recording studio with audience seating, said Wilson, could also be used by community organizations for everything from master classes and lectures to informal events.
But beyond all the administrative and logistical changes KMFA has made and will continue to make, Johnson says shifts in the station's playlists and programming have had the most meaning to him. He recalled a moment during last year's presidential election when he was hit by the diversity of KMFA's programming:
"Trump had been talking about building a wall, as he had been for a while, and about extreme vetting of immigrants. That was what was being talked about in his campaign, and I finished my shift and realized I had played music by a gay Iranian, and an outspoken Venezuelan woman, and more. I just remember being very proud at the end of that day of that very eclectic mix."
Another memorable day came when the station aired a rebroadcast of Conspirare's stunning Considering Matthew Shephard the day after the June 2016 mass shooting in a gay Orlando nightclub. "It was stop-you-in-your-tracks kind of moving for our listeners," said Johnson. "We got really appreciative feedback from our listeners. That was what they needed to hear on KMFA after an event like that." He added, "Our mission is to be more relevant, and one way of doing that is to have music programming that reflects what's happening in the world."
—CLAIRE CHRISTINE SPERA