On the Road, Texas Museums Loom Large in the Rear-View Mirror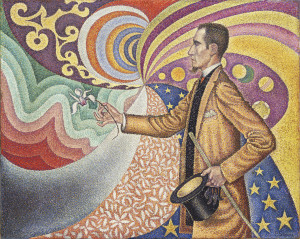 I used to joke that going to see art somewhere else was what I did to take a break from seeing art in Houston. But the truth is that I can't stop thinking about Texas museums even when I'm visiting their counterparts elsewhere. I'm always pining for one amazing exhibition or another to add a Texas stop to its itinerary. Seeing a great show in Wisconsin (Kandinsky: A Retrospective, through Sept. 1 at the Milwaukee Art Museum), in California (The Scandalous Art of James Ensor, on view through Sept. 7 at the Getty Center in Los Angeles), or in Louisiana (Behind Closed Doors: Art in the Spanish American Home, 1492–1898, through Sept. 21 at the New Orleans Museum of Art) is never enough. I want to see it again in Texas.
Of course, museum schedules are planned years in advance, so it's unlikely any of those shows will make it to the Lone Star State. Nor will Face to Face: The Neo-Impressionist Portrait, 1886-1904, on view through Sept. 7 at the Indianapolis Museum of Art. The IMA, which lays claim to the country's most important Neo-Impressionism collection, is the lone U.S. venue.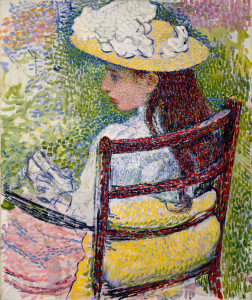 That's too bad, because a stop at the Museum of Fine Arts, Houston would unite the 30 paintings and 20 drawings in Face to Face with Georges Seurat's Young Woman Powdering Herself, a small 1889 study for his only oil portrait, depicting Seurat's mistress at her nightstand; and with Jeanne Pissarro, the Belgian painter Théo van Rysselberghe's wonderfully sketchy, process-exposing (and presumably unfinished) 1895 portrait of his friend (and, briefly, fellow Neo-Impressionist) Camille Pissarro's 14-year-old daughter, who looks annoyed. Both are gifts of the late MFAH benefactor Audrey Jones Beck, who attached a travel ban along with other conditions. To make matters worse for the IMA, the large Seurat, which is at London's Courtauld Gallery, also can't travel.
Still, those absences don't put a damper on Face to Face, which reveals what spectacular results could be yielded through the difficult process of applying or adapting to portraiture Seurat's Neo-Impressionist principles, which involved placing dot-sized dabs of complementary colors side by side according to the latest color theory. Perhaps nowhere is this truer than in Paul Signac's vivid 1890-91 portrait of M. Felix Fénéon, the art critic (and anarchist activist) who coined the term Neo-Impressionism. As over-the-top as its title, Opus 217. Against the Enamel of a Background Rhythmic with Beats and Angles, Tones and Tints, Portrait of M. Felix Fénéon in 1890 places its subject in profile, holding a cyclamen, against a pinwheel-meets-kaleidoscope backdrop.
Shimmering and crackling as it does, the painting makes a potent visual case for Seurat's theories, as outlined in the catalogue by exhibition co-curator Jane Block.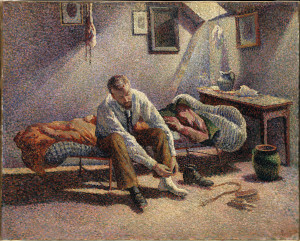 "Seurat's pursuit was supported by his readings of new studies, including the American physicist Ogden Rood's Modern Chromatics, which he read in translation," Block writes. "Seurat accepted Rood's belief that 'optical mixture' (the light from discrete colors mixing in the eye) was preferable to the 'palette mixture' (gradations of color produced by mixing pigments) employed by Eugène Delacroix and the Impressionists. This 'optical mixture' would result in causing the surface of the canvas to appear to quiver with light."
One of the show's fascinating threads is the Neo-Impressionists' links to the anarchist movement, which might seem counterintuitive given the tight control the technique required. Another traces the transmission of the new method to Belgium through exhibitions organized by Les XX or Les Vingt (The Twenty), a group of Belgian avant-garde artists, including Ensor and Rysselberghe, who organized exhibitions that featured their own work alongside that of invited international artists, including Seurat, Paul Signac, Maximilien Luce and other Neo-Impressionists. (According to the Getty show, Ensor felt displaced by his Belgian colleagues' enthusiasm for Seurat's monumental La Grande Jatte, which Les XX exhibited, and may have painted his megalomaniacal masterpiece Christ's Entry into Brussels in 1889 (1888-early 1890s) partly as an expressionist riposte.)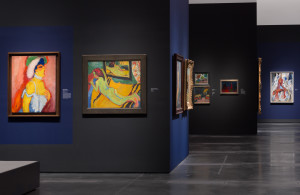 Along with exemplars of other movements originating out of France, Neo-Impressionists also spread their influence to Germany, with exhibitions in Berlin, Dresden, Munich and elsewhere, thus earning Signac, Luce, Rysselberghe and Henri-Edmond Cross supporting roles in another exhibition I can only dream of seeing again in Texas: the Los Angeles County Museum of Art's Expressionism in Germany and France: From Van Gogh to Kandinsky (on view through Sept. 14). For obvious reasons, the bulk of the show is concentrated on how the introduction of work by Cézanne, Van Gogh, Gauguin, and the Fauves gave rise to the birth of Expressionism as practiced by the cosmopolitan group of painters working in Germany, again including artists with work in the Beck Collection, whose roster includes many of the Fauves as well as the German Brücke ("Bridge") and Blue Rider groups.
Seeing the two shows in tandem reconfirmed my longstanding feeling that the Beck Collection is underrated—understandably because of its relatively late development and Beck's tendency to acquire one or two works each by individual artists rather than collecting in depth. But its breadth is indeed remarkable, and while Face to Face and Expressionism in Germany and France won't come to the MFAH, they do suggest new possibilities for maximizing the Beck galleries' value as a teaching collection. A rehanging, complete with new didactics and maps, could emphasize the rapid spread of ideas and influences among artists active in France, Belgium, Germany and beyond.
If the terms of the bequest allow it, I'd love to see the Beck Collection galleries—the ones on the third floor with the peach-colored walls—annex the two rooms that immediately flank them, spreading out the collection. The current configuration, with non-Beck galleries bookending leaves the MFAH telling the story of European art from the late 19th century to the early 20th century in fits and starts, inhibits curatorial freedom, and effectively segregates Beck-donated works from related ones donated by someone else, cutting off potential dialogue between them. I wouldn't be surprised if it inadvertently puts a damper on new acquisitions in work from the period; many collectors are reluctant to donate work they think will rarely or never be shown—or be shown to awkward effect.
I envision punctuating the expanded territory with mini-galleries—alcoves or nooks painted a different color—called, say, "Beck connectors," in which curators can install MFAH-owned or borrowed works that complement related pieces in a given part of the Beck Collection. In certain areas they could include educational sections like those in Face to Face demonstrating color theory and how Neo-Impressionism departed from Impressionism.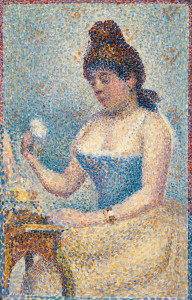 That big a change may not be possible, given either restrictions on the display of the collection or physical limitations of the space. But the what-ifs raised by visiting other museums end up being almost as tantalizing as the collections and shows I see at them. I got a map out the other day and traced the various road trips I've gone on since leaving the Houston Chronicle in late 2011. By my count, I've visited 93 museums in 23 states in a few months shy of three years. To be honest, it's kind of made me want to go work at one.
So that's what I'm going to do. By the time you read this, I'll have left A+C for a new job as publicity manager for the Blaffer Art Museum at the University of Houston, my alma mater. Having opined for years on the deeds and misdeeds of museums near and far, I'm ready to focus my attention on one institution for a change. Read Blaffer's mission statement, and you'll understand why I believe wholeheartedly in the importance of the work I have cut out for me.
Once I get the hang of my new job, I hope to contribute to A+C from time to time on non-Blaffer related topics. But believe it or not, I'm looking forward to not being required to have so many damn opinions all the time—public ones, anyway. Unlike many colleagues I admire in the embattled, ever-changing field of art journalism, I've never considered myself a lifer. Between the Houston Chronicle and A+C, I've been at it a mere seven years, which must feel like the blink of an eye to an old-timer.
But what a blink it's been. I have to pinch myself when I realize how many artists I've gotten to interview, including such renowned figures as Claes Oldenburg, Carlos Cruz-Diez, Vija Celmins, James Turrell, Barkley L. Hendricks, Vito Acconci, the late Max Neuhaus, Robert Gober, Marlene Dumas, Tilda Swinton, Do Ho Suh, Cai Guo-Qiang, El Anatsui, and Julie Mehretu, along with a Texas-sized list of talented artists working in every nook and cranny of the state. I've met more discerning curators, sharp-eyed collectors, in-it-for-the-right-reasons gallerists, civic-minded philanthropists and visionary museum directors than I can name.
As a viewer, I've benefited from the dedication and generosity of countless more, particularly since leaving the Chronicle for a magical chapter of my life that has enabled me to juggle working on A+C with making and exhibiting art, and crisscrossing the country. I'm grateful for every reader who's joined me for parts of the ride.
Now it's time to go on a new one. Thanks for the memories, everybody.