Sarah Fisher walks constantly, and she is always looking. "If you are paying attention, you never know what you are going to see or find," she said recently. She picks up ideas, images, and objects that she often incorporates into her work, ranging from paintings and prints to constructions and embellished found objects. Fisher once saw a discarded baby crib in pieces on the street and took it home. She transformed it by painting the wooden frame orange and adding an image of herself as a baby to the mattress.

Fisher is known by her friends as "the owl lady," as owls appear throughout her work. "I had a family of screech owls in our backyard, so I photographed and drew them," she said. She used these images as the basis for linocuts that she then printed on Arches paper. The result was white, highly stylized, embossed prints titled
My Wise Ones
.
The owl prints are included in When I Walk I See Things, Fisher's new exhibition at landSPACE: a kunsthalle, 1104 Tillery St., Austin, on view from May 7 through June 7. landSPACE is a new private art space in East Austin founded by Laura Wehrman. Fisher's paintings, prints, and constructions will be displayed inside the house, as well as on the front porch and suspended from trees in the backyard. The show opens on Sunday, May 7, 2023, with a reception from 2:00 to 5:00 p.m. To visit landSPACE, email Wehrman at lewehrman@gmail.com or call her at 917.861.1490.
Although Fisher is best known for her distinctive portraits, she follows her muse, which has led her to experiment with various types of printmaking. "During COVID, I was printing on everything," Fisher said. "I told my kids if they stood still, I would print on them."

On one of her walks, she picked up some discarded window screens and decided to print on them. She also found some vintage ad-sign holders and, using a small press and some linocut self-portraits she had made previously, she embossed the screens and mounted them in the sign holders, titling the series, "False Advertising." Intrigued with the results, she decided to take the process a step further.
"I'm in a collective called G5 started by Doug Welsh and Liz Gates, who teaches printmaking at the University of Houston," Fisher said. "Liz has access to the large printers at UH, so we used the same technique to emboss larger aluminum screens and then frame them with the window-screen frames. I plan to hang them from stainless steel cables in Laura's backyard so they catch the light as they move."
On another walk, Fisher found a disc of bright red Plexiglas. Using an etching pen and a needle, she drew a delicate portrait of a mother and child onto the surface. "This is me mothering myself as a baby," she said. "We plan to suspend this piece as well."
landSPACE is located in a two-bedroom house with a large backyard that Wehrman bought as an investment while working in New York. During COVID, however, she decided to move to Austin and realize her dream of creating a space for art, music, and performance. "Laura has wanted an art space for as long as I have known her," Fisher said. "Six months ago, she told me, 'I'm ready!' I am so honored to be in her inaugural show."
Fisher painted Wehrman's portrait in 2019 and titled it
Fold
. "I was in the BLOCK program at Glassell, and I was being critiqued weekly, so I was always looking for people to sit for me. Laura asked me to paint her portrait and said she wanted to be portrayed sitting in a magnolia tree outside the Menil Collection."
Fold
refers to the thousands of "FOLD" dry-cleaning identification stickers that Fisher added to the nearly life-sized portrait. "I started using these dry-cleaning stickers, and I liked them so much I ordered more—now I have a whole smorgasbord of words." The stickers add another dimension to Fisher's portraits. The repetitive text becomes a significant element, adding rhythmic patterns, enigmatic messages, and a sense of mystery, as they partially obscure the sitter.
Fisher is working on portraits of Houston-based artist Vincent Valdez and dancer Lauren Anderson. Valdez and Fisher have studios in the same building, and she admires his work, so she asked him to sit for her. "He wants his portrait painted in front of a painting he did of his partner," Fisher said. "It's terrifying, but it forces me to do my absolute best."
Fisher met Anderson, the one of the  first African-American ballerinas to become a principal in a major dance company, at a fundraiser. "I was invited to be part of the Houston Arts Alliance Add-On Gala, and they paired me with Lauren and her husband," Fisher said. "They came to my studio to see the sticker piece I was working on for that event. I asked her to sit for me, and she agreed."
Although Fisher works in many mediums, she considers her portraits to be the foundation of everything. She begins the process by asking her subjects two questions: "How would you like to be seen?" and "How would you like to be known?" Using her cell phone, she takes photographs and then enlarges and prints them. These become the basis for preparatory drawings and smaller studies for the final portrait. Often Fisher paints out large areas of the painting with blocks of color or attaches dry-cleaning stickers, sometimes leaving just the face and hands showing. "I am very interested in the ambiguity and uncertainty this creates," Fisher said.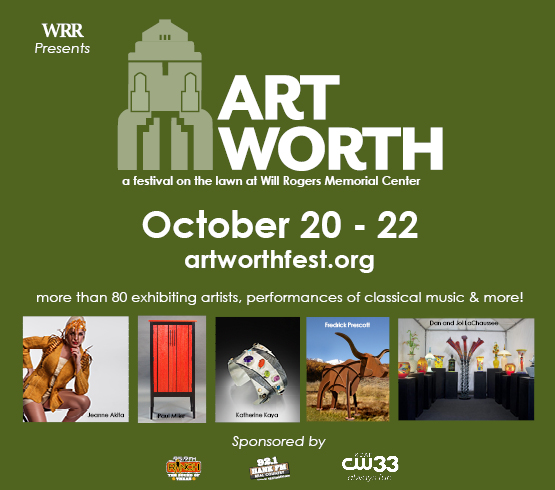 Prior to her artistic career, Fisher was a graphic designer with a one-woman advertising agency. During the last few years, she has had solo exhibitions at museums and galleries around the state of Texas. Most recently, she mounted
You Won't See It Coming
in a large space at the Museum of East Texas in Lufkin. Prior to that, she had a collaborative show with fashion designer Rachel Anderson at Stephen F. Austin State University in Nacogdoches titled
Found/Loaded
. These two exhibitions included paintings, large portraits, transformed found objects, altered furniture, and even prints on paper grocery sacks.
For the show in Nacogdoches, Fisher and Anderson collaborated on a freestanding six-foot-tall female figure in a gown with a fourteen-foot train covered completely with thousands of dry-cleaning stickers. Titled You can write your own autobiography, the piece includes the words STAIN, IN, BOX, XO, REPAIR, LIVE, and VERY (Fisher uses fragments of the stickers to create additional words). "I remember the names and words used to label me as a child and how they made me feel," Fisher said in an interview with Museum of East Texas Director John Handley for the exhibition catalog. "The patterning and hyper-repetition in my work reveal my investigation of self-labeling—how it feels to be hijacked by words and my need to find a way up and out of that vortex." Words that may cause pain have been transformed into healing elements in the piece.

Fisher enjoys collaborating and has concluded that it's impossible for her to do everything alone. Currently, she is working with a sign-printing company that has a 4- by 10-foot flatbed digital printer. The owner helped her print her owls and self-portraits on ten-foot pieces of cardboard that she presented at her show in Lubbock as a freestanding sculpture modeled on liquor-box dividers. They are currently working on a clear acrylic version.
"I have realized that many of my pieces are about those times in your life when something happens out of the blue," Fisher said. "How often has something sideswiped you, changing how you look at yourself and others? I've learned to be flexible and open to anything that happens. Art is how I process my life."
–DONNA TENNANT