Jerrica Mark and Bryan Peck in Karen Stokes' Sunset at White Oak Bayou.
Photos Courtesy of Karen Stokes Dance.
---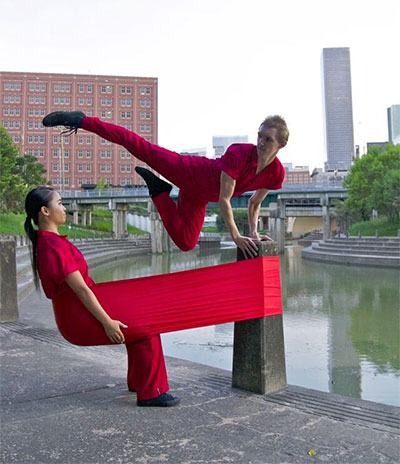 "I think in order to make my best work, I have to fall in love with my subject," said Karen Stokes when discussing her company's upcoming production, Sunset at White Oak Bayou, which celebrates the story of Houston's founding and the city's original port.
"My dad was a history professor at Rice University — an amazing man and my personal hero. I have been surrounded by history and dance my whole life," said Stokes, artistic director of the six-member Karen Stokes Dance.
October 18's Sunset at White Oak Bayou is a free-admission, site-specific work, and the third installment of Stokes' DEEP: Seaspace series. It'll take place on the north side of Allen's Landing along White Oak Bayou, where audience members can sit picnic-style on blankets and in lawn chairs.
"Sunset at White Oak Bayou takes my interest in the site and merges it with my dance work. I think it is cool to try to engage audience members via an abstract form — dance — with the surroundings we live in — Houston," she explained.
The location peaked her interest when she dug into the history of Houston and discovered the city was actually founded on the creation of a myth, or "entrepreneurial exaggeration," as Stokes calls it. The Allen brothers marketed the area as a thriving port city "having an abundance of excellent spring water and enjoying the sea breeze in all its freshness…It is handsome and beautifully elevated, salubrious and well-watered." These descriptions enticed settlers to come, and the rest is history; now, Houston is the fourth largest city in the U.S.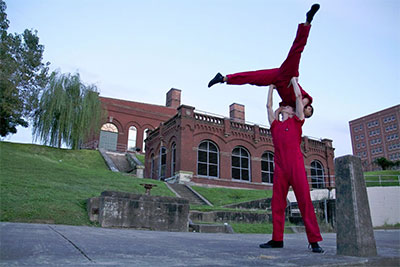 The work involves 21 performers total: six Karen Stokes Dance company members, 10 dance students from the University of Houston Dance Ensemble (Stokes has been a professor of dance at the university since 1998) and the five musicians that make up Heights 5 Brass, who will perform live an original score by Brad Sayles. The dancers will don red coveralls in tribute to the workforce that built Houston.
Sunset at White Oak Bayou marks the first time Stokes has collaborated with Brad Sayles on an original composition: "Brad and I worked together in a totally new way," said Stokes. "He asked me for a timeline of what I wanted, and so I scored the work, almost like a film — three minutes of fanfare to open, five minutes of driving, work-force energy, etc. Brad created an amazing score, using some elements from a previous symphonic work he created…I wanted brass because I envisioned the environment to be free of technological elements; no amplification with natural lights. And so I thought brass instruments might work."
Because the performance site allows the company a large space to explore, Stokes decided just six dancers wasn't going to be enough, so she brought 10 University of Houston dance students into the mix: "We received an Innovation Grant from the Cynthia Woods Mitchell Center for the Arts for the project, and this provided an opportunity to connect my professional job with my academic job, including incorporating students into my professional creative process," said Stokes.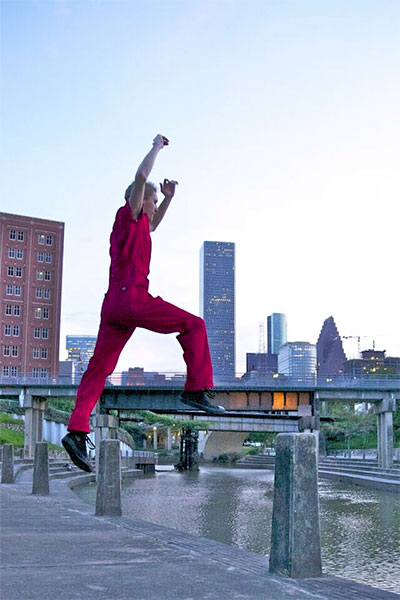 She added, "The movement vocabulary for this project had several factors to consider. All start with the site itself: the size of the site, the placement of dancers in the site, the limitations of the site and the elements within the site. There are also the meanings housed in the site, which in part defined some of the musical ideas created for the composer's timeline. Quite simply, a site-specific work requires a different palette than a staged work. Small, detailed vocabulary tends to get lost in large spaces, and then there are the safety factors of dancing on cement, which limit my love of jumping and low-level floor work! Mainly, it seems important to create interesting, intentional movement themes that are readable in a large outdoor site, and that connect to the site. With this in mind, I have utilized more traditional compositions tools, like [moving in] unison and canon, much more than I normally would in a proscenium stage."
February 2-4, 2016 marks the 10th anniversary of another Karen Stokes Dance series, Framing Dance: A Discovery Series, at the Hobby Center for the Performing Arts, which brings live music, dance and theater to thousands of Houston schoolchildren annually for free.
"For many, this is their first time coming to a downtown theater," said Stokes. "Many of the students are from economically disadvantaged areas of Houston. The series is regularly fully booked, with 3,000 students coming to a performance event."
And it's no small feat that Karen Stokes Dance is celebrating the 10th anniversary of the series this February: "To be able to do any particular show or event for 10 seasons is a strange and wonderful milestone for any modern dance company. We rarely get the opportunity to perform works more than once, which contributes to the ephemerality of the art form," noted Stokes.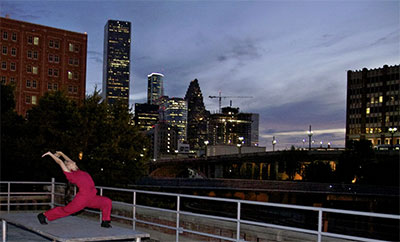 "This project has allowed me the pleasure of seeing multiple performers performing the same parts over time: the casts and their different interpretations of the dances, their individuality, their artistry. Framing Dance has allowed me to witness how each dancer brings a unique interpretation to a part. I am filled with gratitude for the…amazing joy that the students bring in watching this work every year. It reminds me why I have taken this dance journey."
—CLAIRE CHRISTINE SPERA