The challenge is so great that no U.S. orchestra has pulled it off in recent decades: a concert-hall presentation of Richard Wagner's four-opera epic, The Ring of the Nibelung. But the Dallas Symphony Orchestra is taking it on.

The orchestra and a phalanx of guest artists will perform
Das Rheingold
and
Die Walküre
, the first half of Wagner's tale of gods and greed, next spring. In autumn 2024, music director Fabio Luisi and company will reprise those and add the final two operas, ushering listeners through the entire saga.
"It's a huge undertaking, financially and otherwise," says Kim Noltemy, the orchestra's president and CEO. The demands range from assembling a supersized orchestra to mapping out rehearsals. But Luisi, she notes, is a Ring veteran: For one thing, he helped lead a Grammy-winning recording by New York's Metropolitan Opera.
The launch of Wagner's earth-shaking voyage will almost inevitably mark the climax of the orchestra's 2023-24 season. But the season will also bring a string of new works, including one based on President John F. Kennedy's last major speech. The orchestra will offer revered works by Mozart, Tchaikovsky, Mahler and others alongside a sprinkling of rarities. Soloists will range from the young American violinist Alexi Kenney to the veteran Austrian pianist Rudolf Buchbinder, a prizewinner from the second Van Cliburn International Piano Competition–back in 1966.

Unlike most orchestras' think-big projects, the
Ring
did not begin in the mind of music director Luisi. The prime mover was Morton H. Meyerson, longtime Dallas Symphony backer and namesake of the Meyerson Symphony Center.
"He saw the whole cycle in Seattle and … thought, 'Wow, this is so amazing.' And he brought up the idea to Fabio a few years ago," Noltemy says. "What music director who is an expert in opera wouldn't say, 'I love that idea'?"
Luisi nevertheless mustered restraint. "He wouldn't just say yes," Noltemy continues. "He talked to me and our artistic V.P.  'Is this possible? Could we raise the money to do it?'" The Ring got the green light, and the fundraising began. "We still have a little work to do on it," Noltemy says, "but we found a lot of (donors) who were very excited about the project."
Das Rheingold and Die Walküre (May 1-5, 2024) will feature international casts, including headliners who have already made their mark on Dallas audiences. Bass-baritone Mark Delavan, who will portray chief god Wotan, has come to The Dallas Opera for roles including Verdi's ebullient Falstaff; soprano Lise Lindstrom, set to play Wotan's beloved daughter Brünnhilde, appeared with TDO as Puccini's ice-princess, Turandot.
Luisi will lead other works that are meaty and dramatic, if hardly
Ring
-sized.
A Faust Symphony
, Franz Liszt's infrequently performed evocation of Goethe's devil-vs.-man drama, will open the orchestra's classical series (Sept. 28-Oct.1). Picking up a work lost to the pandemic lockdown, Luisi will showcase even more of a rarity: Franz Schmidt's
The Book with Seven Seals
, a chorus-and-orchestra extravaganza based on Revelation (March 1-3). From the more familiar realm will come Mahler's eloquent Symphony No. 5 (March 28-30).
"We haven't been doing a lot of Mahler the past few years. So that will be great to see," Noltemy says. "Fabio is so incredible at these huge works. He seems to know how to take them apart and put them back together—and to focus on the unique sound of the Dallas Symphony."
Guests will showcase other facets of the repertoire. Scottish conductor Donald Runnicles will lead an all-Sibelius program including the Violin Concerto, featuring Kenney, and the majestic Symphony No. 5 (Feb. 1-3). Australia's Simone Young will mold the sonic theater of Richard Strauss' Also Sprach Zarathustra (April 11-14, 2024).
French conductor Marie Jacquot will make her Dallas Symphony debut with a program including Beethoven's Symphony No. 4 (Jan. 4-7). Another first-time visitor, Norway's Tabita Berglund, will offer Mozart and further Beethoven (Jan. 18-20).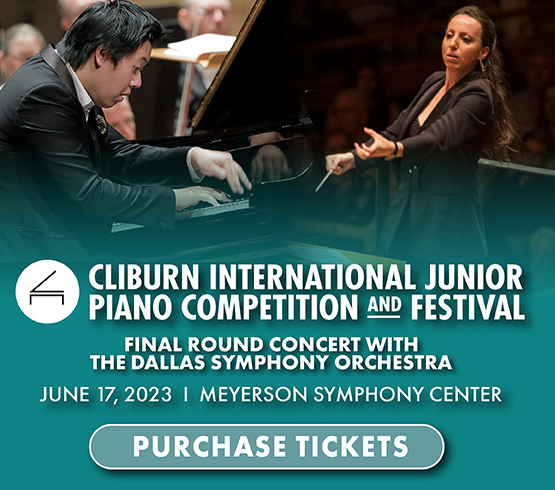 Note the women on the podium. Women will make themselves heard as composers, too. A new work by Jessie Mongtomery will share a program with Brahms' Piano Concerto No. 2, the latter featuring Buchbinder (Oct. 12-15). The premiere of a piano concerto by England's Anna Clyne will precede Mahler's Symphony No. 5 (March 28-30).
Southern Methodist University's Xi Wang will look back at the pandemic and the upheavals that cropped up at the same time in her new Year 2020 (Feb. 22-25). Her program says the work  "is filled with emotional storms of struggle, tears, death… and eventually, hope."
Another new work may have special resonance. Adolphus Hailstork's JFK: The Last Speech (Oct. 6-8) will look back at the late president's tribute to poet Robert Frost, delivered in October 1963. The score will weave in a narrator quoting Kennedy and a soprano singing Hailstork's settings of Frost, including these lines:
"And God has taken a flower of gold
And broken it, and used therefrom
The mystic link to bind and hold
Spirit to matter till death come."

The orchestra also has cooked up notable events outside the classical series. Luisi will make his first foray into the pops series for a program centering the Great American Songbook (Sept. 22-24). Mezzo-soprano Isabel Leonard, who has played the spirited Rosina in The Barber of Seville for Dallas Opera, will headline the annual gala alongside veteran pianist Emanuel Ax (Sept. 30).
Young Russian pianist Daniil Trifonov will come to Dallas for a solo recital capped off by Beethoven's massive "Hammerklavier" Sonata (March 18). And the orchestra will play for a movie screening that will go to the heart of classical music (Sept. 1-3).
"I've been wanting for years to do the Amadeus movie with the orchestra, because I know how much people love that music," Noltemy says. "Having the orchestra play Mozart is even more powerful than having them play Star Wars or Harry Potter."
-STEVEN BROWN