---
IMAGE ABOVE: Dogfight: A New Musical at WaterTower Theatre in Addison July 25 – August 17, 2014.
---
AUSTIN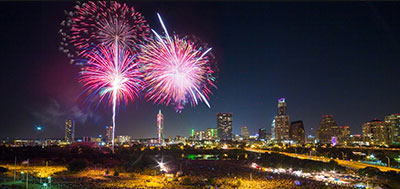 Breaking String Theater Co. presents We Play Chekhov: The Black Monk and The Beyonce  directed by Graham Schmidt.  Aug. 14-24, Long Center's Rollins Studio Theatre.
Oh Dragon Theatre Company presents Tango Through The Revolutionby Adam Esquenazi Douglas, July 25-31 & Aug. 1-2.
Zach Theatre presents The Who's Tommy, July 9- Aug. 24.
Salvage Vanguard Theater presents Bright Now Beyond, by Daniel Alexander Jones. July 31-Aug. 23.
Last Act Theatre Company presents Lender is the Night: An Utterly Unrecognizable Adaptation of The Count of Monte Cristo: A Western Melodrama, by Greg Klein. July 10-26.
Hyde Park Theatre presents Port Authorityby Conor McPherson. July 10-Aug. 9.
The Long Center presents Sound and Cinema, through Aug. 20, Rhythm on Stage with Austin's Butler Community School, July 1-22, Robot Planet Rising: An Intergalactic Nemesis Live-Action Novel, July 3 & 6, American's Test Kitchen Live, Aug, 13, and Crosby, Stills and Nash, Aug. 28.
Pollyanna Theatre Company presents Peter and The Piper. July 12-20, The Long Center.
Austin Symphony presents its 38th Annual July 4th  Concert and Fireworks. July 4, Austin360 Amphitheater at Circuit of The Americas.
Wimberley Players presents The Skin of Our Teethby Thornton Wilder.ThroughJuly 6.
Vortex Theater presents Pygmalion. Through July 19.
---
HOUSTON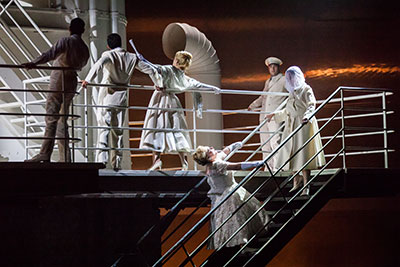 The Landing Theatre Company presents All in the Timing by David Ives. July 17-27, Alley Kat Bar and Lounge.
Arneson Productions presents Manhattan Melodramas, Natalie Arneson in Concert. July 1, Ovations.
American Festival for the Arts presents Summer Concert Series. Through July 12.
Houston Ballet with American Festival of the Arts presents their annual summer intensive choreography collaboration. July 11, Houston Ballet Center for Dance.
Indo-American Association presents Hema Malini's Ballet DURGA.  July 19, Wortham Center.
Horse Head Theatre presents Spaghetti Code, a new play by Abby Koenig. July 12-28, PJ's Sports Bar.  GET MORE INFO >
Texas Repertory Theatre presents Pump Boys & Dinettes. July 10 – Aug. 3.
Lincoln Center Festival presents the Houston Grand Opera production of The Passenger byMieczyslaw Weinberg. July 10-13, The Park Armory.
Houston Cinema Arts Festival presents Julyoscope, a free evening of dance performance and film featuring a screening of Twenty Feet From Stardom. July 19, Discovery Green.
NobleMotion Dance presents Dark Matter: Evidence of Things Unseen. Aug. 29-30 & Sept. 4-6, The Barn.
FrenetiCore Dance presents Quench, exploring the dynamic depths and transcendent nature of water. Aug. 22-30, Frenetic Theater.
VauLt Houston presents the Second Annual Festival of Aerial Arts. July 18-26.
Discovery Green presents Maravilloso!, the Texas debut of the French Barolosolo Cirkus Company's ile O, a delightful mash-up of modern physical theater and amazing acrobatics. July 3-4.
Company on Stage presents All My Sons, Arthur Miller's post World War II family drama. Through July 13.
Catastrophic Theatre presents A Very Tamarie Christmas, Tamarie Cooper's annual summer theater extravaganza, created with Patrick Reynolds and friends.July 18-Aug. 30..
Main Street Theater presents Pippi Longstocking, a family musical. Through Aug. 3, at MST—Chelsea Market.
Alley Theatre presents Old Friendsby Horton Foote.Aug. 20-Sept. 7, University of Houston.
MFAH presents Ars Lyrica in a selection of 18th century music that complements life in a grand English country house like Houghton Hall. Aug. 17, Audrey Jones Beck Building.
MFAH Films presents Drama in the House, a summer film series highlighting the mystique of English country homes. July 13-Aug. 21.
Houston Symphony presents Star Spangled Salute, July 4; rePLAY Video Games, July 5; Star Trek, July 18-19; Mariachi Cobra, July 25; Led Zeppelin, July 26; Steve Martin, July 31.
Miller Outdoor Theatre presents Jefferson Starship, July 2; ExxonMobil Summer Symphony Nights: A Star Spangled Salute, July 4; Noche Caliente featuring Candido, July 6; Children's Hilltop Festival, July 22-25; Dance Theatre of Harlem, July 23.
Stages Repertory Theatre presents Pete 'n' Keely, with a book by James Hindman and music by Patrick Brady, July 9-Aug. 31, and Full Gallopby Mark Hampton & Mary Louise Wilson, Aug. 6 -Sept. 14.
Theatre Under the Stars presents The Best Little Whorehouse In Texas. July 15-20, Miller Outdoor Theatre.
Mildred's Umbrella Theater Company presents Pollywog by Keian McKee. July 31-Aug. 16, Studio 101.
Ensemble Theatre presents I Wish You Love. Through July 27.
The Grand 1894 Opera House presents the Texas Tenors, July 6; The Houston Children's Chorus, July 20; and Is There Life After Lubbock?, July 26.
Houston Shakespeare Festival presents Two Gentleman of Verona, Aug. 1, 3, 5, 7, 9, and Henry IV Part 1, Aug. 2, 6, 8, 10, Miller Outdoor Theatre.
Queensberry Theatre presents Cocaine & Ethel Merman: The New Homo Guide, the acclaimed one-man-show by L. Robert Westeen. July 6-15, Studio 101.
QFest 2014 presents The 18th Annual Houston International GBLT Film Festival. July 24-28.
The Architecture Center Houston presents their second annual film festival Architecture Meets Life. Aug. 21-23, Architecture Center.
---
NORTH TEXAS
The Dance Council of North Texas presents Dallas DanceFest 2014. Aug. 29 – 31, Dallas City Performance Hall.  GET MORE INFO >
Dallas Shakespeare Festival presents Tartuffe. ThroughJuly 18, Samuell Grand Amphitheatre.
Hip Pocket Theater presents Rose Nose Rhapsody by Lake Simons and John Dyer, July 11-Aug. 3, and Nekkid With the Cats: A Wisepecker Conundrum, by Johnny Simons. Aug.15-Sept. 7.
Stolen Shakespeare Guild presents Gypsy.Aug. 1-17, Fort Worth Community Arts Center.
Watertower Theatre presents Dogfight, a new musical by Benj Pasek and Justin Paul. July 26- August 17; Full Gallop, by Mary Louise Wilson and Mark Hampton, Aug 11-31, Addison Theatre Center.
Contemporary Theatre of Dallas presents Lonestar and Laundry and Bourbon by James McClure, July 10-26; and Wait Until Dark, Aug. 15- Sept. 7.
Dallas Children's Theater presents Stuart Little By E. B. White, adapted by Joseph Robinette. Through July 13.
Dallas Theater Center presents Les Miserables.ThroughAug 10.
Fine Arts Chamber Players presents the 2014 Basically Beethoven Festival. July 6-27, Dallas City Performance Hall.
Dallas Wind Symphony presents A Star-Spangled Spectacular. July 4, Morton H. Meyerson Symphony Center.
Theatre Three presents Sheer Madness,through July 20, and By the Way Meet Vera Stark, through July 23.
Amphibian Productions presents The Nosemaker's Apprentice: Chronicles of a Medieval Plastic Surgeon, by Nick Jones and Rachel Shukert. July 10-Aug. 10.
Theatre Arlington presents The Nerdby Larry Shue. Aug 8-24.
Stage West presents Heroes by Gérald Sibleyras, translated by Tom Stoppard, July 12-Aug. 10, and Beyond Therapyby Christopher Durang.Aug. 23- Sept. 28.
Uptown Players presents The Boy From Oz, book by Nick Enright and lyrics by Peter Allen. July 25-Aug. 10, Kalita Humphreys Theater.
Mimir Chamber Music Festivalrunsthrough July 11. PepsiCo Recital Hall.
Jubilee Theatre presents Little Shop of Horrors July 11 – Aug. 3.
Fort Worth Performing Arts presents Slaid Cleaves, the celebrated Austin singer/songwriter. July 11, McDavid Studio.
Casa Mañana presents Jekyll & Hyde with music by Frank Wildhorn. July 25-27.
Circle Theatre presents Hope and Gravity,through July 19, and Stella & Lou by Bruce Graham, Aug 23-Sept 20.
Irving Parks & Recreation Schedule presents the IPAR One-Act Play Contest. July 29, Irving Arts Center.
---
SAN ANTONIO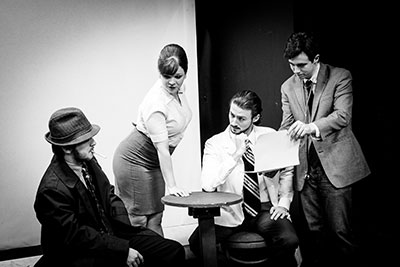 San Antonio College Theatre Department presents Los Locos de Valencia,July 7-10, and Antigone, July 14-17.
Classic Theatre of San Antonio presents Arms and the Man by George Bernard Shaw. Aug. 22- Sept. 7.
The Playhouse San Antonio presents Tommy, the Who's iconic rock opera.  Aug.1-24.
Overtime Theater presents Glen or Glenda.through July 12, and The Professionalsby William Razavi, July 25 – Aug. 23.
Cameo Theatre presents Big River, the Adventures of Huckleberry Finn.July 12-Aug. 10.
The Rose Theatre Company presents Black to the Future. July 11-26,and M*A*S*H, Aug. 15-30.
The Vexler presents One Flew Over the Cuckoo's Nestby Dale Wasserman.Aug. 23-Sept. 20.
Magik Theatre presents The Bootmaker and the Elves. Through Aug. 2.
Performing Art San Antonio presents Songs for a New World.  July 25-Aug. 17.
---
MARFA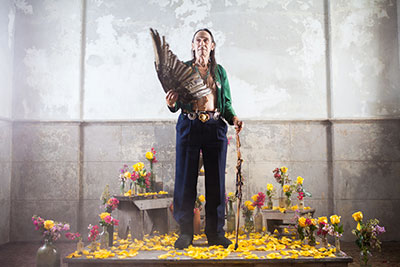 Marfa Film Festival presents a five-day event with 48 films, including features, shorts, and music videos in a variety of genres, with 16 countries represented. July-2-6.
Ballroom Marfa presents Bonnie Prince Billy, July 12, Vidas Perfectas, July 18-19, Artists' Film International, Aug. 29.
Ballroom Marfa and Marfa Public Radio present a four-part workshop series inspired by the work of Teresa Hubbard and Alexander Birchler. July 7-11.