Afoot! / chopped and screwed
10 seconds of music and motion
David. A. Brown, 2014
---
Another year has come and gone on the Texas cultural landscape and I was there for some, not all, of what happened. Dallas' AT&T Performing Arts Center successfully launched Off Broadway on Flora and The Elevator Project as a way to broaden their offerings. The Tobin Center in San Antonio opened, and the resident groups are performing in the big house now. I'm very excited to see how this is changing the visibility for Ballet SA, Opera SA, AtticRep, SOLI Chamber Ensemble and other resident troupes.
New buildings for the arts are in full swing in Houston. The Alley Theatre is well into extreme makeover mode as is Main Street Theater, while Classical Theatre has moved into MST's old digs at Chelsea Market and the cranes have arrived at Midtown's The Match, just in time for new executive director Chuck Still's move to Houston. The new HSPVA campus broke ground to make way for a $80 Million 168,000 square-foot arts campus on Austin and Rusk Streets in Downtown Houston.
This was the year that I declared music as the healthiest performing art form in Texas, especially in Houston, but vital signs are strong throughout the state. Even Austin is gaining more visibility as a classical music mini-hub, with the extraordinary leadership of Mary Ellen Poole at UT's Butler School of Music, the amazing Miro Quartet, and a re-branding at Austin Opera.
There were changes at the top in Houston: Elizabeth Dunbar left DiverseWorks, Charles Still was named the new executive director of The Match, while the Rothko Chapel and River Oaks Chamber Orchestra remain in search of executive directors. Becky Tobin left Houston Chamber Choir to become Vice President of Operations for the Fort Worth Symphony Orchestra.
Dance weathered the sudden death of Bruce Wood in Dallas, the closing of Hope Stone studio, Dominic Walsh Dance Theater in Houston, the retirement of a cherished Houston Ballet ballerina, Kelly Myernick, and a diminished performance schedule throughout most of Texas. Despite some of these setbacks, the State can boast two of the strongest dance service organizations in the nation with Dance Source Houston and the Dance Council of North Texas. I continue to advocate to artists that they are more than their next show, so we keep the news coming about what's in the works.
The Dallas DanceFest made a spectacular comeback and plans to return Sept. 4 – 6. I continue my obsession with ballet in Texas with our periodic online updates, and have started a new one: the history of tap in Texas. Stay tune for a June story.
The first part of the year was covered in 16 Spring Standouts, now for the fabulous Fall. As usual, it's a motley list of moments, shows or events that amused, disturbed, baffled and enchanted. Basically, it's a list of things, roughly in chronological order, that I can't stop talking about.
Joshua L. Peugh at Dallas DanceFest
Dark Circles Contemporary Dance artistic director Joshua L. Peugh stuffed a marshmallow in a dancer's mouth in his piece, Marshmallow, and I have been raving every since. He's doing something so entirely different than what's out there. Instead of big tricks, his work pulls you into the minutia of movement, feeling, gesture and relationship. He dares to dance small. We feel as if what is happening on stage is happening inches from us. With works on BodyTraffic, BalletX and other companies, Peugh has earned a coveted spot on a national radar. His winter show, Jan. 29-31 at Erma Lowe Hall, Studio Theatre, promises a new commission by Ballet Austin New American Talent finalist James Gregg. Oh wait, there's more. Peugh has just been named one of  "25 to Watch" by Dance Magazine.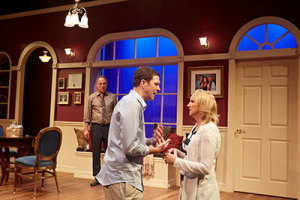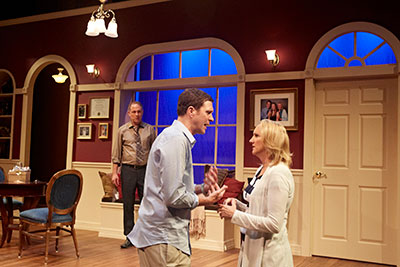 The God Game at Stark Naked Theatre
Oh, Justin Doran, are you busy? I was wondering if you had time to run for president? Suzanne Bradbeer's The God Game, which opened Stark Naked's season, was just spot on, as was the choice of Doran to play a vice presidential contender in this dark comedy about two favorite Texas taboos, God and politics. Stark Naked co-artistic directors Kim Tobin and Philip Lehl completed the fabulous cast. You can catch Doran next in Kim Rosenstock's Tigers Be Still at Black Lab Theatre, Jan. 15-31.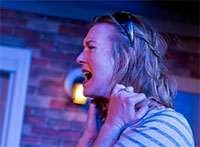 Mischa Hutchins in Detroit and Spaghetti Code
Mischa Hutchins burst on the Houston theater scene this season as an actor to watch, first in Abby Koenig's dark comedy Spaghetti Code at Horse Head Theatre, directed by Jacey Little, then in Lisa D'Amour's Detroit directed by Troy Schulze at Catastrophic Theatre. I can't wait to see what she will be in next.
Houston Ballet's Karina Gonzalez and Connor Walsh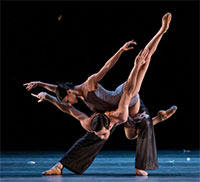 Houston Ballet's Houston to the World brought Karina Gonzalez and Connor Walsh together in Jorma Elo's ONE/end/ONE and Edvaard Liang's Murmuration in one evening of dance, solidifying one of the company's most important partnerships since Lauren Anderson and Carlos Acosta. Most recently, they wowed us at the Jubilee of Dance in the La Bayadere pas de deux. If you run, you can catch them as Sugar Plum and the prince in The Nutcracker. I only hope they get a turn at Stanton Welch's new version of Romeo and Juliet, Feb. 26 – March 7.
Agon at Ballet Austin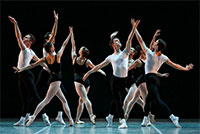 I thank Ballet Austin for bringing me back into Balanchine mode. I found myself startled by how fresh and bold Agon still looks after all these years, and it was a great pleasure to watch the company grow in their Balanchine technique as well. And on another note, there's such a sense of glamour about attending at Ballet Austin event. I always feel as if it's the place to be, from the swanky crowd, to the opening videos, to the Austin skyline views at the after party.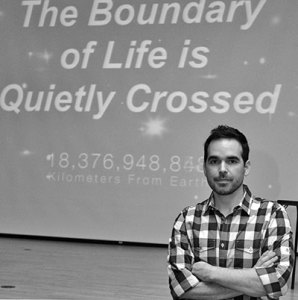 Dario Robleto's Cross-disciplinary Conversations at The Menil
If Dario Robleto can call an artificial heart a work of art, then I can call the public programming held in conjunction with his exhibit The Boundary of Life is Quietly Crossed a performance. The series of conversations, which included the history of the artificial heart, the golden record and the story of the earliest sound recordings, represented some of the most meaningful discussions between an artist and individuals from other disciplines that I have witnessed in Houston. Pay attention Houston, we need more of this kind of programming.
Frame Dance Productions/Lydia Hance at DSH and DiverseWorks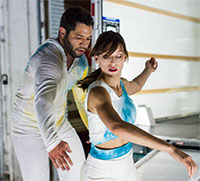 Never underestimate the power of a good pièce d'occasione. Good thing I'm an artsy party girl, otherwise I would have missed both of Lydia Hance's two marvelous pieces, one created for Dance Source Houston's 10 anniversary celebration, the other for DiverseWorks' Fashion Fete. Truck Dances, created for DSH, was set to an original percussion score by Charles Halka, and took place in the back of two white U-Haul trucks. Truck Dances featured dancers Jacquelyn Jay Boe, Kelsey Jean Kincaid and Alex Soares, and musicians Dino Georgeton, Stephen Tobin, Terrell Moss and Emma Torrell. Fashion Fete took a more balletic spin and had Boe, Danielle Gonzaba  and Soares frolicking about to the music/video projections of Mark Hirsch, played by the very talented Rolston Quartet.
Flinching Eye Collective at Nicole Longnecker Gallery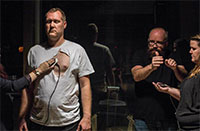 Sparks flew at Flinching Eye Collective's performance as part of their aberration tour. Really, they did.  FEC held the crowd captive with their oddball antics on Nov. 8 at Nicole Longnecker Gallery. This collection of sound-based media and performance artists will stop at nothing to create a strange and possibly never heard before sound. Some of the instruments played: the human heart, a balloon against a face, a drill on a record, sewing machine, assorted power tools on cymbals, and an amplified saw. Their no nonsense performance style is loads of fun, and made a perfect compliment to the Larry Bell paintings/prints on the wall.  I liked everything about the event, including letting the audience figure out where to watch, how each event seemed to start and stop seamlessly and how cool, calm and collected the always elegant Nicole Longnecker looked during the explosive part of the evening. The end was the most spectacular. After the sparks, FEC immediately began cleaning up like nothing ever happened. Those of us who were there know better.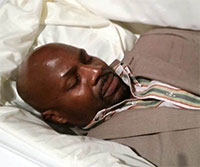 Nathaniel Donnett's Funeral at the CAMH
Shortly after my father's death, I had a dream that we held his funeral before his actual death, in an attempt to get it right. Nathaniel Donnett may have had a similar plan when we gathered together for his advance funeral at the CAMH. The always surprising Donnett held a fine affair as part of the performance component to Nathaniel Donnett: Nothing to See Hear, Right Here Right Now: Houston.  Chinelo Ikejimba's gorgeous dancing added to the festivities. (Always have a dancer at your funeral!) Equal parts strange, unsettling, funny and uncomfortable, I totally enjoyed the speeches, the drama, the confusion and the setting. After a while, I took the role of the designated Italian-American mourner, comforting those who arrived late in a state of shock. After the makeshift congregation paid their final respects, Donnett came out of his handsome coffin to carry on a rather straightforward conversation with writer and critic Garry Reece. See, art can raise the dead after all.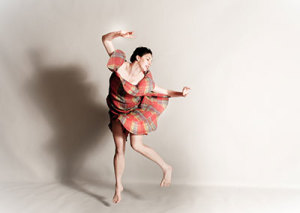 Amy Morrow at the Dance Gallery Festival
When the lights came up on Austin-based dancer Amy Morrow's wiggling upside down legs, I knew immediately that this was one dancer to watch. She moves with a sassy mix of precision and abandon, something we rarely see on contemporary dance stages. The piece had something to do with her grandmother, it could have been about her car, and I would have still loved it. I am looking forward to seeing more of Morrow in motion.
AFOOT! -A Marching Band Extravaganza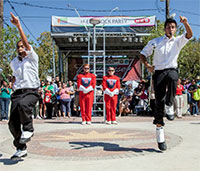 Austin dance leaders Allison Orr and Krissie Marty of Forklift, with the help of local dance artists Harrison Guy, Andrea Cody, Leslie Scates and Lydia Hance, pulled off a marching band extravaganza of epic proportions as part of the Mitchell Center's contribution to HAA's Transported + Renewed, kicking off the East End Festival. Austin and Milby High Schools' and University of Houston's marching bands were outstanding, even when they were off doing weird modern dance-ish things in a corner.  Austin High School drum majors Eligio Cisneros and Edwin Linares were so commanding and fun to watch. Orr's final coda in the central square brought all the drum majors into action for a rousing finish.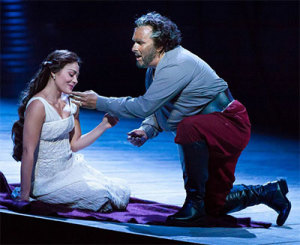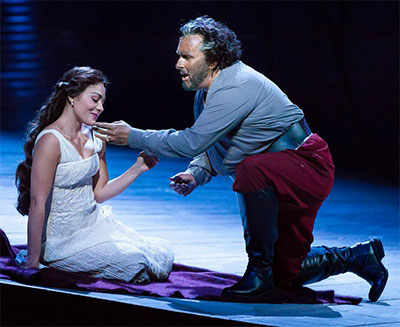 Otello at HGO
Houston Grand Opera opened their season a riveting production of Verdi's Otello. The stellar cast included New Zealand tenor Simon O'Neill as Otello, Ailyn Perez, making her role and HGO debut as Desdemona, Marco Vratogna as Iago, along with HGO Studio alumnus Norman Reinhardt as Cassio, with Grammy-nominated mezzo Victoria Livengood, as Emilia and Morris Robinson as Lodovico. Patrick Summers conducted the production,  John Cox directed, while Johan Engels' curved stage set design was marvelously unsettling.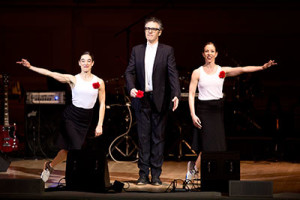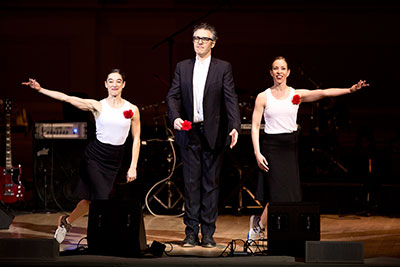 Three Acts, Two Dancers and One Radio Host at SPA
Ira Glass begins the show by stating that modern dance and radio have no business being together. After it was all over, I agree, and therein lies the fun of watching these two entities not belonging together. Monica Bill Barnes and Anna Bass are luscious movers, and watching Glass dance is more adorable than any cute baby animal video. This was a great opening to SPA's dance season.
Aperio at Sicardi and Texas Gallery
Aperio artistic director Michael Zuraw has the right idea in presenting great music in a gallery setting. I enjoyed both of his fall opening programs immensely, the first featuring the Rolston String Quartet at Sicardi Gallery, and the second with Zuraw and Daniel Saenz, playing works by Lukas Foss, Samuel Barber, Marlos Nobre and Astor Piazzolla at Texas Gallery.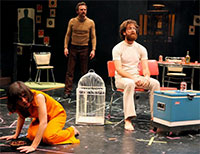 Rude Mechs' The Method Gun at University of Texas
Let's just say there's this theater guru named Stella Burden, who had hoped to perform A Streetcar Named Desire without all the main characters. But she left for the jungle, abandoning her actors to rehearse for nine years. And the Rude Mechs are in there somewhere. I will say that the final performance of A Street Car as performed by Rude Mechs as these oddball actors contained some of the most ravishing stage movement choreography ever. I have suffered from Method Gun syndrome ever since, where I want to remove the main character of any show. I'm already planning a road trip to see Rude Mechs in Stop Hitting Yourself at Off Broadway on Flora at the AT&T Performing Arts Center.
Dance & Music Box at Blaffer Art Museum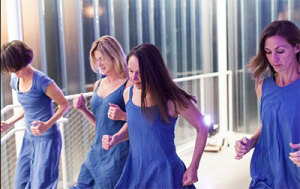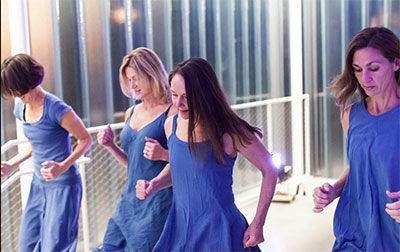 Houston improvisation legend Leslie Scates and University of Houston's School of Theatre & Dance faculty Karen Stokes, Teresa Chapman and Becky Valls, along with Dutch sound installation artist Allard van Hoorn, took over the Blaffer Art Museum on Nov. 18 in 021 Urban Songline, as part of Buildering: Misbehaving the City. It's always great when the dance and visual art ends of a university forge partnerships. I applaud the Blaffer for reaching across the yard to include UH's incredibly talented dance faculty, and for filling their art house with sound and movement.
— NANCY WOZNY