Soundspace artistic director Steve Parker and Molly Emerman. Photo by Elisa Ferrari.
---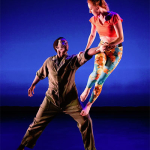 New Work at Kathy Dunn Hamrick Company
AUSTIN—Kathy Dunn Hamrick Company presents More Than One Complication, a new modern dance by Kathy Dunn Hamrick with contributions by guest choreographers Charles O. Anderson, Lisa Nicks and Kate Warren, June 11-13 at AustinVentures Studio Theater.
IMAGE:  Kathy Dunn Hamrick Dance Company members Jack Anthony Dunlap II and Alyson Dolan in There, the Magnificent.  Photo by Kevin Gliner.
---
Kana Harada at Talley Dunn Gallery
DALLAS- New Beginning, a show of new work by Dallas-based artist Kana Harada, is on view at Dallas' Talley Dunn Gallery through July 11 and marks the artist's first exhibition with the gallery. For the show Harada has crafted nine works, including a gorgeous large-scale installation of cherry blossom branches created from hand-cut pieces of thin, foam sheet and found materials.
IMAGE:  Kana Harada, Dragon Bone Lily,  2015, foam sheet and mixed media, 9 1/2 x 33 x 18 inches
---
SoundSpace  at the Blanton
AUSTIN—The Blanton Museum presents SoundSpace: Musical Outsiders, featuring work by musicians who operated outside the mainstream on June 14, inspired by Blanton's current exhibition, Wildly Strange: The Photographs of Ralph Eugene Meatyard. 
---
Lineas de la Mano  at Sicardi Gallery
HOUSTON– Lineas de la Mano, on view at Houston's Sicardi Gallery through July 3, is a group exhibition structured around a premise which simplifies and complicates our life in equal measure, namely the idea that human existence, and all of its manifold complexity, can be reduced to mathematics, specifically, geometry, and more specifically, the geometrical concept of the line.
IMAGE:  Ricardo Alcaide, Settlements nº9 , 2015 Bronze and mixed media, 116 x 21 x 82 cm.
---
New Works Festival at Kitchen Dog Theater.
DALLAS—Kitchen Dog's New Works Festival 2015 features the National New Play Network world premiere of Meridith Friedman's riveting political play, The Firestorm, directed by KDT Co-Artistic Director Tina Parke, through June 27 at The MAC. kitchendogtheater.org
IMAGE:  Janielle Kastner, Kenneisha Thompson, Cameron Cobb and Jamal Gibran Sterling in The Firestorm.   Photo by Matt Mrozek.
---
Casey Gregory at Sala Diaz
SAN ANTONIO—A Battle of Ideas is Houston based artist Casey Arguelles Gregory's most recent body of work, on view through June 21 at San Antonio's Sala Diaz. Gregory explores her penchant for words, symbols and meaning in A Battle of Ideas, showing two distinct bodies of work which, when seen together, in the words of Gregory, serve to explore and illustrate the "life lived by many contemporary artists, which seems to, ironically, juxtapose intellectual pursuits and abstractions with catastrophic world events and a thousand daily banalities: a reverie with interruptions."
IMAGE:  Casey Gregory, Condo Vultures.  Oil on canvas, 2015.  Courtesy of the artist.
---
Gershwin stops at the Alley
HOUSTON—Great music, a brilliant life and Hershey Felder making his Alley debut as George Gershwin, make George Gershwin Alone a summer must-see, through June 21 at Alley Theatre @ UH. alleytheatre.org
IMAGE:  Hershey Felder in George Gershwin Alone.   Photo by Mark Garvin.
---
Mark Johnson at Co-Lab Project
AUSTIN—Co-Lab Project's N Space recently broke its short sabbatical to open APOLOGYTOTIME by Mark Johnson (on view through June 24.) Mark Johnson's work at N Space is a well of psychological fodder, a trip into the "Mind of The Artist" and a sincerely well-considered body of work which, although slightly disturbing, exhibits an overwhelming and intoxicating decadence of material and composition.
IMAGE:  Mark Johnson, Untitled,  mixed media, 25" x 31" 2015.
---
A Cranko Classic at Houston Ballet
HOUSTON—Houston Ballet ends its Shakespeare-focused season with John Cranko's comic masterpiece, The Taming of the Shrew, June 11-21 at Wortham Center. Expect virtuoso dancing, vivid characters and romantic pas de deux. houstonballet.org
IMAGE:  Houston Ballet principals Melody Mennite and Connor Walsh in John Cranko's The Taming of the Shrew.   Photo by Amitava Sarkar.
---
Marjorie Schwarz at Goss-Michael Foundation
DALLAS-Marjorie Schwarz seizes on an otherworldly tone that she pulls from her portrait's sources to create work that is personal, eerie, and strangely hypnotic. All of the pieces in Marjorie Schwarz's solo show currently on view at the Goss-Michael Foundation are fiercely original and compelling in their rigor, they almost defy categorization and bring to mind many art historical sources. Part German Expressionism, part Neo Expressionism, and intermixed with Marlene Dumas and Lisa Yuskavage, Schwarz looks to have found her mature signature style.
IMAGE:  Marjorie Schwarz,  Self and Family Portrait Series,  Detail. Water based oil on canvas. 2009-2010.