Oris Phillips Jr. and Keith Gallowy Jr. in Jubilee Theatre's show Jubilation-The Colors of Christmas.
Photo by Cecil Fuqua.
---
A Texas Holiday Concert Round-Up
Messiahs, cirque spectaculars, jazzy pops, sing-a-longs, unique performances and musicals are in store for Texas music lovers this holiday season. Enjoy our round-up of shows that caught our eye across the State.
Messiahs for All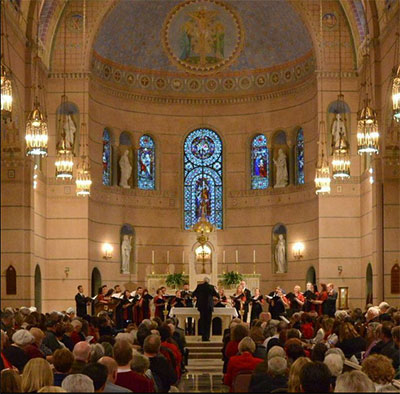 You can't throw a stone in Texas without hitting Handel's masterpiece this holiday season. This hugely popular oratorio has a standing tradition for the Hallelujah chorus, that dates back to 1743 when Handel's patron King George II stood, and to this day, it remains a tradition. Whether you get on your feet or not, there's a Messiah in your neighborhood.
Get decked out Dec. 19-21 for Houston Symphony's Messiah, with conductor Christopher Warren Green at Jones Hall, or check out the new location with an old tradition at Hyde Park Baptist Church with The Austin Symphony, accompanied by Chorus Austin. Then there's Fort Worth Symphony Orchestra and the Southwestern Seminary Master Chorale on Dec. 2 at Bass Hall.
Or if sing-alongs are your thing, join with professional soloists, orchestra, and hundreds of musicians from churches, schools, and the San Antonio community at Empire Theatre with San Antonio Choral Society, Nov. 29. You can sing-a-long in Houston at First Christian Church on Sunset Boulevard, Dec. 21. If you still can't get enough of the Messiah, The Houston Chamber Choir will use Mozart's orchestration in concert for the Easter season on March 28, 2015.
Serious Holiday Fun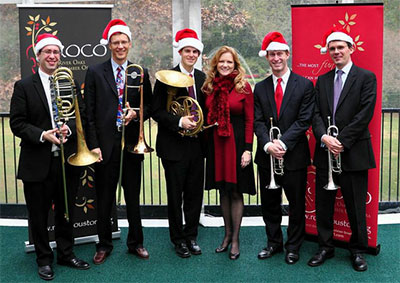 Let's welcome the merry mashups, where famous folk sing their fave holiday tunes, signature holiday events, and innovative mixes of classic repertory. The Blind Boys of Alabama & Mavis Staples bring their Go Tell It On The Mountain Christmas on Dec. 16 with gospel, rock, pop, blues, funk and folk music to San Antonio's Tobin Center. Dec. 10 has Big Band Holidays – The Jazz at Lincoln Center Orchestra with Wynton Marsalis & Special Guest Cécile McLorin Salvant, trumpet and in Houston on Dec. 10, The Toyota Center hosts the Houston Symphony with Italian tenor Andrea Bocelli performing new songs from his latest release "Love in Portofino."
River Oaks Chamber Orchestra (ROCO) brings the spirit and joy of the season to Bayou Bend Collection and Gardens with two performances of their popular Yuletide Concert by the ROCO Brass Quintet on Dec. 8 at 10am and 2pm.
Get your tickets early for Houston Chamber Choir's Noël, Noël: Christmas at the Villa at the magical Chapel of the Villa de Matel on Dec. 13-14, because it usually sells out. Orchestra of New Spain presents Christmas at Christ the King with trumpeter Adam Gordon, performing Padre Antonio Soler's earthy Christmas villancicos, Spanish cantatas that show off soloist and chorus, and in this case, the baroque trumpet with works from Mexico and Spain's Renaissance Valencia. The Dallas Symphony performs their Organ and Brass Christmas Spectacular, a big brassy extravaganza on Dec. 8-9.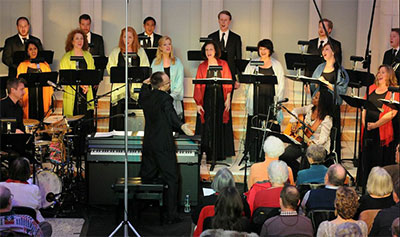 You can catch Conspirare's signature holiday concert in Austin, Dec. 7-8, and Houston Dec. 5, featuring Craig Hella Johnson's renowned collage-style programming, and the 2014 featured artist is Austin-based blues and gospel singer-songwriter Ruthie Foster with Tom Burritt on percussion. Performing Christmas favorites at The Tobin Center, Dec. 14, you can find Christmas with the Chamber Choir of San Antonio, featuring music by Benjamin Britten, as well as holiday favorites from Russia, Norway and Spain, along with special guest appearances by the Children's Chorus of San Antonio and the Reagan High School choir.
Musicals on the Christmas theme include A Christmas Story, The Musical. The beloved holiday movie will be brought to life by Dallas Summer Musicals at the Music Hall at Fair Park, Dec. 2-14. Or how about a musical version of a classic? Houston Grand Opera premieres, A Christmas Carol, a one-man chamber opera based on the iconic Charles Dickens story, Dec. 5-21.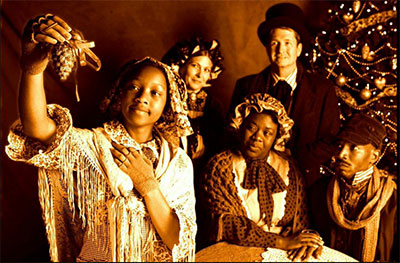 Theatre 3 in Dallas presents  A Civil War Christmas: An American Musical, a holiday gem of a musical that weaves together carols and folk songs, portraying a uniquely moving moment of our American heritage, through Dec 14. Fort Worth's Jubilee Theatre offers Jubilation II: The Colors of Christmas through Dec. 28, a rousing musical celebration by Tre Garrett and Geno Young.
To ring in the New Year, black tie optional, is Ars Lyrica's Felices Fiestas Dinner NYE 2014 at the Hobby Center with Cecilia Duarte and Melissa Givens, joined by Grammy-nominated guitarist Richard Savino for Spanish and Latin American Baroque classics, followed by a silent auction and fancy champagne gala.
The Dallas Symphony rings in the New Year with an elegant Viennese-inspired concert featuring waltzes and other classics on their concert.
For the Whole Family
Mesquite Community Theatre presents A Tuna Christmas, a whimsical musical by Ed Howard, Joe Sears and Jaston Williams, through Dec. 6. Catch the African American tale of two children in a Christmas Eve journey in A Soulful Christmas, which includes music from Michael Jackson to Donny Hathaway and The Temptations, through Dec. 21 at The Ensemble Theatre in Houston.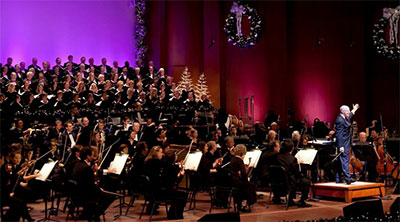 You can get Pops in Houston and Dallas. Houston Symphony brings their Very Merry Pops concert including traditional carols at Jones Hall on Dec. 12-14, and their 'Twas the Night Before Christmas, narrated by Mirron Willis of Ensemble Theatre on Dec. 13.
Dallas Symphony offers a virtual holiday feast, complete with Christmas classics, music from your favorite holiday movies,   Home Alone, Polar Express and Scrooge, the new Christmas Pops Dancers and the angelic voices of the Dallas Symphony Chorus and Children's Chorus of Greater Dallas, Dec. 12-21.
San Antonio meshes the choirs both advanced and community together for The Children's Chorus of San Antonio's Rejoice And Sing on Dec. 7. Conspirare Youth Choirs perform in Austin at St. Martin's Lutheran Church, Dec. 12-13.
In Cirque Dreams Holidaze, Broadway director Neil Goldberg re-imagines the holiday season with over 300 costumes, 20 acts and 30 performers from 12 countries, showcasing an endless variety of imaginative, heart-pounding and gravity-defying feats you have to see to believe. Experience gingerbread men flipping mid-air, toy soldiers marching on thin wires along with snowmen, icemen and penguins, balancing, jumping and spinning in disbelief, Dec. 11-14 at San Antonio's Tobin Center.
Society for the Performing Arts presents  A Creole Christmas  on Dec. 5 at Jones Hall where you can celebrate New Orleans-Style with Preservation Hall Jazz Band. WindSync, returns to Houston, Dec. 17, amidst a season-long North American tour to perform in Zilkha Hall at the Hobby Center for the concert, Simple Gifts, a tribute to Houston's cultural diversity and artistic innovation. The program features winter holiday music from a wide variety of cultures and the group's choreographed and costumed version of The Nutcracker. In partnership with the American Festival for the Arts, WindSync also performs the world premieres of two young composers: Matthew Toffoletto, a senior at Houston High School for the Performing and Visual Arts, and Matthew Raymond, a home-school student from Michigan, paired with original choreography and dancers from the Houston Ballet Academy.
Fort Worth Symphony performs American and Austrian songs with Christmas with the Von Trapps, on Dec. 4 at Bass Hall. Country legend Robert Earl Keen  Merry Christmas from the Fam-O-Lee livens up the Tobin Center with his guitar and back up band Dec. 9.
And finally, you can catch a special visit from Santa during the  DSO Family Christmas at The Dallas Symphony, joined by Dallas Symphony Chorus and The Children's Chorus of Greater Dallas on Dec.13. A Joyful Noise indeed!
—SHANNON LANGMAN