Ballet Austin in The Magic Flute.
Photo by Tony Spielberg.
---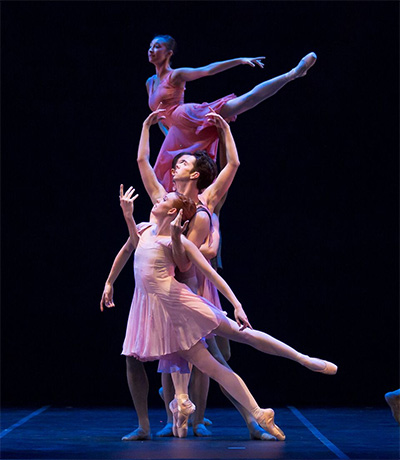 As Ballet Austin celebrates its sixth decade in business, the company is a beehive of rehearsals and rumpus. Dancers are preparing for extensive performances in-house and abroad, with every element from wolfish costumes to Cambodian puppetry. With the encyclopedic spectrum of upcoming productions, one can expect a spread of balletic delicacies.
However, the idea is not merely to entrance or provide spectacle. Stephen Mills, artistic director, hopes that audience members will deeply invest in every performance: "The overall idea is that if art is good, you can see yourself reflected somewhere in it," says Mills. "These stories hold the mirror up to people and allow them to see themselves."
Unusually, the company opens the season with a program of mixed repertoire, To China with Love, running Sept. 23-25 in Austin; right after, the dancers will depart for a month-long China tour though 15 cities, culminating with four performances in Shanghai—a part of the globe the troupe has never visited before. "I'm sure we'll get a broad range of reactions," Mills says, labeling the tour as an "important cultural exchange."
Included on the program is Liminal Glam, one of Mills's own creations set to the music of Philip Glass (a casual tip of the hat to The Glass Project from the 2013-2014 season). Alongside it is Wolftantz, another personal work, yoked to Mozart. Especially notable is the Lar Lubovitch piece, Dvorak Serenade, choreographed in 2007. The piece is a black-and-cream abstraction toying with the curvature of arms and the minimalistic grace of the human body.  "Growing up, I was always envious of the dancers who got to perform this work," says Mills. So now he's brought the opportunity to his own dancers, and hopes to perform the piece even for a couple of seasons after this one.  "It's different from what we normally do, and definitely a stretch for our dancers. I'm interested to know what our audience will think of it," adds Mills.
While the company is in China, Ballet Austin II performs Peter and the Wolf, Oct. 29-Nov. 6. Performed in the AustinVentures Studio Theater, the 45 minute-long piece is a thoughtful aim at young audiences. Set in a homier setting, Prokofiev's 1936 composition is a bite-sized delight for younger children, introducing them to the sound of an orchestra, as well as lively choreography and a host of characters.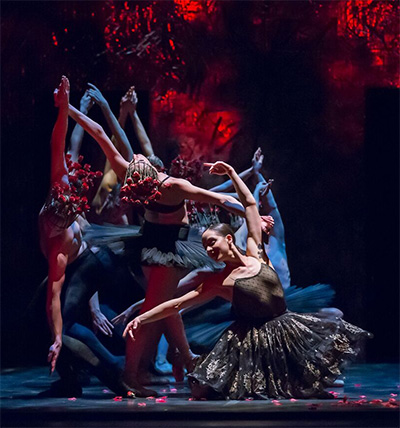 Why cater to younger eyes? "They grow into older audiences, don't they? We've got to make sure we're paying attention," quips Mills. From the cat, to the duck, to a hobbling grandfather, children will be captivated.
The Nutcracker will run Dec. 3-23. "What's new about Nutcracker are the performers," insists Mills (i.e. watch for nuance and personal flair, Nutcracker-goers).
Scheduled the weekend before Valentine's Day (Feb. 10-12), the troupe will reintroduce Belle Redux / A Tale of Beauty & the Beast, first introduced in 2015. Marked by a dark elegance and vermilion overtones, this retelling of Beauty and the Beast is a matured and grave version of the classic storybook tale. Missing are the teacups and songbirds, and in their stead is Belle's realization that the Beast is a projection of her own heart. Seductive and passionate, Mills's choreography is paired with an original score by Graham Reynolds, local composition guru. Austin Chronicle says the piece is "evocative of noir thrillers," and features a Beast "less cursed than marked by life."
Belle is a direct result of The Magic Flute, which runs March 31-April. 2. It was the level of innovation in Magic Flute that caught the eye of a 3M scientist (yes, the Scotch tape company) a few years back, resulting in Mills's commission to create Belle Redux. "His impression was that no matter what field you're in, innovation is there," says Mills. "He wondered how those things could come together—science, his interest, and art, mine."
The eye-catching inventiveness of Magic Flute is the use of Cambodian shadow puppetry. With a nearly bare set, light projectors and dancers behind a screen, the shadows loom onstage, meshing cultural finesse with a centuries-old platform of storytelling – centered on a prince, a princess, and a wily bird catcher. Ingenuity feeds ingenuity, it would seem.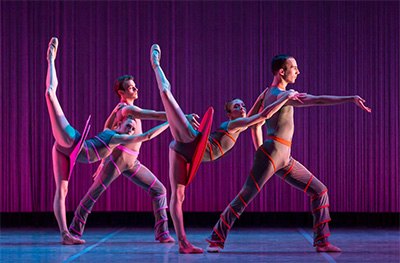 Alice (in Wonderland) will wrap up of the season (May 12-14) andis the fruit of Ballet Austin's camaraderie and longstanding relationship with Septime Webre, former director of Washington Ballet—and more specifically, the light-hearted brushing of shoulders that has gone on for 25 years between Mills and Webre. It began when Mills joined Ballet Austin the year Septime left: "I was put in his costumes to perform. So it was a little bit of serendipity between us," Mills explains. "And Septime has a great sense of humor that  shows in his work."
Mills has fitted Septime's humor to the Austin stage with the Washingtonian's version of Alice. Volatile and spangled, the production is like ballet combined with the light shot from a prism – wild and illusory.  Set to the musical tumble of violinist-composer Matthew Pierce, the piece rounds out another season for Ballet Austin, requiring its audience to ask, "What is ballet, and how does it fit into the modern conversation?"
—ERIN FULTON