Fantastic Mr. Fox Opens Opera San Antonio's Season
---
IMAGES ABOVE & BELOW: Opera San Antonio opens their season with Fantastic Mr. Fox, Sept. 23-28 at the Tobin Center for the Performing Arts. Image by Emily Carew Woodard.
---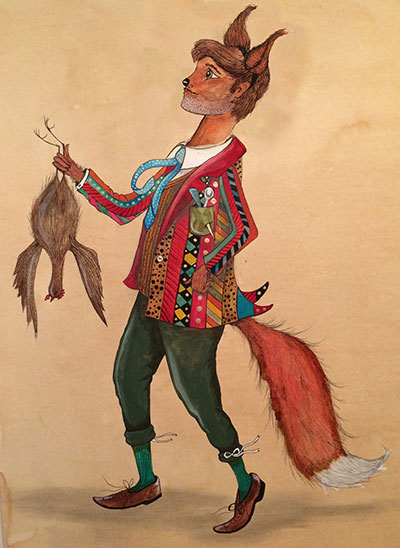 Good vs. evil, animal vs. human, nature vs. technology, and a hero striving to save his family from the perils of the forest: Fantastic Mr. Fox, an opera composed by Tobias Picker based on Roald Dahl's book, opens Opera San Antonio's inaugural season, Sept. 23 – 28, at The Tobin Center for the Performing Arts in the Carlos Alvarez Studio Theater.
Fantastic Mr. Fox, a captivating and witty show with a sense of humor and sophistication, is a perfect choice to introduce San Antonio's audiences to the new company. Director Erica Olden and designer Emily Carew Woodard together bring the new production to Texas for Opera San Antonio. "It's a big, little show," says Picker, who is also the company's artistic director.
The opera, equally accessible to children and adults, features memorable themes in the orchestra; tuneful ensembles and the lyric composition for each character bring the story and to life. "Picker captured Dahl's spirit in a musical language that challenged, entertained, and never pandered, skillfully balancing dark and light," hailed Heidi Waleson in The Wall Street Journal.
The fable-based tale, with its carefully-drawn characters received critical acclaim across Britain after its debut at Los Angeles Opera in 1998. The San Antonio production includes household names in its ensemble cast, as well as rising artists, such as baritone John Brancy, and soprano Renee Rapier, alongside acclaimed soprano Elizabeth Futral, with baritones Gabriel Preisser and Andrew Craig Brown. Performances will be conducted by resident conductor Andres Cladera, with members of the San Antonio Symphony and The Children's Chorus of San Antonio.
Picker and Mel Weingart, founder and president of the board of directors, have invested five years into the planning of the Opera San Antonio debut season.  "The productions I've selected for the inaugural season are just the beginning," says Picker. "San Antonio deserves opera of the highest quality, and with what we have on tap, the Alamo City is officially back on the opera map." The first season consists of all new productions of The Fantastic Fox, Salome, Il Segreto di Susanna (The Secret of Susanna), and La Voix Humaine (The Human Voice).
On the roster for the upcoming season are the Italian soprano, Anna Caterina Antonacci, in Il Segreto di Susanna, and soprano Patricia Racette making her role debut as Salome in Opera SA's new production of Strauss' opera in February. "What will make Opera SA great is not only the caliber of opera we're going to produce, but the passionate people behind it who are making it a reality for San Antonio," says Picker.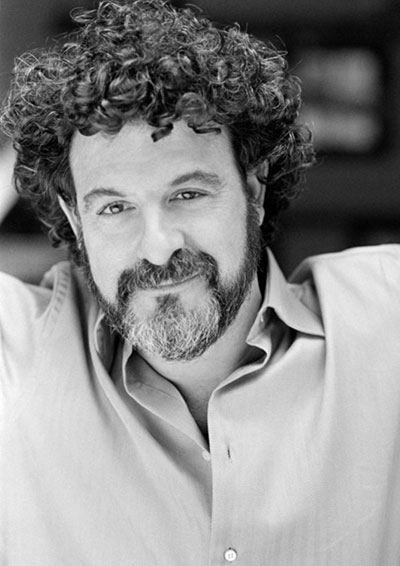 An established and world-renowned composer with Texas roots, Picker has worked in both Houston and Dallas. He is most known for his tone poem Old and Lost Rivers, commissioned for the Texas Sesquicentennial Celebration and premiered with Houston Symphony in 1986. His operas grace renowned stages, including The Metropolitan Opera, Covent Garden, and Santa Fe Opera houses.
The venue to house future Opera SA productions is the newly-built Tobin Center. Within the tumultuous opera business landscape today, securing a residency in a new facility is a great opportunity. To land the Tobin residency for the company, Picker and Weingart produced two concerts to demonstrate their level of artistry and purpose to San Antonio, a Gala Concert in 2013 and in 2014, a concert production of Dvorak's Rusalka, a collaboration with San Antonio Symphony. "The Tobin Center needed an opera company, and we rose to the occasion," says Picker.
Despite the rocky business end of opera around the country, Picker sees the genre in a position to thrive. "Every art form goes through hard times; opera is not dying at all," Picker insists. "We are in a 'golden era,' there is the possibility in the form evolving and changing and doing unexpected things, in the future, a form that younger composers can be innovative in, coming up with new approaches to the form and bringing in new audiences."
Is San Antonio helping to make Texas the new opera hub? "Texas is a major player with five major cities with companies, plus smaller companies," says Picker. "I can't think of another state, offhand, that has so many important opera companies. We want to make San Antonio an opera destination."
—SHANNON LANGMAN