Jeff Miller and Greg Dean in The Catastrophic Theatre production of Mickle Maher's The Hunchback Variations.
Photo by Anthony Rathbun.
---
The Spring/Summer season has come and gone, and there were plenty of outstanding performances and events, way more than can fit into this space.   Here's what I am still talking about, mostly in Houston, but I have included a few of my Texas road trips as well.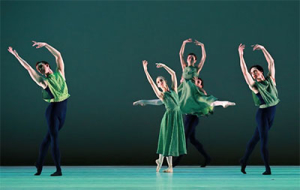 New Ballets Across Texas
Texas ballet companies shined with a handful of new works, including Ballet Austin chief Stephen Mills' surprisingly sexy interpretation of the Beauty and the Beast Tale, Belle Redux. Mills' dark and earthy tale mined a more universal tangent of this story, taking it in a surreal direction with the help of Graham Reynolds' moody score.
There was lots of love about Stanton Welch's new version of Romeo and Juliet over at Houston Ballet. Most striking were the dense crowd scenes that placed the viewer in the thick of the action. I look forward to seeing how the company grows into this work, and lucky for Australia because they will be the next audience to see the show when it tours next summer. And the new Mark Morris, The Letter V, was just dreamy.
Jonathan Watkins' sultry new work, Crash, for Texas Ballet Theater, pushed the company into some off-kilter directions, all of which they handled with a polished finesse. Kudos to Ballet San Antonio for a season of growth and snagging the smarts of Amy Fote as Ballet Mistress and to Katie Puder of Avant Chamber Ballet for being the boutique Texas ballet company to watch. New ballets to watch for next season: Joshua L. Peugh at Avant Chamber, Garrett Smith and Welch's new Giselle at Houston Ballet, Val Caniparoli at Texas Ballet Theater, and Pam Tanowitz and Mills at Ballet Austin.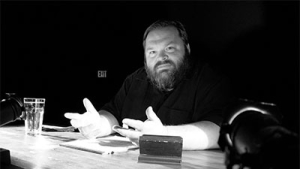 Mike Daisy at AT&T's Off Broadway on Flora
I'm calling it my "Mike Daisy on Ice" weekend because I slid my way into Dallas that winter weekend to see the legendary teller of tales. And, it was worth it. Daisy's re-telling of Shakespeare's great tragedies, infused with his own musings, reaffirmed my belief that great theater can happen in the barest of settings. Daisy was performing as part of AT&T Performing Arts' Off Broadway on Flora Series, during the iciest weekend of winter.
Rude Mechs at AT&T Center Off Broadway on Flora
So maybe the ice had melted on this trip to Dallas, but now I found myself traveling during the height of Texas' waterworld season, complete with road signs that read, "Do not drown."Stop Hitting Yourself was only my second Rude Mechs show, so I'm still new to that thing that they do that writers struggle over. I love the way they use movement from the second they step on stage.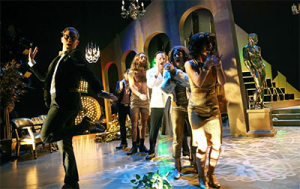 Sometimes, it's a full out tap number, other times, it's just a nervous, rhythmic heel tapping. There's so much excitement coming from the bodies on stage, whether they are telling us embarrassing confessions, rolling down a queso fountain, or at the piano singing a well-placed ballad.  Here's the thing, as an audience member, you never settle into one of those "I know what's coming" comas. Bravo to the folks at AT&T Off Broadway on Flora Series for finally bringing Rude Mechs to Dallas for the first time. Watch for Rude Mechs + Deborah Hay Match Play at New York Live Arts in October 7-10 and for a whole new Off Broadway on Flora season.
Chekhov Riffs Times Two
In Houston, two riffs on Chekhov took my breath away: Aaron Posner's  Stupid Fucking Bird at Stages Repertory Theatre, and Mickle Maher's The Hunchback Variations at Catastrophic Theatre.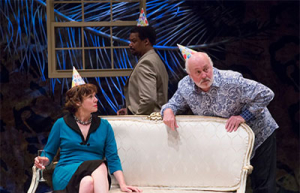 You didn't need to have freshly read The Seagull to appreciate Posner's offbeat dark comedy, but it helped. The cast was terrific, too.
The Hunchback Variations is like an opera of sorts, but without the singing. Maher is the Mahler of theater, in that he so elegantly brings musical forms to theater. This one included a panel discussion between a slick talking Beethoven (Jeff Miller) and a sad Quasimodo (Greg Dean) trying to replicate the sound referenced in a particularly elusive stage direction in The Cherry Orchard. Technically, University of Tamarie, wasn't particular Chekhovian, however you do read Chekhov in school, and her's was the best. Do see Tamarie Cooper's show before it closes on Aug. 29.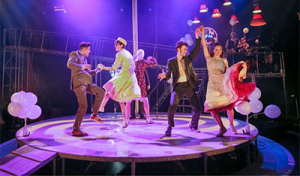 Kneehigh Theatre's Tristan and Yseult at the Alley Theatre
I loved Kneehigh's  Tristan and Yseult so much that I went around telling people they should see it, or be a deadbeat. This is the direction that theater is going, with more integration of dance, songs and a wild use of objects. Bravo to the Alley for bringing Kneehigh. Houston, I wished more of you had showed up. We need to get better at trying new things. Watch out for when Stark Naked Theatre brings in New York-based Bedlam Theatre, June 3-18.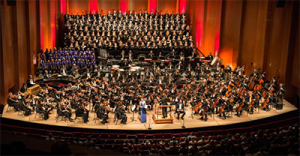 Houston Symphony's Carmina Burana
I'm easily excited when 325 musicians take the stage, but when Andrés Orozco-Estrada is holding the baton, I am listening. Houston Symphony rocked an emotional  performance of Carl Orff's Carmina Burana with the Colombian Youth Philharmonic, the Houston Symphony Chorus, the Houston Children's Chorus and select Houston-area high school and collegiate choral students. And soprano Lisette Oropesa was a total standout.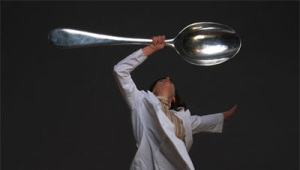 Michelle Ellsworth at Fusebox
I knew what I was doing when I put Michelle Ellsworth on our April cover. Ellsworth came to Austin to perform Preparation for the Obsolescence of the Y Chromosome, a co-presentation of Austin's Fusebox Festival and Women and Their Work. As a fan for a decade now, it's great to see how Ellsworth has grown into her ticking bomb style. She performs with such a sense of urgency, making us feel as if we need to know what she is telling us right that minute. She went on to win a Doris Duke Impact Award in May.
Ten Tiny Dances at CounterCurrent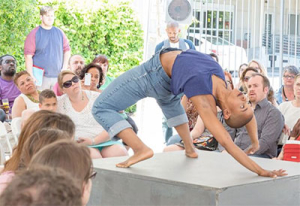 Ten Tiny Dances, the culmination of University of Houston Cynthia Woods  Mitchell Center for the Arts' CounterCurrent Festival, could be the perfect arts event: a highly structured and fun choreographic problem, brunch from Weights + Measures, mimosas from 13 Celsius, time to socialize, and all for free. Each dance had something to offer, from the Janet Biggs' powerful If Ever I Would Leave You to Lori Yuill's sassy but gentile group participation piece. What a great way to spot new talent, too, and her name is Jasmine Hearn. I do hope Ten Tiny comes back to next year's CounterCurrent.
Dance & Music in Galleries
In February, the fierce dancers of Ate9 Dance Company took over Laura Rathe Gallery prior to their fantastic show at the Evelyn Rubenstein Jewish Community Center of Houston as part of Dance Month. Viewers were free to wander the gallery to watch simultaneous dances occurring throughout the space. They are all intense movers, so if you followed one group, you were missing another group, but still it was a marvelous use of a dance company in a gallery. Brave move for Maxine Silberstein in bringing Ate9 to town.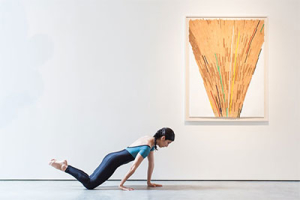 Laura Gutierrez and her team of fearless movers, which included Houston Ballet principal Connor Walsh, created a kinetic response to the architectural features of Nicole Longnecker Gallery. Then in May, Gutierrez created a stunning solo work, Laura Elena Gutierrez (1987); 64 x 61 1/2 in., in conjunction with the Sicardi Gallery exhibit Líneas de la Mano, curated by Laura Wellen.
Devin Borden and Brian Connelly, of Rice University Shepherd School of Music and Music in Context, teamed up to present one fabulous afternoon of music and art earlier this spring at Devin Borden Gallery. Zachary Spontak played the Sequenza VIII for solo violin, by Luciano Berio and Aaron Conitz played three movements from Sonata for Solo Viola by Gyorgy Ligeti. The audience enjoyed the show and the exhibit by Christopher Cascio. Watch out for more music in galleries, starting with Aperio's Gilded Twlight – Poetic Evocations of America's Victorian Age on Nov. 8 at Texas Gallery and dance at Samara Gallery.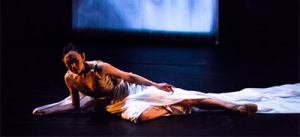 Tsuru at Asia Society Texas Center
Tsuru, brainchild of Houston Ballet soloist Nao Kusuzaki and realized through the efforts of Asia Society's Evan Wildstein, in partnership with Houston Ballet, was simply hands down the best locally produced event of this kind of the season.
Dancers Kusuzaki, Charles-Louis Yoshiyama, Shahar Dori and Zecheng Liang took us through a re-imagining of The Crane Wife, with choreography by Kenta Kojiri and music by Yumi Kurosawa, played live by cellist Lachezar Kostov, and an elegant set by Ryan McGettigan. Watch for more homegrown programming at Asia Society.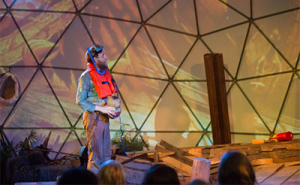 The Whale or Moby-Dick at Horse Head Theatre
I always look forward to what Horse Head conjures up during their once a year return to life. The Whale or Moby-Dick, through Aug. 15, conceived, developed and performed by Philip Hays and written by Timothy N. Evers, did not disappoint.
Under a geodesic dome at the Bayou Silos, with the city of Houston as a futuristic backdrop, the audience entered the belly of the whale thanks to Clint Allen's vivid projections. Hays, an intensely physical actor, negotiates with the whale through a re-enactment of sorts of Melville's famous tome. He sings a few goofy sea shanties along the way, too. It all works out and is great fun as it does. The Whale was directed by Jacey Little, with set design Kevin Holden, magnificently realized by visual artist Troy Stanley. Watch out for Hays in the lead role in Mac Wellman's Dracula at Mildred's Umbrella, Oct. 15-31.
—NANCY WOZNY