Sol LeWitt
American, 1928-2007
Bands of Lines in Four Directions, Square 1993
Woodcut
Gift of Janet and Joe Westheimer
1994.197
---
San Antonio's McNay Art Museum operated for decades with a major gap in its holdings. "When you think of all 20th-century art, the U.S. made two huge contributions to the canon," says Lyle W. Williams, the McNay's curator of prints and drawings. "One, of course, was abstract expressionism. And the other was minimalism."
Geometry-loving, subject-free minimalism had a scanty presence at the McNay until Austin collector John M. Parker, Jr. stepped in. A San Antonio native, Parker had fallen under the style's spell at Trinity University, where he studied art under Robert Tiemann–a friend of minimalist trailblazer Donald Judd.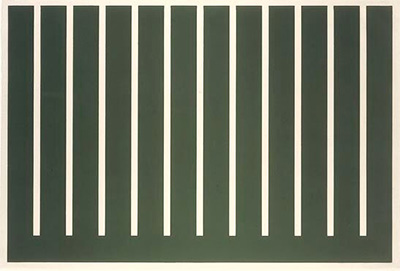 Setting off as a serious collector in the 1980s, Williams says, Parker pursued works by Judd and kindred artistic spirits, and he donated more than 100 to the McNay in 2017. Many of them will go on public display for their first time in What You See is What You See, which runs Nov. 21 through May 17.
The show's title, Williams notes, goes straight to the essence of minimalism. "It's really about line, color, shape, texture–just the really basic formal elements of art," he says. "The way I see it, the minimalists were trying to get to the essence of what art is. They were asking, 'How far can we go in abstraction and still have something that is recognizable as a work of art?'"
That led to works as simple as a Judd woodcut featuring horizontal lines against a red background, or a Robert Ryman aquatint whose manila-colored square barely contrasts against cream paper. Some viewers have found the likes of these baffling, Williams notes, because "there's not much there."
"It's something perceived as difficult," Williams continues. "But in fact, the only thing required of the viewer is that you just look. You don't have to project a narrative onto it. There's nothing socio-political about it. It's really just about the formal elements of art, and stripping it down to its bare essentials."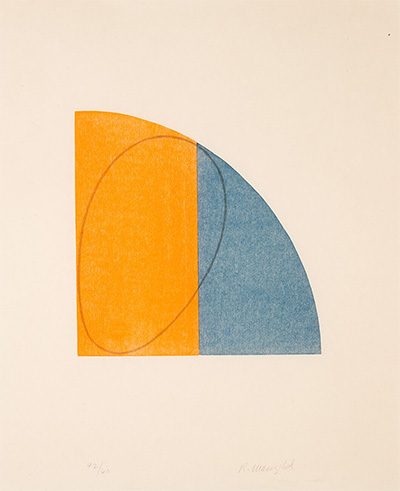 Yet stripped-down works can suggest a wider resonance. A Judd woodcut's thick, viscous ink stands out from the paper "so that it almost has a three-dimensional quality," Williams says. "He's oftentimes creating works that refer back to his sculptures."
Four Judd woodcuts featuring parallel vertical lines harken back to a musical theme-and-variations. "The lines extend to the top in some and to the bottom in others, and in one they don't go to the top or the bottom," Williams says. "In the end, it's just ink on a sheet of paper. It's Judd playing with the figure-ground relationship. It's an extension of cubism, in a way, because he's trying to talk about three dimensions in what is traditionally considered a two-dimensional work of art."
Works by Sol LeWitt, Frank Stella, Brice Marden, Agnes Martin and others broaden the perspective on minimalism. A 1949 John McLaughlin painting, consisting of an open black rectangle next to a solid black rectangle, shows that minimalism was "a progressive thing that occurred over the course of the 20th century," Williams says.
And Martin's works reveal that minimalism could change its stripes. Whereas Judd's creations radiate machine-like precision, Williams says, Martin's sometimes contain lines that extend a bit farther than they should–revealing the human element in their creation.
"For her, the imperfection defines the perfection," Williams says. "Donald Judd had a problem with Agnes Martin's work. I don't think he considered it minimalism with a capital M."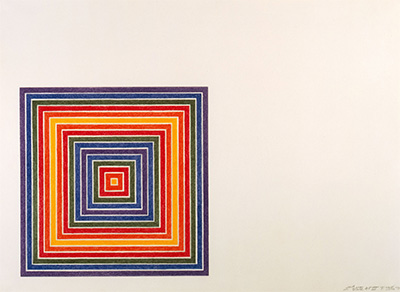 What You See is What You See tips its hat to minimalism's sibling: conceptualism, which focuses on the idea that generates a given work. Iconic innovator John Cage appears as both visual artist and composer. Works on plexiglas illustrate the first role, and a piano in mid-gallery enables McNay staffers to showcase the second though Cage's 4'33"–which calls for the performer to sit at the instrument and, for 4 minutes and 33 seconds, do nothing. The ambient sounds comprise the work.
Video rounds out the picture of Cage by presenting his music for prepared piano, whose sonic palette embraces the effects of metal and other objects placed against the strings. For yet another perspective, a clip from television's The Late Show with Stephen Colbert features a performance of 4'33" by a cat named Nola. Besides being fun, Williams says, the cat's Cage "shows how this art, which we consider so brainy and intellectual, has actually become part of the mainstream."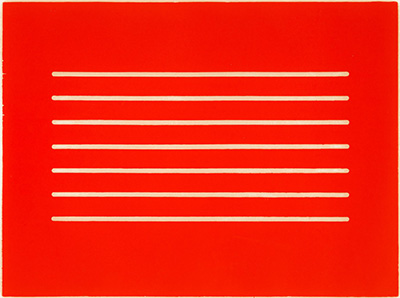 Collector Parker's donation does more than fill a gap in the McNay's collections, Williams says. It links the museum to the late Judd, who–in tandem with helping drive an artistic movement–transformed Marfa from a remote West Texas town into an modern-art mecca.
"We are the closest print collection to Marfa," Williams says. "I've always felt that we needed to encourage that relationship and foster it, and make a bigger deal out of it. … It's remarkable when you go for the open-house weekend in October, to see people literally from all over the world descending upon Marfa, Texas, to look at Judd's sculptures. I'm proud of that as a Texan, and I've always wanted to do something that relates to what's happening in Marfa."
-STEVEN BROWN