Otabenga Jones & Associates' Latest Project Tackles Food Deserts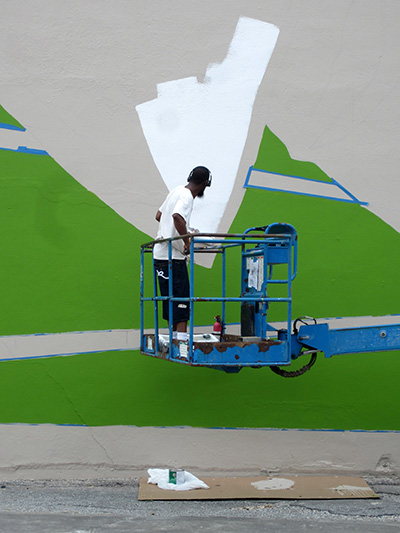 The culinary and visual arts have a shared history dating back to cave- paintings and petroglyphs depicting wild game and bountiful harvests. Through the ages, we have seen paintings of feasts and festivals, still- lifes of fruit bowls and gourds, Andy Warhol's soup cans and Claes Oldenburg's giant sculpted burgers—not to mention the attention paid by chefs to the visual presentation of their food on dinner plates, menus, and in cookbooks. Most recently, we've seen the proliferation of "foodie" snaps on social media—a phenomenon that prompted the Houston Center for Photography to organize a recent exhibition called See Food, which was dedicated to food photography and the socio-political issues surrounding food and food policy.
Houston's Third Ward, home to the artist collective Otabenga Jones & Associates (Dawolu Jabari Anderson, Jamal Cyrus, Kenya Evans and Robert A. Pruitt), is known for a lot of great food—soul food, barbecue, fried chicken, Cajun cuisine; all that stereotypical Southern/African- American fare which is known to be as unhealthy as it is tasty. Like many historically impoverished neighborhoods, the Third Ward is also known to be a "food desert" whose inhabitants lack access to fresh, healthy food.
The problem is so bad that a local prankster recently sparked discussion by placing a sign reading "Whole Foods Third Ward—Coming Soon" on a vacant lot. The community was overjoyed and rang Whole Foods' phone off the hook asking for more details—only to be disappointed (and hopefully spurred to action) when they learned the truth.
The desire for healthy options—expressed through dietary interventions by political, spiritual, and other cultural leaders—also has a rich tradition in the African diaspora. The Rastafarian "Ital" healthy cooking philosophy dates back to the early 20th century yet remains a living, evolving, influential culinary tradition. In the late 1960s and early 1970s, the Black Panther Party instituted their famous "Free Breakfast for School Children" program which fed more than 10,000 children daily so that they might better focus on their studies. Around that same time, the athlete, comedian, and activist Dick Gregory began promoting a raw vegan diet aimed at African Americans through his writings and a diet drink bearing his name that is the punch line of a refrain in the classic film House Party, "Fix me some of that Dick Gregory."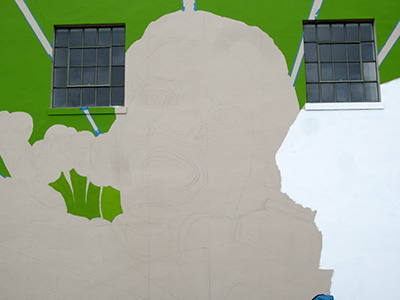 Even conscious rappers are in on the public health effort, from Boogie Down Productions' denunciation of factory farming in Beef to A Tribe Called Quest's call to cholesterol awareness in Ham n Eggs (both from 1990) to Dead Prez's song Be Healthy (2000) advocating a vegan diet.  And just this year, the local community leader and gardener Cavanaugh Nweze received a grant from the Andy Warhol Foundation through the Idea Fund for a project called The Living Grocery Store, which will engage in some guerrilla gardening in vacant lots and other underutilized spaces to promote food autonomy with concomitant community building and beautification.
Otabenga Jones & Associates now joins the ranks of those leaders with a mural called The People's Plate—on view Feb. 28 through Jan. 10 at the Lawndale Art Center—and a year's worth of popular education workshops sponsored by Creative Capital and Kinzelman Art Consulting. The project will feature cooking classes and videos; foraging and urban gardening workshops; and in a direct nod to the Black Panthers, a line of mass-produced lunch boxes. The emphasis is on building sustainable, self-sufficient community through healthier food production, preparation, and distribution rather than on individualized health benefits.
I asked collective member Jamal Cyrus about the various components of The People's Plate.
A+C:  What are you depicting in this mural?
The mural depicts a person in front of a row of shotgun houses, holding a grocery bag and a newspaper that reads "Dare to struggle; eat to win!" The image revises an artwork by Emory Douglas, former Minister of Culture of the Black Panther party. We added the elements of the grocery bag, the shotgun houses, and the slogan to better fit the aim of the project.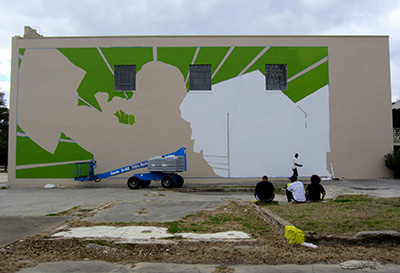 A+C:  Why did you choose this subject for this location?
The mural is on the border between two areas—one has abundant access to diverse food while the other does not, and 30,000 cars drive past this mural every day, so we wanted to bring the subject of "food justice" to the public's attention. The mural strives to raise the level of urgency surrounding the language and images used to promote health and food issues in lower-income communities and communities of color.
A+C:  In a nutshell, who is your perceived audience, and what are you trying to tell them?
The audience for this project is really large, since many people in the city aren't sure what to make of the phrase "food justice," but the people we really want to reach are the people who live in one of the many local "food deserts." We want them to get informed and inspired to think about the types of food they put in their bodies, healthier ways of preparing the foods that they can access, and the resources they have in their communities outside of the grocery store. Finally, we want them to connect the dots between food, political struggle, and self-determination.
—HARBEER SANDHU