Maestro Hans Graf
Courtesy of the artist.
---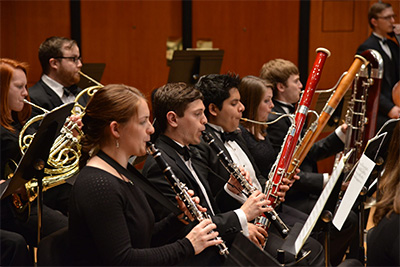 For nearly three decades, the Immanuel and Helen Olshan Texas Music Festival (TMF) has courted the best and brightest pre-professional classical musicians from around the country and abroad. It's ironic that as Houston's summer temperatures reach their high point, this bevy of exceptionally talented young artists descends upon the University of Houston's Moores School of Music. The talent and artistry are as intense as the heatwaves radiating from the pavement around campus.
TMF celebrates its 27th anniversary this month by offering a performance calendar full of musical firsts. The centerpiece is an orchestral concert on June 18, that welcomes former Houston Symphony music director Hans Graf back to the Bayou City for his first-ever appearance with the TMF Orchestra. He'll conduct a program of sensational first efforts by composers from the early 20th century, including Sergei Rachmaninov, Alban Berg, and Anton Webern. "It's a fantastic, luxury program and I am very happy that they are daring enough to let me do it," says Graf.
Written in 1908 when the composer was in his mid-20s, Webern's Passacaglia for Orchestra was his first published work. Many composers' first compositions are often forgotten, but Webern's first opus is perhaps his most enduring and accessible musical statement. The Three Pieces for Orchestra by Alban Berg, Webern's colleague and a fellow disciple of Arnold Schoenberg, were not his first compositions, but they were his first for orchestra. The same is true for Sergei Rachmaninov's Symphony No. 1, which despite its lush romanticism and lasting appeal barely survived its first performance. It was conducted by another well-known Russian composer, Alexander Glazunov, who was said to have thought so little of the piece that he got drunk before the concert. "Some pieces don't hold up so well with poor treatment," says Graf.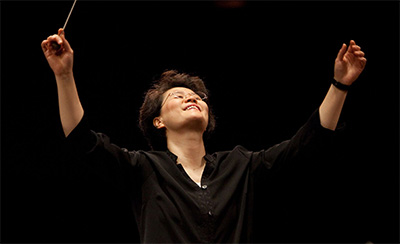 A program comprising two iconic compositions from the Second Viennese School and a symphony that's nearly an hour long is challenging by any standard, but Graf relishes the opportunity to delve into these pieces with this group of youthful performers. "You can work on details in these compositions in a way that is sometimes hurtful to the pride of grown-up musicians. Their egos are less vulnerable," says Graf.
TMF's General Director Alan Austin is equally excited to welcome Graf to his roster of conductors. Previous American summer engagements for the Maestro include preeminent festivals such as Tanglewood, Aspen Music Festival, and Chicago's Grant Park Music Festival. "This is the first time that his schedule has allowed him to be here," says Austin, who also points out that Graf and he conceived of the concert program in about five minutes.
Austin is also ecstatic to welcome back several favorite conductors this season. TMF's Chief Conductor Franz Anton Krager opens the month-long series of orchestral concerts with a program featuring Respighi's so-called "Roman trilogy." Comprised of three beloved orchestral works—Pines of Rome, Fountains of Rome, and Roman Festivals—it is the first time TMF will offer all of these audience favorites on the same bill. Mei-Ann Chen leads the orchestra in the festival's first performance of Benjamin Britten's Young Person's Guide to the Orchestra, which includes narration by Houston Public Media's St. John Flynn.
A long-time friend of the festival, Carl St. Clair will conduct the final concert of the season, which features Richard Strauss' Alpine Symphony and Mozart's Sinfonia Concertante for woodwinds and orchestra. Scored for solo flute, oboe, bassoon, and horn, this performance will be the first time there have been so many faculty artists on stage with the young artist fellows. Featured are bassoonist Richard Beene, Dean Emeritus of the Colburn School Conservatory of Music; flutist Leone Buyse, a professor at the Rice University's Shepherd School of Music; oboist Jonathan Fischer, principal oboe of the Houston Symphony; and horn player Robert Johnson, associate principal horn of the Houston Symphony.
There are plenty of other musical firsts scheduled throughout the festival as well. The weekly Perspectives series of faculty chamber music concerts includes the world-premiere of a song cycle by Pulitzer Prize-winning composer Kevin Puts and will feature bass-baritone Timothy Jones, associate professor of voice at the University of Houston. There's an evening devoted to the chamber music of David Ashley White. The former Director of the Moores School of Music is a prolific composer of choral music whose instrumental music is sometimes overlooked. Violinist Lucie Robert, professor at both the Manhattan and Mannes schools of music, has curated a program built around Igor Stravinsky's Soldier's Tale. Long-time fans of TMF will recognize the narrator for this performance. Robert's son, Jeremy Cohen, has been a fixture around the festival since he was a toddler. Now 23 years old, the successful actor and filmmaker will take his place on stage for the first time in an ensemble comprised of both teachers and students.
Alan Austin frequently jokes that each summer when he first hears the group of musicians he and his staff have assembled he believes that they are the "best group yet." While that may be true, this season is certainly proof that there is a first time for everything.
—CHRIS JOHNSON