ALL IMAGES: Gabriel Martinez, Mountain War Time, 2015.
Originally commissioned and produced by Artpace San Antonio.
Photos by Mark Menjivar.
---
Gabriel Martinez at Artpace
On the morning of July 16, 1945, outside of his home in New Mexico, a young boy holds a funnel as his father fills the radiator of their pickup – a rare event for some but a daily task in his household. An explosion occurs. Blasts, explosions, bombs are all common in the Tularosa Basin. 15 miles away from the White Sands Proving Ground, the boy is accustomed to hearing them all, but this explosion is different, louder, bigger. This explosion is a test.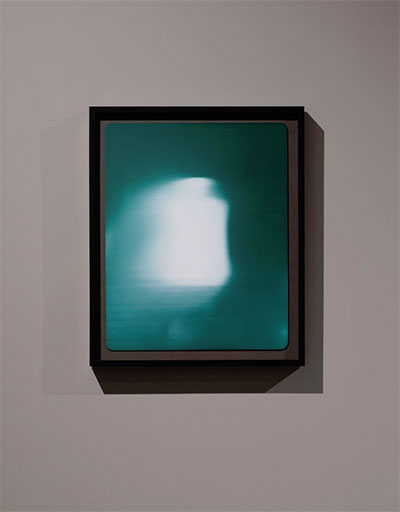 A test, codenamed Trinity, has caused a muddy cloud to rise into the air, its winds coating the area in a volatilized silica. The boy watches, fixed in place, astounded by the exploding mushroom in the distance. Not privy to this test, the young boy's mother blames his father for kicking up dirt all over her freshly done laundry.
The boy, named Henry Herrera, is now fully grown and gives his testimony of the 1945 nuclear test in an installation titled Mountain War Time by Houston-based artist Gabriel Martinez. On view at Artpace in San Antonio through September 13, Mountain War Time depicts Martinez's research into the first atomic detonation and the dangers of its radioactive fallout for the area and the people who inhabited it.
Martinez received his MFA from Columbia University and made his way to Houston, TX, by means of a joint fellowship from Project Row Houses and the Museum of Fine Arts, Houston's CORE Program in 2012. Something about Houston must have appealed to him because it became his new base with the founding of Alabama Song – a space for dialogue, conversation, and experimentation to occur without the limitations or pressures that artists might feel in the more traditional white cube galleries or even contemporary art spaces. It's an environment that encourages artists to grow more freely and organically.
In many ways, Alabama Song is in-tune with Martinez's art practice, if not a part of it. Not bound to a specific medium, Martinez's work flows from his own experimentation, intuition, and research. "I look for gestures that are deceptively simple to explore the body's experience of history," he said. How this takes shape can vary drastically: a walk through the nation's capital under the Patriot Act or pouring Miracle-Gro into a crack in the pavement until nature starts to flourish.
Recurring themes in the artist's work range from spatial politics and human rights to the limitations of artistic practice and the many roles that culture plays within hegemony nomenclature. He finds importance in questioning the artist's role and what must occur for an artist to assume it. "Art will always be problematic from some angle,"he said. "How it's problematic is what interests me."
Entering the gallery at Artpace, Mountain War Time and the many facets it entails speak to Martinez's practice with a sullenly beautiful concept of time and exposure that denotes a history of denial by the government and disease within the communities. "I was thinking of the project in photographic terms since cinema and the lens have developed alongside of modern warfare," Martinez commented. This idea of exposure lends itself to many aspects of the show.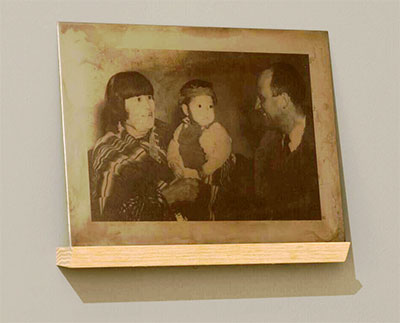 Exposure to the blast has led to members in the community, referred to as the Tularosa Basin Downwinders, suffering from cancer and struggling for acknowledgement and social justice, even on the same level as downwinders in other areas already recognized by the US government. Along with his testimony, the video depicts Herrera playing a song he's performed at funerals throughout the Basin.
Through his research, Martinez also found that the fallout from Trinity found its way as far as Ohio: Cardboard dividers produced by a paper mill there were contaminated by fallout from the blast, leading to several batches of x-rays being compromised. This inspired a set of images in the installation in which Martinez used trinitite, a glass made of fused silica that his grandmother had collected a jar of, to expose x-ray film.
Time, on the other hand, acted as a means for Martinez to gain perspective for framing the research and materials used to bring Mountain War Time to fruition. The title itself is taken from an old military designation used in war time. "War time refers to a point in both WWI and WWII when daylight savings time was enacted year round to conserve energy," the artist explained. He went on to state that the use of the detonation as an event likens it to one that might be used to define a new epoch.
Neatly tying the idea of time back into the installation is the division of time down into the thousandths of seconds necessary to understand what was happening on an atomic level. These ideas of time and perspective sit alongside the trinitite x-rays as panes of glass arranged as aspect ratios, denoting the framing of Martinez's view of the event, as well as how others might interpret it or speak on it.
People commonly consider atomic bombs in the context of the destruction of Hiroshima and Nagasaki, but it also transformed them into photographic surfaces that captured the shadows of bodies and plants merely existing as the bombs fell.  "Coincidentally, Alamogordo has the strictest light laws in the US," Martinez said. "War and art aren't as far apart as you might think."
– Michael McFadden