Blanton Explores the Mutual Influence Between Eva Hesse and Sol LeWitt
In 1960s New York, a diverse and lively community of now-famous artists lived within a few blocks of one another. Despite wide-ranging and largely divergent practices, these artists—Sol LeWitt, Eva Hesse, Robert Ryman, Robert Mangold and Sylvia Plimack Mangold—built an intimate community of influence and encouragement that contributes to the high regard in which their work is held today.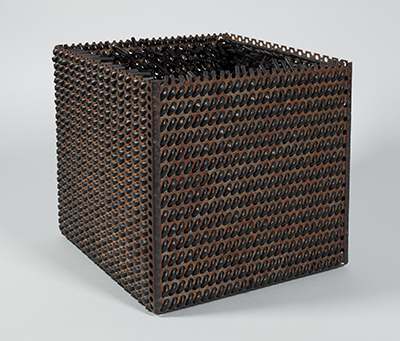 Within this circle of friends, the works of Eva Hesse and Sol LeWitt stand in stark contrast. LeWitt's wall drawings and modular structures are indicative of the era's Minimalist movement. He created an exacting yet varied visual vocabulary of shape and line, then left the realization of the work to others. Hesse is known for labor-intensive yet spare constructions that deeply relate to her own body and biography. Her works consist of lank materials like cord and latex that almost seem to animate themselves, expressing emotions from woe to joy.
Differing in both their process and their approach to art, LeWitt and Hesse nonetheless forged a close friendship, becoming confidantes regarding their art and their lives. This curious and complex platonic relationship is the heart of the Blanton Museum of Art's upcoming exhibition, Converging Lines: Eva Hesse and Sol LeWitt.
For the exhibition's curator Veronica Roberts, nearly a decade of studying the works of Sol LeWitt for a retrospective and a raisonné is the foundation for the exhibition. Over the course of her research, Roberts routinely found that there was something distinctive about Hesse and LeWitt's correspondence. Hesse and her artistic vision fascinated LeWitt, and he sent her weekly postcards from his travels to Europe and North Africa. Hesse poured her soul out to LeWitt in letters expressing total exasperation with her work and career.
Bringing together not only sculptures and drawings by each artist, but also the ephemera of their correspondence, this exhibition will use both objects and archives to explore how the two artists impacted and inspired each other's art.
Hesse's work is largely regarded as being indebted to the Minimalist spirit exemplified by Sol LeWitt, but infusing the stark forms of Minimalism with her personal experiences with insecurity and loss. There is no dearth of information about how LeWitt, Hesse's older male mentor, guided her production. For example, Hesse's Accession V from 1968, a cube of galvanized steel with tens of thousands of rubber tubes threaded through the exterior, is a nod to Minimalist forms with an eye to interiority and desire. However, in Converging Lines, Roberts shows that the received understanding of Hesse has missed the ways in which her spontaneous and organic forms influenced LeWitt.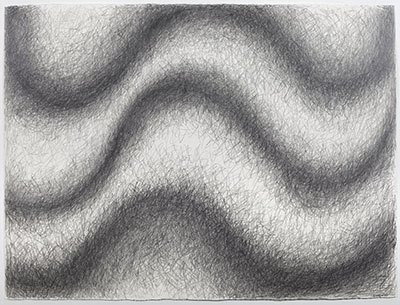 Consider LeWitt's Wall Drawing #46 from 1970. The piece instructs that the attendant wall drawing consist of "vertical lines, not straight, not touching, uniformly dispersed with maximum density covering the entire surface of the wall." Once installed, LeWitt was the first to admit that it was in honor of Hesse, who had recently died from a brain tumor at age thirty-four, and that this work incorporated "not straight" lines, reminiscent of the slender materials and hand-wrought nature of her work. For Roberts, this is a remarkable instance of raw emotion being injected into a conceptual system. Roberts says that in making Wall Drawing #46,LeWitt realized that "art didn't have to be a static object," and that perhaps his "entire wall drawing practice is indebted to Eva." Hesse's work opened LeWitt to the possibility that a work can change over time and independently from its maker.
In this sense, Converging Lines covers new historical ground, but also becomes a contemporarily feminist project. With feminism ascendant in the 1960s, Hesse could not have the same stature as LeWitt, solely due to sexism. This is obvious today, but it was also obvious to LeWitt within Hesse's lifetime. By casting LeWitt as a male feminist, the show reverses the trajectories of influence between the two artists—a line of inquiry as groundbreaking as it is necessary.
That said, this exhibition and its accompanying catalogue do not draw definitive lines of influence between the two artists, but rather, declare a culture of support, admiration and propulsion. Certainly the artists influenced each other, but the biggest takeaway here is that they also advocated for each other.
Converging Lines uses Hesse and LeWitt's friendship to illuminate an entire constellation of artistic practices, becoming about much more than a particular time and place. It is about what can happen when artists argue with each other, swap advice on craftsmanship, and come by again and again and again to each other's studios.
Artists need community. It remains as true as ever.
—KELLY MONTANA
---
Converging Lines: Eva Hesse and Sol LeWitt
Blanton Museum of Art
February 23 – May 18