Barry Nash (David) and Jenny Ledel (Ella) in Kitchen Dog Theater's "I'm Gonna Pray For You So Hard."
Photos by Matt Mrozek.
---
Kitchen Dog Theater's "I'm Gonna Pray For You So Hard"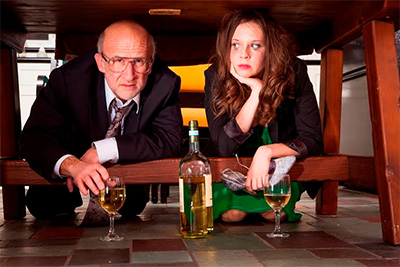 Plays about theater (of which we have a rich history in the USA) always have a meta-fictional critique embedded within, and in playwright Haley Feiffer's I'm Gonna Pray For You So Hard, on stage at Kitchen Dog Theater through March 12, Feiffer has crafted a walking goldmine of critique in the exceptionally rich character of David.
David, played in Kitchen Dog's production by the inimitable Barry Nash, is a washed-up, although formerly successful playwright, tortured by insecurity and stuck firmly in the past. The play chronicles two nights, years apart, in the life of David and his daughter Ella, played by a charming if inconsistent Jenny Ledel.
What Feiffer has done, and what Director Lee Trull has managed to skillfully tease out of Nash in Kitchen Dog's production, is create an at times scathing, at others self-deprecating reflection on theater itself, but also something more, allowing the play to resonate far beyond what I intuit to be Feiffer's intended audience of theater-insiders.
"Oh you know this story?" David asks his daughter Ella, an anxious actress awaiting reviews of her first big off-Broadway play. The play opens on David who seems to think he is helping Ella keep her mind off the critics, doing his fatherly duty, if you will, while what's really happening is a steady, drink and drug fueled unwrapping of the two's tenuous relationship. We do indeed know this story, American playwrights also love claustrophobic dramatizations of the emotional devastation we willfully wreak on those closest to us, but what could have been an exercise in theatrical navel-gazing or redundant family drama, is much more.
Upon leaving the theater I found myself grappling with the play on a personal level: relating to the difficulty David is having in growing older and thereby decreasing in relevance, and the difficulty he has as a result, in finding happiness for another. It's easy to watch a character like David and feel repulsed, but the brutally emotional ending invites a reconsideration of our assumptions.
There's also plenty for theater folks to like in the play, David's critique of Tennessee Williams, "people don't talk like that," elicited chuckles opening night, as did the diatribe against theatrical critics, the title of the play itself refers to the need to pray for critics, after all, "they're sick."
But Trull's direction focuses on universalizing this story, allowing the play to transcend its theatrical subject and placing it firmly in the history of American theater's obsession with unforgivingly examining our selfishness and its consequences. Ledel's portrayal of Ella as a shivering child desperate for love, despite what will seem to most audience's the father's obviously unacknowledged insecurities, at times seems over-played, but its exaggeration serves to bolster the effectiveness of her transformation and the play's ending. Theater, after all, tends to dabble in extremes.
—JENNIFER SMART