Calvin Hudson, Brittny Bush and Philip Hays in the Classical Theatre production of The Barber of Seville.
Photo by Pin Lim.
---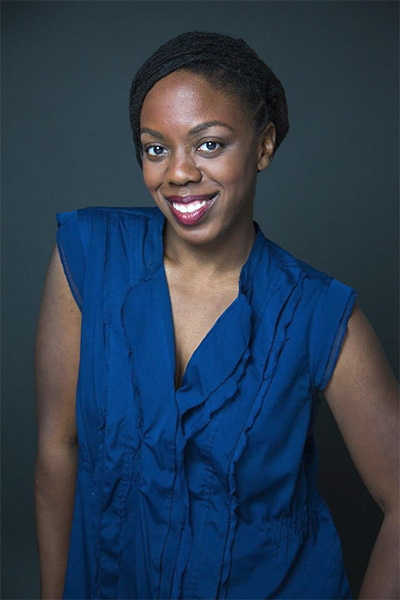 Brittny Bush is an actor working in Houston, TX, also her hometown. While at the University of Houston she went through a couple of subjects before landing on theater, and since graduation has worked with many loved Houston theatrical institutions, such as Main Street Theater, Classical Theatre Company, and recently with Next Iteration Theater Co. I first met Bush when we were both at UH, and afterwards during my time as Co-Artistic Director of BooTown and the Grown-up Storytime series. Next up Bush appears in The Tamarie Cooper Show: Field Trip at Catastrophic Theatre, June 29-Aug. 17 at the MATCH. Bush is a pleasure to watch on stage no matter the role she is in and even more of a pleasure to chat with in person.
I know you had some high school acting experience but it took awhile to get into theater once you were at UH, right?
I've always loved the arts and especially storytelling/performance art but I didn't have any role models around me to affirm that for me as a career. When I went to college I was too shy to approach the theater majors at orientation. I started out Undecided, then declared Business. My junior year of college there was a major illness in my family and I was very sad. I decided to take what I called "a semester of happy." I took Intro to Theater taught by Claremarie Verheyen along with Karate, Modern Dance and another class I can't remember. I never went back.
How was your transition post college into being a working actor?
My transition was pretty smooth. I have to credit Unheard Voices (a student-run organization at UH that focused on playwrights who weren't given a chance on the mainstage) for sending me into the professional theater world with a big boost of confidence and a few solid theatrical experiences under my belt. When I graduated, UH had the Children's Theater Festival. I did a couple of my first paid gigs with CTF. Then a friend from school got me an audition with Interactive Theater Company and my Theater for Youth career began. I auditioned for Alliance and got called in to Main Street Theater to audition for their youth theater program where I was cast in James and the Giant Peach. I also began to teach Theater Camp with Main Street and performed occasionally with BooTown/GUST.
Was there ever a moment when you had doubtful thoughts, maybe considered doing something else? What caused them, and what caused you to reel it back in and continue to pursue acting?
Absolutely! Being a contract worker is difficult. You don't have stable income, you are constantly looking for your next gig. My family was very supportive, but there were also voices around me and in my own head wondering when I was going to get a "real job." Being a starving artist is an unfortunate cliche and I bought into it. Either I would be a poor actor or I'd get a real job and never act again. That ultimatum was very distressing for me. But whenever I stopped auditioning and started looking for a new job, theater opportunities kept popping up. I finally accepted that this is what I want to do and that's enough. I don't have to qualify it in any way. If I love it, that's enough. Everything else I can figure out without feeling like it must be either/or.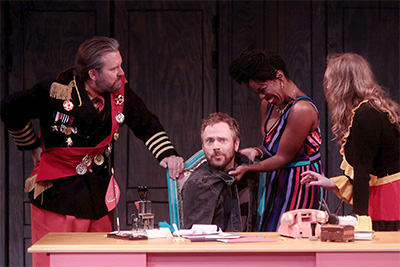 How has acting for children and youth shaped your process?
WOW! Youth Theater has helped me to be a more imaginative, committed actor. I've played a bug, a centaur and everything in between. If you buy in and commit, you can take the audience with you on any journey. It has made me adaptable to any circumstance. I've jumped out of a broom closet and performed. Children are such an open, uninhibited audience and that is contagious. I've worked with a variety of directors, scripts, companies and in many different genres thanks to youth theater. I think it has helped my improvisational skills as well.
What were some pivotal, career defining roles for you?
My first seven years or so working with Interactive, Main Street Theater for Youth, with BooTown, was very career defining for me. I worked with lots of different directors, writers, creative people with different styles. I started to figure out my "happy place" in terms of why I do theater and what I want to get out of a production process. The most powerful experiences had a strong intersection between a spirit of play, sustained commitment to excellence, passion for craft and the audacity to do something new, to take a risk. In addition to all that, the best experiences left me with a sense that I was creating art that was worthwhile, that made a difference somehow in the arts community and for the audience.
My Wonderful Day at Main Street Theater really put me on the map and I was nominated for Best Actress in the Houston Press Awards. The Barber of Seville at Classical Theater Company was pivotal. It was the first time I was cast as an ingenue, which helped people see me in a different way. Stargirl at Main Street's Theater for Youth was career defining for me because I felt the pressure of a lead role for the first time and proved to myself that I could do it. It was also a role that had all of the elements I wanted. I could see, in real time, the difference the story was making in the lives of the people in the audience. I could see the impact the story had on the other cast members and even the crew. It was a magical show. And I learned to play the ukulele!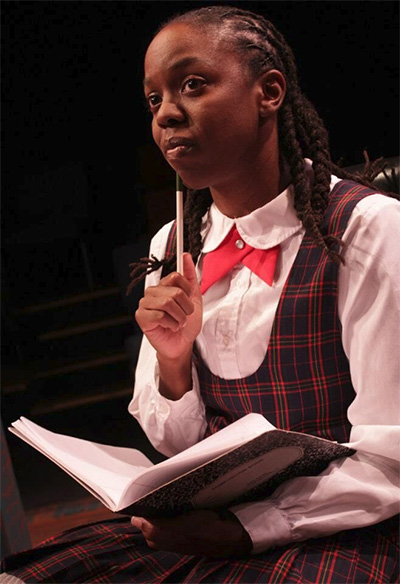 How has being a WOC shaped your experience as an actor in Houston?
Working in theater as a Woman of Color has made me mindful. When I play a servile character, a victimized/dis-empowered character, or a villain, I am mindful. I scan every role I perform for the opportunity to show a new, more dynamic side of who I am and expand the audience's view of black people. I scan for negative stereotypes that perpetuate narrow perceptions of black people and try to find a way to bring humanity and complexity to that. I will say that playing maids and slaves and in one instance even a dog—taking those roles is difficult for me because of the painful history of blacks in America when those were the only roles available to them and the messages that could be sent to people of color in the audience. Even certain types of comedy—is it bordering on buffoonery? Will they see a mockery of who they are? Will they be inspired? Feel included? These questions come up for me and matter to me as a Woman of Color.
I feel conspicuous as a black woman in Houston theater. There's no hiding that black people exist when I'm around. I like that. I like the audience having to remember that people have dark skin while they are enjoying their favorite children's books. I like people remembering that people have dark skin while enjoying the classics. I love that a little blond girl looked disappointed that the image of Stargirl on the cover of her book didn't look like me. There's something about black people being in more spaces where there aren't many black people that makes me very happy.
I have never felt disqualified from any kind of theater because I am black. I like the idea that I can convey that message to the POC in the audience. You belong here. You are welcome here. This is your story, too.
I like the idea that truth in storytelling is not exclusive to any race and I highly value the reactions of people of color in the audience when I perform. Representation matters. The black teens in the audience of Stargirl shouting encouragement at me when Stargirl was crying during the show after being rejected… that's one of my fondest theater memories.
What advice would you give to a fresh actor in Houston?
Be a patron. I love performance art. I see as many shows as I can. There is so much theater in this town. I see shows because I love it and theaters notice. They notice when you appreciate the work they are giving their lives to. Many of my opportunities have come from theaters giving me a chance because they saw how much I loved their work.
-EMILY HYNDS