Pilobolus in Shadowland.
Photos by Ian Douglas.
---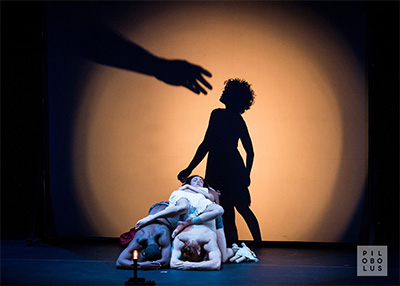 Even if you've never seen Pilobolus in concert before, you're probably familiar with the acrobatic dance troupe's work.   After starring in a Ford commercial over a decade ago, in which the dancers' silhouetted bodies became the car, the commercial opportunities kept coming: a high-flying performance at the 79th annual Academy Awards, appearances on Sesame Street, Oprah, Ellen, The Today Show, Late Night with Conan O'Brien and more.
Through the commercial success, Pilobolus has continued to create and tour repertoire to theaters around the globe. Since its founding in 1971 by a group of Dartmouth college students, the company has toured more than 120 works to 65 countries.
Pilobolus brings its acrobatic style of dance to Texas in January, performing the company's first full-length work, Shadowland, as part of the TITAS Presents series at the Dallas City Performance Hall on Jan. 13 and 14, at San Antonio's Tobin Center for the Performing Arts Jan. 18, and as part of Houston's Society for the Performing Arts (SPA) series Jan. 20 at Jones Hall.
Mark Fucik, currently the creative director of Shadowland, was one of the dancers on whom the production was originally created. He danced with Pilobolus from 2001 to 2005, touring with the original cast for two years. Most recently, Shadowland finished a four-year tour in Europe.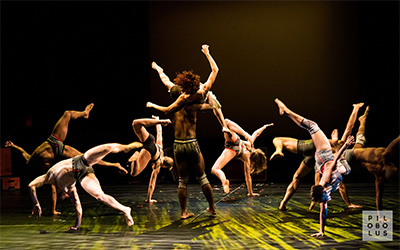 Believe it or not, the birth of Shadowland harks back to that Ford commercial. "The original creators were approached to make a silhouette of a car out of stacked bodies," says Fucik. "They asked us, 'Can you do something with shadows?'"
Pilobolus responded by having its dancers mold their bodies together in front of a light to create a shadow effect. "Then we thought, 'Why not make a piece out of this?'" continues Fucik.
The result was a visually arresting coming-of-age story about a girl who falls into a dream world and is confronted with various trials, all of which help her figure out who she is.
Charles Santos, executive director of TITAS Presents finds Pilobolus' ability to alter reality in Shadowland exciting. "It's a fantastical journey that's not just about a beautiful dance; it's an alternate reality with these ghostly shapes. It's no-holds-barred in terms of the use of imagination," says Santos. "They're not afraid to take risks."
Pilobolus is well known for its collaborative creative environment, and the process by which Shadowland was developed was no exception.  "We always create in a collaborative environment," says Fucik. "We bounce our ideas off different creative people, whether they're dancers or visual artists or writers. We needed a storyline so we said, 'Why don't we find someone to help us?'"
The team brought on Steven Banks, lead writer for the beloved, long-running children's cartoon SpongeBob SquarePants: "He was the one who would push us to be even crazier. He has a really wacky sense of humor. He'd be shouting out things for us to try. We basically had 15 different people in the room thinking of different ways to create these shadows."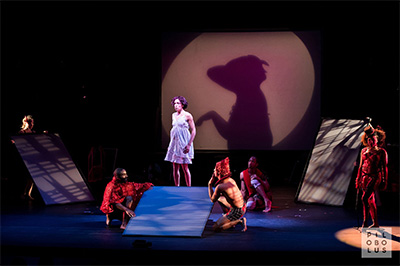 While film composer David Poe, whom Fucik calls a "musical genius," may not have been in the room for the creative process, he was also an integral member of the team: "He wrote the score for us. We sent him video footage of us rehearsing day by day, and he'd turn around and create a new chunk of the score by the next day. His work really sets the atmosphere…We've always created our work in a group dynamic. It gives our pieces such depth and texture."
Shadows, of course, figure prominently in Shadowland; behind the scenes, they are what Fucik refers to as "composite images," in which four to seven dancers roll up together to create one image. Nothing is projected, besides color on the backdrop. The costuming is bare bones — skin-tight shorts and sports bras — as the shadow images require crisp lines, and skin-on-skin contact between the dancers is a necessity to produce the correct images.
There are also monitors on the sides of the stage so the dancers can check their shapes, and the stage floor is "spiked like confetti" so all nine dancers hit their marks consistently.
Shadowmaking is challenging, to say the least: "If you're off by a centimeter, the shape can change so drastically that it doesn't read as it should read," says Fucik.
The lighting is also key, and in Shadowland, the dancers have the unique responsibility of controlling it. There's one main light the dancers cover and uncover throughout, plus multiple smaller lights located around the stage.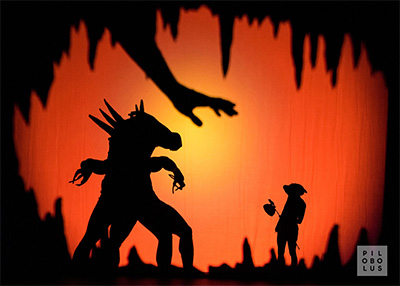 Besides the shadow making, one of the biggest challenges this production presents is that the dancers are almost always seen onstage, even when they're not a central part of the action. "The question becomes, 'How do you move around the stage if you're not part of the drama?' You have to get your props ready without attracting attention," says Fucik. And props there are — hundreds of them, in fact, including everything from a vase of flowers to a coffee cup, which are used to fill out a scene.  "You can't really make a small coffee cup out of a body part, so there are some things we use props for," explains Fucik.
The finale of the show is tailored to the city in which it's being presented, with special imagery projected. Fucik, who has numerous family ties to Texas, recalled fond memories of summers spent in the Lone Star State: "I remember how my grandmother would make molasses cookies and we'd crumble them over Blue Bell ice cream," he says.
Like Fucik, the company itself has a history with Texas. TITAS Presents first presented Pilobolus in 1983, long before the AT&T Performing Arts Center opened. This tour marks the second time Pilobolus will have performed at the center since its opening seven years ago.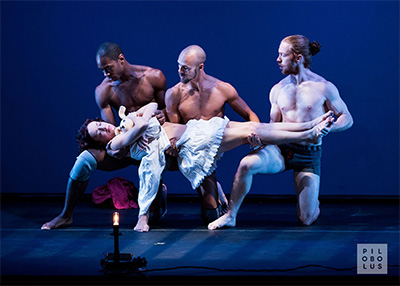 "It was a no-brainer that we wanted to bring Pilobolus back," says Santos. "They're the benchmark for this kind of physical dance…Pilobolus draws upon a much broader audience than, say, a modern dance company. They have a broad appeal and the works are very family-friendly and appealing to kids."
June Christensen, chief executive officer of SPA, couldn't agree more. "SPA has a long history with Pilobolus, with nine performances over the past 30 years. Bringing back the company as part of our 50th anniversary season made perfect sense, not only because of that longstanding relationship but also because of the exciting and innovative Shadowland. This show will thrill the established fans of Pilobolus, but will also be accessible to a wide variety of audiences here in Houston." It's all put quite simply by Santos: "They're an institution. They're a brand in a unique way. It's a brand that stands for creativity and innovation."
—CLAIRE CHRISTINE SPERA