"There are many Black people who feel like art is not their space…it's been really great to have shows where people come who might not typically engage with the art. Where they can be seen in a special way." We're over halfway through our interview together, conducted through Zoom, and I had asked artist Ari Brielle what she expects, or even hopes, audiences take away from her work. It is a truly vague question that asks the interviewee to acutely assess public perception of their creations and set the story straight, all in one swoop. It's also my attempt at giving the artist a chance to direct their audience, passively, toward the work's true focus. But Brielle knows her primary audience well enough to understand that recognition of femme Blackness crafted by a Black woman is inherent to her viewer's experience. It's as simple as it is resonant, and this direct approach has propelled Brielle on to a considerable recognition within Texas art circles.

Originally hoping to solidify her spot in the University of North Texas printmaking program, Brielle graduated with a degree in interdisciplinary art and design, spending much of her senior year working with painting. Next came a string of arts jobs, including stints at the Amon Carter and Dallas Museum of Art in administrative and guest services roles, while Brielle continued to spend her after-hours honing her practice.
In 2017 Ari Brielle was named as one of Dallas' Rising Stars and the resulting group exhibition at Oak Cliff's Turner House kicked off a string of collaborative and solo showings in the DFW Metroplex. Brielle's multimedia work has been celebrated in the Dallas-Fort Worth area, where Brielle currently lives and studies, but her impact is expanding—making its way down to San Antonio for its inclusion in the 2021 Texas Biennial and with hopeful plans to extend into galleries both in Texas and beyond.
Brielle's digital collages, sculpture, and paintings expose new perspectives on Black womanhood, identity, and image-making. Playing at the intersection of pop culture and personal ephemera and citing stereotypes like the Mammy and Jezebel, Brielle seeks to dismantle or juxtapose imagery of Blackness within the public eye.

­­­
"There's something really special about Black people in the South," Brielle muses as we discuss what keeps her exploring layered images of Black femmes, families and culture. Indeed, Brielle's subjects feel familiar, even if they aren't—a testament to the lens of intimacy and tenderness Brielle brings to her work.
In a recent move from her family home in Arkansas to Texas, Brielle's paternal great-grandmother, affectionately called Bigmama, brought with her a treasure trove of photos. These artifacts, spanning the 1960s into present day, brought Brielle closer to her family's ancestry and spurred new work in the process. Scanning and digitally retouching some of these photos in Photoshop unveiled a dynamic collaged scene, composed of not only her live editing window but other reference photos, notes and documentation across her laptop. Brielle quickly captured the scene and ended up turning several iterations of these found moments into a series of works titled screens. When asked what makes these digital collages stand out and worthy of saving, Brielle commented that it was all about the dialogue between her on-screen subjects. In one, a historical illustration of an enslaved Black woman nurses a white child just to the left of a YouTube video playing Nikki Giovanni and James Baldwin in conversation, while Lil Kim's iconic promo shot, complete with feathered robe and leopard print bikini sit just out of frame. Within it, Brielle captures the depictions Black women over the ages, with varying levels of power and autonomy.
For the Biennial, Brielle took
screens
and various other digital collages outside of the medium and brought them forward as sculptural installations, made of screen-printed silk and hung by monofilament. Silk not only offered a kind of ethereal movement to the work, allowing it to be more engaging to the audience, but it also anchored the subject matter. "As a Black person, I sleep on a silk pillowcase, I wear a silk bonnet, my grandma wears a silk muumuu. Yes, these works are rooted in technology, but I wanted the opposite presentation," drawing emphasis to the textures and visuals that embrace the contemporary Black experience.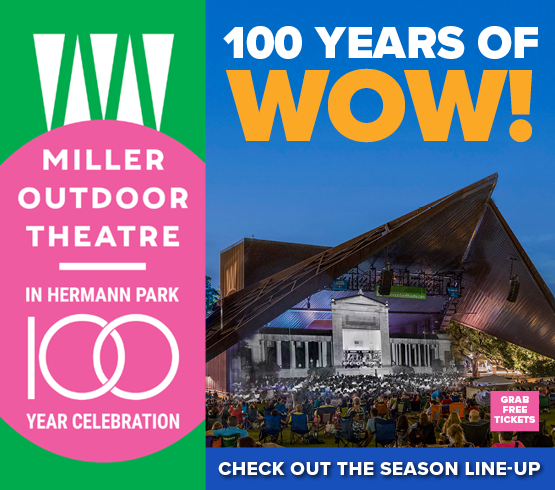 Brielle plans to graduate from UT Arlington with her MFA next spring and despite COVID-19 dramatically impacting her first year of classes, she states that "now is the perfect time for me to be here." And after that? Remains to be seen. But Brielle and I share in a frustration that artists feel they need to leave Texas in order to find success. Brielle puts it directly: "You don't have to look east or west to find truly amazing talent." Not at all—sometimes, all it takes is spending an hour on Zoom.
—CAITLIN GREENWOOD