Charles Umlauf, Family, Courtesy UMLAUF Sculpture Garden & Museum, Credit Studio Uma.
---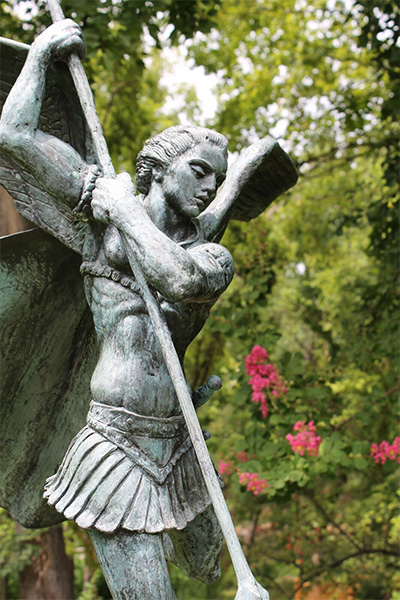 This fall, art loving Texans have the perfect opportunity to venture outside of museum walls and into the great outdoors by visiting the state's sculpture gardens. Many art-filled gardens are scheduling exhibition openings, garden parties and special events for families to coincide with the somewhat cooler weather. Austin, Dallas and Houston are home to outstanding outdoor sculptural centers that are affiliated with art museums, as well as independent galleries with gardens and art installations in various parks around Texas' major cities.
What you won't find when you visit the Contemporary Austin's Betty and Edward Marcus Sculpture Park at Laguna Gloria are bronze statues or iron shapes. Located on Lake Austin, Laguna Gloria's wooded, un-manicured natural setting allows for unusual site-specific art installations.  You might find John Grade's Canopy Tower made of wood, rope, steel and wire, or a 390-inch stainless steel figure by Tom Friedman, called Looking Up. Laguna Gloria hosts a variety of family-friendly activities this fall including movie nights; beginning in December it will feature several new works by artists Terry Allen, Teresa Hubbard,  Alexander Birchler, Monika Sosnowska, Danae Stratou, and SUPERFLEX.
The Contemporary is working to bring large-scale art projects to parks around the city. Currently on view at the Waller Creek Delta is Hurlyburly  by artist Orly Genger. Bring the kids to this interactive installation consisting of a hand-knotted, re-purposed lobster rope painted blue, reminiscent of an undulating river.
UMLAUF Sculpture Garden & Museum in Austin, just blocks from Barton Springs, celebrates its 25th year with an exhibition recreating the studio of namesake Charles Umlauf.  A 20th century American sculptor and a professor at the University of Texas, Umlauf donated dozens of bronze and stone pieces to the city of Austin. The UMLAUF features a walking path through a Xeriscape garden with waterfalls and streams, and because the bronze statues have been waxed for the visually impaired, these sculptures are unusually kid-friendly.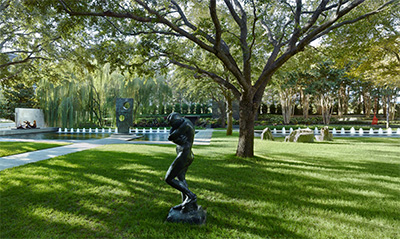 A more tranquil choice is the Nasher Sculpture Center in the heart of the Dallas Arts District. Behind the Renzo Piano-designed space sits a roofless museum, which houses to a collection of some of the most famous modern and contemporary sculptors in the world including Giacometti, Calder, Miró, Picasso and Serra to name a few. The Dallas Arts District is also home to two other small gardens worth a visit. The Dallas Museum of Art's outdoor sculpture garden features a reflecting pool and waterfall accompanied by sculptures by artists such as Ellsworth Kelly and Barbara Hepworth.  The Sculpture Garden at the Crow Collection of Asian Art in the Arts District is a peaceful, shady spot with 15 historical and contemporary Asian sculptures.
Leave yourself a trail of breadcrumbs and head north to Valley House Gallery, Dallas' oldest sculpture garden which presented its first garden show in 1959 with a retrospective of the aforementioned Austin sculptor Charles Umlauf.  Valley House sits on 4.5 wooded acres, sort of a mini-botanical garden featuring a diverse collection of sculptures ranging from the welded iron shapes of Italian Alex Corno to the life-size human figures of Dallas artist Deborah Ballard.
Travel south to Houston where just across the street from the Museum of Fine Arts, Houston is the Lillie and Hugh Roy Cullen Sculpture Garden. It is a compact, modernist garden with green grass, native trees and 25 works from the MFAH collection including sculpture by Henri Matisse and Auguste Rodin. A short drive away in the River Oaks neighborhood is the Rienzi Gardens with an assortment of eclectic statues. On Sunday afternoons the MFAH hosts a photography day at the Rienzi Gardens.
To further their mission of making art more accessible, the Houston's Menil Collection has brought pieces from its collection to parks and neighborhoods surrounding its 30-acre campus in Menil Park. There are major works by Max Neuhaus, and Mark di Suvero installed on lawns throughout the neighborhood and children may enjoy following the trails of the Michael Heizer's earthworks along the walkway into the museum.
With a variety of art experiences to choose from, fall brings to Texas an excellent opportunity to get outdoors for the confluence of art and nature.
—MONICA SMART