Installation views of Rural Phase, an installation of painted panels by Paul Krainak.
---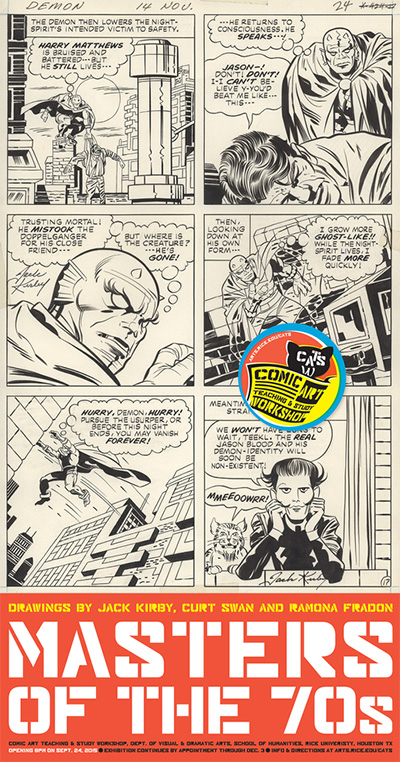 At Rice University, It's Comical
Beginning a conversation about art at Rice University with a reference to Gertie the Dinosaur is probably no mistake (or coincidence) for Chris Sperandio, established graphic artist and Associate Professor of Painting and Drawing. Having created the first animated film to use key frames and animation loops, he notes that Winsor McCay paved the way for animation's popularity today.
While Sperandio is too young to be considered an art-world dinosaur, he is certainly a pioneer in changing how and where contemporary art is experienced at Rice. Over the last several years he has launched four different art initiatives on campus: Cargo Space, a transit bus turned mobile arts platform (an ongoing project that will be the centerpiece of a class next semester, with a focus on temporary public artworks around Houston); Emergency Room, a gallery exhibiting contemporary art within the context of Rice's Department of Visual and Dramatic Arts; Matchbox, a student-run exhibition space; and, most recently, the Comic Art Teaching and Study workshop, or CATS, a repository for original comic art and books.
Officially, the CATS Workshop is "the latest effort to enhance undergraduate education through the establishment of highly effective, modestly scaled and popular curriculum-based initiatives undertaken by the department." When asked about the inspiration behind his newest pet project, Sperandio replied with his signature witty dry humor, "I wanted to call the place CATS and figured out how to do that…Cats are pretty popular on the Internet."
On a more serious note, he explains, "The arts are under fire throughout academia. Things we as artists consider integral, we find ourselves justifying to other people. I want to ask those people: When you go home, do you stare at plain, grey walls? Those magazines you read… they don't have any photos?" When pressed about his role in the recent explosion of art at Rice, he says, "It comes down to recognizing what it is I teach that other disciplines can't live without."
Those "must have" teachings are structured around three main skills: critical thinking, clear messaging, and persuasion —vital skills that are not only applicable but arguably necessary in all areas of life, with or without an art degree. These interdisciplinary skills are inherent in sequential art (comics and graphic novels) with the metrics of success measured predominantly by whether or not people turn the pages.
And pages are, in fact, turning, at least in the figurative sense. With all its arts offerings, Houston currently lacks an art museum project space devoted to featuring work by local artists. But initiatives like CATS Workshop, Matchbox, Emergency Room, and Cargo Space have armed Sperandio and his students with practical tools to forge the kind of arts environment they want, and need. For example, to create the CATS workshop space, Sperandio gussied up a 9×30 ft. former conference room with a small gallery, shelving, and a little bit of technology (Internet connection, etc.). Open by appointment, it is a hybrid art space that operates both as a research space and as an annex classroom for the studio art area.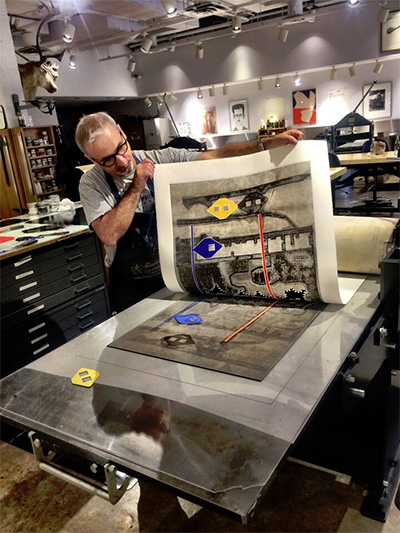 "I hope to grow the CATS Workshop into a world-class teaching collection, if not something larger in scope." In the meantime, his large scope hope is exemplified by the high caliber exhibitions and featured artists presented in parallel with those at Emergency Room and Matchbox. Masters of the 70s, on view through December 1, is an exhibition of vintage comics and original art, including drawings by Jack Kirby and Curt Swan.
In the Emergency Room, an exhibition of paintings by artist and critic Paul Krainak was recently on view, paired with a published limited edition selective anthology of his writing. Currently installed until Nov. 22 is Contingency Plan, an exhibition of experimental prints by artist and educator Carmon Colangelo. One reason for these back-to-back exhibitions is to show students that they exist in a continuum of cross-pollination, and to reinforce the importance of peer-to-peer, teacher-to-student transmission (both Kraniak and Colangelo are Sperandio's former teachers).
Matchbox Gallery is the first student-run exhibition space at Rice, and was recently named by Houston Press as one of the top five small exhibitions spaces in Houston. The gallery offers students an opportunity and a venue to not only communicate their research and showcase their creativity but to manage the presentation of such to the public in a professional manner.
Arts initiatives at Rice can't be discussed without including the new Moody Center for the Arts, under the watch of newly appointed executive director Alison Weaver, art historian and former director of affiliates for New York's Solomon R. Guggenheim Museum. The Center, currently under construction, is a 50,000-square-foot "interdisciplinary center with space for arts education, performances, gallery exhibitions, material fabrication and digital media art production, as well as a site for collaborations with local and international arts institutions."
Believing that the arts are "interdisciplinary by default," Sperandio is also working on a lecture series in partnership with MFAH Core Program and the University of Houston, the city's only MFA granting institution (Rice offers a BA in studio art, film and photography or theater). This February marks the third lecture in the series, welcoming New York-based critic and independent curator Joshua Decter, who will visit all three campuses over the three days. While at Rice he will be joined in discussion by Rick Lowe at the Rice Media Center.
As for upcoming exhibitions and events at CATS, Matchbox, and Emergency Room, Sperandio says, "I don't want to tip my hand, but we've got some big plans for the coming year. We'll continue our ambitious program of supporting local artists, through lectures and exhibitions, as well as host some guests of international significance."
—NANCY ZASTUDIL