Meredith McCall as Lady Bird Johnson and Steve Vinovich as President Lyndon B. Johnson in The Great Society, by Robert Schenkkan, directed by Dave Steakley, at the ZACH Theatre through March 5. Photos by KirkTuck.com.
---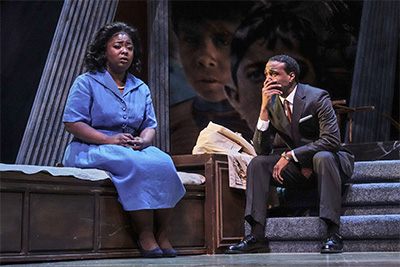 When Dave Steakley, producing artistic director of The Zach in Austin, decided to stage the first of two Robert Schenkkan plays about the presidency of Lyndon Baines Johnson, he thought it might have special meaning to Texans. After all, Johnson was a Texan from the day he was born till the day he died, and he made sure the entire world knew it.
Still, when The Zach enjoyed a wildly successful run of All the Way during its 2014-2015 season, Steakley learned just how personal some of that "special meaning" could be.
"I saw All the Way during its debut at the Oregon Shakespeare Festival and was immediately attracted to it," he says during a break in rehearsals for that show's sequel, The Great Society. "We'd had such good response over the years to plays about Texans like Ann Richards, Molly Ivins and Lady Bird Johnson. I thought this would resonate in a different way with Texans. As it turned out, this included many of Johnson's associates who came to see the show, and even the gentleman who did Lady Bird's hair."
All things being equal, some of those same LBJ associates – some surely would be called  "cronies" – should be in the audience for the next installment, also commissioned by the Oregon festival and playing The Zach through March 5.
If  All the Way depicted LBJ's partial first term after the trauma of John F. Kennedy's assassination in Dallas, The Great Society deals with his four-year struggle to create a better, more equitable America for future generations while feeling the country dragged deeper into the Vietnam War. It was, of course, a conflict that would haunt him day and night throughout his time in the White House (both the one in Washington and the one on the banks of his beloved Pedernales in the Hill Country). It would eventually convince him to not seek re-election in 1968.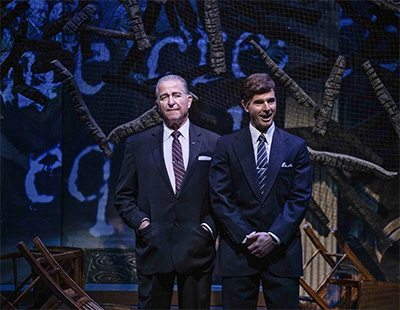 For newcomers to Schenkkan's LBJ work – or those who caught other productions, including the one starring Bryan Cranston in Boston, on Broadway and as a film on HBO – the good news is the same as for those who loved the first play at The Zach. Steve Vinovich will be back with his towering portrayal of LBJ, a good-enough physical and vocal impersonation to be sure, but also a soul-up recreation of the storms that clearly raged within. Since Johnson was an old-time Texas-born Southern Democrat, it was his curse (and, most would say, the nation's blessing) to deal with the most important years of the civil rights movement.
Watching Vinovich painfully juggle the horrific pressures applied by Martin Luther King (himself feeling his non-violent gospel under attack by Stokely Carmichael and other black militants) and the opposing pressures applied by his good-old-boy friends in the Senate was a joy many audience members will carry as long as they live. The portrayal was and is worthy of the real LBJ – crass, profane, pragmatic, heartless, shameless, manipulative, masterful, and ultimately concluding (with more than a gentle nudge from his remarkable better half, Lady Bird), that racial equality was "the right thing to do."
All the Way ends with Johnson's election to a full term amid his own dark awareness that the slightest misstep will turn even his oldest, most devoted friends against him. The Great Society shows precisely that happening, because precisely that did happen.
Buoyed by success getting the first meaningful civil rights legislation through Congress during that partial term, Johnson began his full term in 1964 with an awe-inspiring, even breathtaking agenda.
There were no fewer than 104 bills he put his persuasive gifts behind from the start – bills fighting poverty, inequality, joblessness, housing and voting discrimination, and many other entrenched societal ills. In 1965, seeing the struggles of seniors across the country, he signed the groundbreaking Medicare bill into law. He knew all too well those represented the very kinds of progress his closest allies in the Senate, especially those from the South, had gotten re-elected time and again by fighting against.
LBJ believed he could and would find a way to turn their eyes toward a higher goal, though often by appealing to their lower instincts. It was, after all, a game he'd played better than almost anyone since his beginnings in smalltime Texas politics during the Great Depression.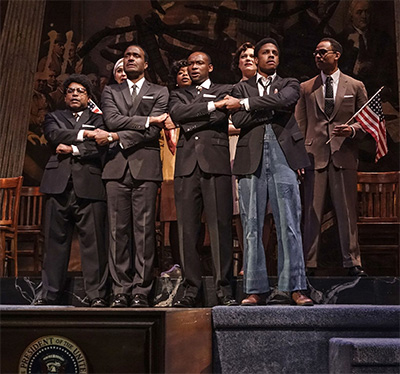 As history and hindsight inform us, the biggest thing his programs needed was not actually votes but money – money LBJ considered an investment in a fairer, more humane and more truly democratic (with a small d, and no doubt with a large one) future. But he had to endure the agony of seeing a faraway conflict with beginnings in the Cold War hysteria of Truman, Eisenhower and Kennedy gorge itself on his idealistic vision, swallowing both American lives and American funding with it.
"This is a story of Johnson losing his dream," Steakley observes, adding that it's utterly appropriate that both of Schenkkan's LBJ plays had their debuts at a Shakespeare festival. "This has King Lear, Richard III and Henry IV all over it. It has the arc of one of those great Shakespearean tragedies."
All the Way and Great Society were on The Zach's schedule before the current election/presidential angst, but Steakley sees many interesting parallels. Certainly, the feeling of this drama would have been different had Hillary Clinton won the White House. Yet at the same time, those who understand today's all-out, angry political warfare will surely be reminded it is nothing new. Richard Nixon has a few lines in The Great Society that would fit right into a Donald Trump speech – or tweet. If LBJ were alive, he would presumably tell us so. He would also remind us of a time when all Americans felt they had more in common than they had different or apart, when they knew they'd better feel that way for their own futures as well as everybody else's.
"We are doing this play against a backdrop painting of the Founding Fathers, Rosa Parks and Mexican schoolchildren, along with the words from our Declaration: All Men Are Created Equal," offers Steakley. "In this country, we don't have a forum now, thanks to social media and many other things, for true civic dialog that is civil. The hope is that this play provides a real conversation, a civic and a civil conversation with people who have an opposing point of view."
—JOHN DeMERS