[Mares (P), and Ayala, Francisco A. (D).], Entre el amor y la locura, Injusticias #5 (Detail), [P. 1], ink on paper, 8.8 x 5.25 inches.
Date unknown, est. early to mid-1970s.
---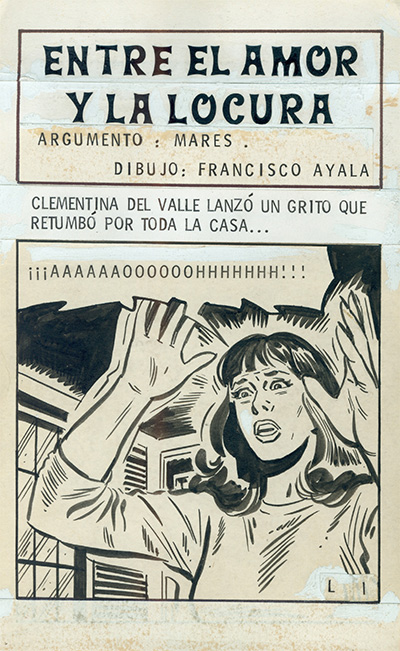 Lawndale Art Center's exhibition Between Love and Madness: Mexican Comic Art from the 1970s, on view Jan. 18-March 25, is comprised of approximately 380 works, including original art and ephemera, related to idiosyncratic Mexican comic books known as micro-cuentos, or "mini-tales." Nancy Zastudil caught up with Christopher Sperandio, who organized the show.
What is a micro-comic? Why did the political stories take a small format in Mexico? Is the smaller format of micro-cuentos unique to Mexico?
CHRISTOPHER SPERANDIO:  These comics are small. Just 4 and a half inches tall, and 3 inches wide. There were a few factors in making the comics this small. Smaller meant cheaper. The size was also convenient to fit into your pocket. You could read the comic at your own convenience. A number of other cultures produced small comics. In China, there were Lianhuanhua that were small, but quite a different format, with one picture per page, and no speech bubbles. Italian comics, called fumetti—literally the speech balloons looked like puffs of smoke—could also be quite small.
Tell me about the connections among Berlin, Houston, and Mexico when it comes to comics.
I've been splitting my time between Berlin, Hong Kong, and Texas. As I've been moving around, I began to notice something strange. Prior to the 1970s, there was no standard form for comic books. East German comics didn't look like Hong Kong comic books; Mexican comics didn't look like the ones in the U.S. It's only as global capitalism starts to take hold, first in the 70s with the translation of Batman and Superman and company into dozens of languages do we begin to see these local, indigenous comic books begin to disappear, strangled by U.S. exports. Not to sound overblown about it, but hegemonic forces wiped out whole forms of cultural expression. I don't know if anyone else will shed a tear for it, but for me it's quite sad to realize that these rich, highly inventive forms vanished because of global capitalism.
How did the collaboration with SomoS and the exhibition at Lawndale come about?
I began teaching a class in comics and decided to build a small collection of original comic art to use as a teaching tool with my students when I first ran across these Mexican mini-comics. At one point last year, I managed to acquire the original drawings for 15 different Mexican comics, something like 1,300 pages of ink drawings. I immediately began planning an exhibition. I was already in close communication with both SomoS and Lawndale and I guess my enthusiasm became contagious. Dr. Mauricio Espinoza, who is an Assistant Professor of Spanish and Latin American Literature at the University of Cincinnati is contributing some context for the exhibition from an academic perspective.
Are there concentrations of comic book artists in certain Mexican cities? In other words, do comic books vary city to city, region to region?
The information on comics from the late 1960s and early 70s is limited. There's only one English-language book that touches on this period, and it was published in the 90s. I've been relying on it quite heavily and while it doesn't have the whole story, what information it does have is startling. For instance, 55 million comics were published each month in 1975. The population of Mexico at the time was only 68 million. This means that 80% of the country was buying and reading comics. As historical exhibitions go, our information is pretty thin. My hope is that this exhibition will spur more research into the artists and publishers who produced these books.
Any certain qualities or characteristics unique to Mexican comics and/or visual/graphic storytelling?
Formally, since these comics are so small, the artists are limited to one or two panels per page. That's quite a limit on what's possible. Formally, the lettering is a bit odd. In the books we're presenting, the lettering is quite rigid—they appear to be lettered using dry transfers before any of the drawings were made. Sometimes the panels can feel a bit stilted, as a result. However, there's a lot of graphic inventiveness at play in these comics. The stories themselves are more complex and nuanced than your standard American comic. There are no costumed heroes. In these books bad things happen to regular people. There is no spandex to be found.
Who are some of the artists features in the exhibition? Are they new to American comic-loving audiences?
According to our information, the artists and writers used pseudonyms, and none of them want to speak about their involvement. I went so far as to try to reach out to a few of the individuals, but I stopped short of harassing them. At this point in history, comics were considered "low" culture, and of no real artistic merit. Some quite well-known philosophers and writers contributed stories, and there is some amazing drawing in some of these books, but it's all rather mysterious, still.
-NANCY ZASTUDIL