Will Acker and Danielle Georgiou in the studio.
Photo courtesy of the Danielle Georgiou Dance Group.
---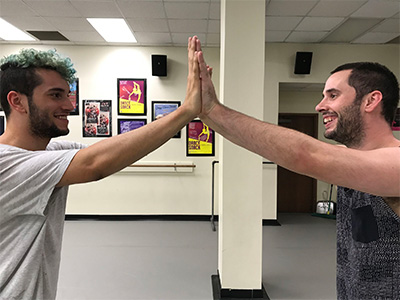 Danielle Georgiou's current obsession is the Disney Channel musical Teen Beach Movie.
It has inspired Georgiou's own deconstruction of the 1960s Annette Funicello-Frankie Avalon beach-party films. "I like the idea of wrecking something historical to bring it back to life," she says of Donkey Beach, which the Danielle Georgiou Dance Group premieres June 22-25 at the AT&T Performing Arts Center in the Dallas Arts District just in time for summer. It's the latest heavily researched work in the group's growing collection of offbeat dance-theater.
Though avant-garde performing arts productions are on the rise in North Texas, there's no one in the region – perhaps the state – creating the kind of experimental hybrid pieces that DGDG has been conceiving since Georgiou formed the company in 2011. Her brand of song-and-dance-and-text questions conventional notions that have been handed down through generations of pop culture, especially the gender roles proscribed by society. She set 2013's Dirty Filthy Diamonds at a prom full of catty teens before taking on Emily Post's oppressive rules of etiquette for women in NICE (2014) and how we define manliness in The Show About Men (2015).
Like other choreographers, Georgiou relies on movement, but also employs dialogue and music. She is a born collaborator. In both NICE and Men, the performers told stories about themselves and sang new and vintage songs. Dallas musician Paul Slavens wrote the hilarious signature tune, "It's So Nice to be Nice," and unearthed a couple of sexist Arthur Godfrey numbers, including "Too Fat Polka." For Men, Georgiou's partner, Justin Locklear, and another Dallas composer, Trey Pendergrass, wrote "Gender Neutral Bathroom in the Sky" and "Dick and Balls." "I'm just trying to break all the rules. For me, they don't work." she says, in an interview in the lush backyard of the East Dallas home she shares with Locklear, an actor, director, writer, puppeteer and member of Matthew Posey's "suavant-garde" theater company, Ochre House. They first collaborated on 2013's Pizzicato Porno, about a strained romance.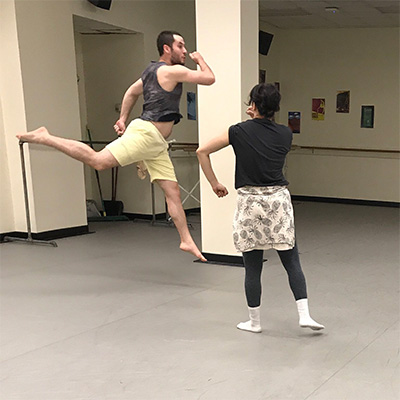 Georgiou's chief influence is early 20th century German Expressionism, including theatrical, stylized films, such as The Cabinet of Dr. Caligari, that unleashed the idea of the femme fatale and the pioneering modern dance of Mary Wigman and Rudolf von Laban, along with the tanztheater of choreographer Pina Bausch that arrived decades later. She's also taken with Theater of the Absurd playwright Samuel Beckett "and the idea that nothing is funnier than unhappiness – being stuck in the world we live in and how do you deal with that."
A native of Dallas, Georgiou may be the busiest woman on the local performing arts scene. She has been a member of, or danced or choreographed for, virtually all the small companies – there is no more frequent guest on dance bills around town. She runs the dance program at Eastfield College, writes about dance for local publications and is getting her Ph.D. in humanities at the University of Texas at Dallas. Between major works, she whips out shorter pieces that DGDG has performed at the Dallas Museum of Art and the Dallas Central Library.
Earlier this year, DGDG premiered War Flower, which compared the rituals of cooperative animal societies, bees in particular, to human behavior. People didn't fare well. The show's repetitive text, written by Georgiou and Locklear when it wasn't quoting from Common Sense, Mein Kampf and the Scientology application, became like a mantra before descending into gibberish. "We mitigate and justify what we do through semantics," Locklear says of human communication, also the theme of his absurdist war play, Smile, Smile Again, which Ochre House produced in May. "We propose and oppose and speculate through words. It's awful and insidious." Donkey Beach is an attempt to lighten up, kind of. "We want to make something to escape the world," Georgiou says. "The world is not fun right now. We need a break mentally."
In Disney's Teen Beach Movie, the central couple is swept by a giant wave into another mid-20th-century genre, the stage musical, specifically West Side Story, except they call it Wet Side Story. For historical deconstructionists like Georgiou and Locklear, it's like manna from heaven. "I really loved this idea of being able to escape your real world by traveling to another dimension, which is a standard movie trope," Georgiou says. "It gets at that idea of escape, but what's the real cost?" Locklear asks. "We have so many styles of entertainment that we invest in as a culture. How real can life be if we're always trying to escape?"
Donkey Beach is set at a monochromatic beach camp where it always rains. Then the teen characters are transported to a parallel universe of eternal sunshine, and hijinks ensue. A magical donkey is involved. Dallas actor-playwright Ruben Carrazana, who was in the War Flower cast, wrote the script, and Locklear, Pendergrass and Ochre House company member Mitchell Parrack composed throwback songs about bikinis and surfing for the show, which is part of the Elevator Project. The series, now in its third year, attempts to find a place for smaller theater, dance and music acts that were left out of the conception of the Arts District and its fancy, high-priced buildings. Donkey Beach will be performed in Hamon Hall at Winspear Opera House.
Georgiou's choreography, in a bit of a departure from her experimental style, references dance crazes of the era, such as the Mashed Potato and the Twist. She also taps Jerome Robbins's swing-dance elements from West Side Story and Bob Fosse's sensual, isolation- and pelvis-oriented approach to jazz dance. "It's very sexy, which is a change for us, too. In rehearsal, I'm yelling, 'Be sexier, smile,' " Georgiou says. "But Donkey Beach is still looking at gender stereotypes, and the breaking of those stereotypes. The female ingénue is very strong and controls the narrative. It's in keeping with my mission of putting the ideal of the new female on stage."
—MANUEL MENDOZA