Norman Lewis (1909–1979)
Title Unknown (March on Washington), 1965 (Detail)
Oil on fiberboard
© Estate of Norman W. Lewis; Courtesy of Michael Rosenfeld Gallery LLC, New York, NY
L. Ann and Jonathan P. Binstock
---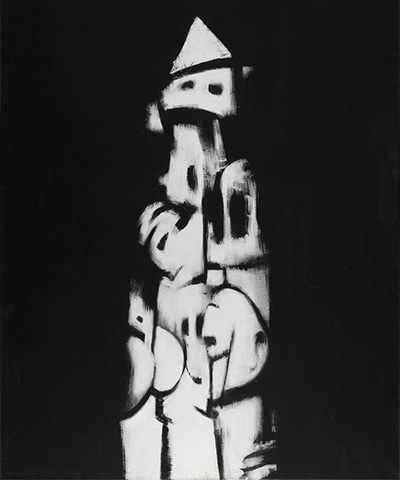 Almost seventy paintings and works on paper by Norman Lewis are on view through Aug. 21 at the Amon Carter Museum in Fort Worth as part of Procession: The Art of Norman Lewis. The exhibition was organized by the Pennsylvania Academy of Fine Arts and spans the artist's decades-long career from the 1930s to the 1970s.
Lewis, an African American member of the New York School of abstract painting, was  virtually excluded from art history books. This exhibition, accompanied by a scholarly catalogue with essays by experts in the field, represents a major step in bringing Lewis's work into the art historical conversation alongside his peers, for example well-known abstract painters Willem de Kooning and Ad Reinhardt. The show argues that Lewis used abstraction throughout his career, after initially working along social realist lines, commingling it with the figure to comment on political issues involving race and civil rights, and introducing history and narrative into a style that eschewed such content in favor of medium specificity. In addition, his active role in the Civil Rights Movement kept him at a distance from the downtown Manhattan art world where he normally would have spent time at exhibition openings and events, possibly increasing his visibility and penetration into collections as well as the prevailing critical discourse.
The exhibition title Procession refers to how the artist's paintings reference a dual meaning for how groups of people move through space: either in the spirit of play and feasting like in Carnival, or within a darker place occupied by the Ku Klux Klan and their nighttime rallies that punctuate the darkness with hoods and fire. The show roughly cascades chronologically through six themes identified by the curatorial staff: the city, visual sound, rhythm/nature, ritual, and civil rights, and summation. A careful viewer will realize that Lewis worked on a smaller scale for most of his life owing to the fact that he lived and worked in a small apartment uptown, only reaching towards the larger scale associated with the New York School in the last decade of his life when he moved downtown to a proper artist's studio.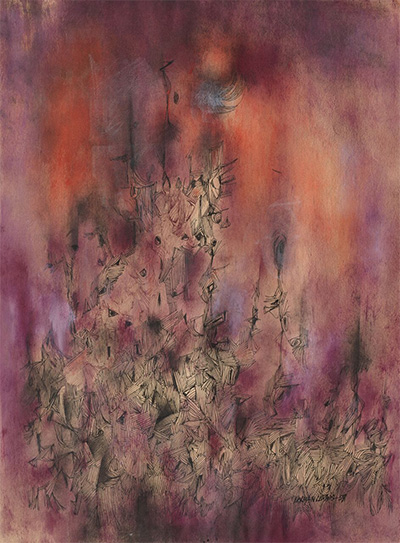 In a large, mesmerizing, vertically-oriented artwork from 1970 with an unknown title, Lewis maintains a delicate balance between the ritualistic and civil rights registers. On a light blue background several abstract shapes that look like figures make their way upwards toward a group that surrounds a clearing. The shapes are bright white in hue; they look like runic forms or hieroglyphics. Meant to symbolize reality, they retain an otherworldly sensibility, almost dancing to music the viewer may imagine while viewing the composition. Highly detailed in their rendering toward the bottom, they become blurry as they form a dense group at the top, suggesting a peaceful gathering rapt with compassion.
By contrast Rednecks, hung in the final room of the exhibition, shows runic forms  painted in a deep red and gathered in the center of an all white, horizontally-oriented canvas. They almost form a pyre, a bright contrast to the surrounding void of white. Here the mood seems dire while the title reveals the racial overtones that informed Lewis's art from the beginning. In this work from 1960 Lewis again combines abstraction with figuration, and the tension is palpable. Rednecks, like many works in this exhibition of an artist well on his way back into the history books, will take your breath away. Or breathe new life into what you thought you knew.
— JOHN ZOTOS